Lego Star Wars Skywalker Saga Dameron's Defiance Challenges must be completed while playing the first mission of Episode VIII: The Last Jedi in the video game developed by TT Games.
The Lego Star Wars Dameron's Defiance Level Challenges are very accessible and can bring you an extra Kyber Brick, provided you know how to unlock them.
Dameron's Defiance is a space-flying mission, and all Level Challenges can be obtained in Story Mode, so you don't have to replay this mission in Free Play.
To avoid missing any of the Challenges in Dameron's Defiance, throughout the following guide, we'll go over the objectives you have to complete to get the Kyber Brick at the end of the level.
Lego Star Wars Dameron's Defiance Challenges list includes:
How's My Shooting
Return To Sender
Ace Pilot
How To Complete Lego Star Wars: The Skywalker Saga Dameron's Defiance Challenge #1 – How's My Shooting
How's My Shooting is the first Lego Star Wars Dameron's Defiance Level Challenge you'll need to focus on when the mission starts.
This specific Challenge requires you to destroy 3 TIE fighters in 5 seconds.
While this may sound difficult, it is, in fact, very easy to do because after you deal with the five surface cannons, a lot of TIE Fighters will join the fight.
If you pay close attention, you'll notice that they are dropped by the large Empire ships nearby. To unlock the Challenge, you'll need to face the said Empire ships and aim at the area below the drop point.
As you can see in the following screenshot.
By pointing your ships towards the spawning point, you should be able to unlock the How's My Shooting Challenge, but assuming you miss it the first time, you may want to postpone destroying the cannons representing your current objectives.
If you do this, you'll get to fight more TIE Fighters.
How To Complete Dameron's Defiance Challenge #2 – Return To Sender
Dameron's Defiance Return To Sender Level Challenge is also very accessible because you have to defeat 3 TIE Barons using Proton Torpedoes to unlock it.
The TIE Barons are similar to the TIE Fighter, but they are notably larger, and they'll join the fight when you are asked to close the Dreadnought hangars.
To destroy 3 TIE Barons, you'll have to lock on them and then launch your Proton Torpedoes by pressing X on Xbox.
Keep in mind that if you fire before the lock-on is complete (red crosshair pictured below), you'll miss your target, so wait several seconds before firing.
Also, if you run out of Torpedoes, consider taking down the ships that leave a purple trail behind, and do not destroy the Hangars before you unlock the second Level Challenge.
How To Complete Dameron's Defiance Challenge #3 – Ace Pilot
Lego Star Wars Skywalker Saga Dameron's Defiance Ace Pilot is also easy to unlock because all you have to do is complete the level without being defeated.
As long as you don't crash into the Empire's ships, this Challenge should not concern you because Poe's ship is overpowered, and while taking down enemies, you'll refill your shields.
So all you need to do is maintain a safe distance from the large ships the Empire sent after you. Remember that you won't be able to see if you completed the Ace Pilot Challenge until you finish the mission.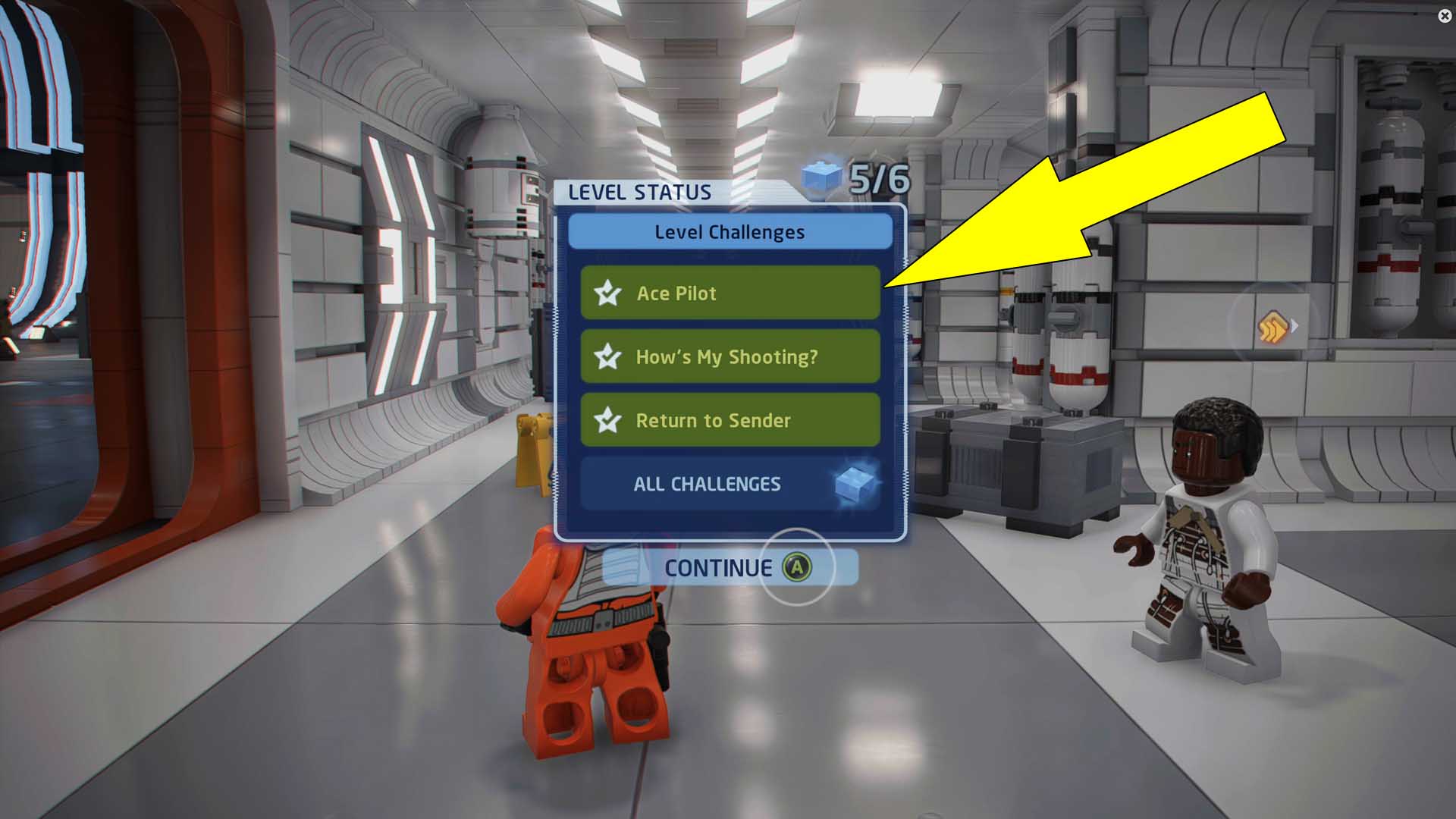 These are the three hidden Lego Star Wars Dameron's Defiance Level Challenges you'll have to complete to obtain another Kyber Brick before attempting the Master Coderbreak-Out Challenges covered here.