With less than three weeks left until release, the new Saints Row game sells in various editions, which means that if you want to place your Saints Row Reboot pre-order, you'll probably need some help deciding which one is best for you. Obviously, your budget is the one that matters most when picking one of the Saints Row 2022 editions available for pre-order; however, since each edition comes with different bonuses and packs, it's worth knowing if the prices are justified.
As such, throughout the following guide, we'll review all editions and bonuses available for the fifth game in the Saints Row franchise, scheduled for release on August 23rd. Developed by Deep Silver Volition, the new Saints Row game is available for PS4, Playstation 5 (PS5), PC, Xbox One, as well as Xbox Series X/S.
The game sends us to Santo Ileso, a fictional city inspired by Reno, Nevada, but to get there, you'll need to pick one of the Saint Row editions, each sold with different pre-order bonuses. Most of these bonuses are digital, allowing you to customize your weapons and characters (Boss, Neenah, Kevin, and Eli) before starting your criminal ventures while working to remove the Los Panteros, Idols, and Marshall gangs.
Let's start with the cheapest and move to the most expensive edition of Saints Row Reboot.
Saints Row Standard Edition Price & Content
Saints Row Reboot Standard Edition is, as you can guess, the cheapest one available, and you can pre-order it from most retailers.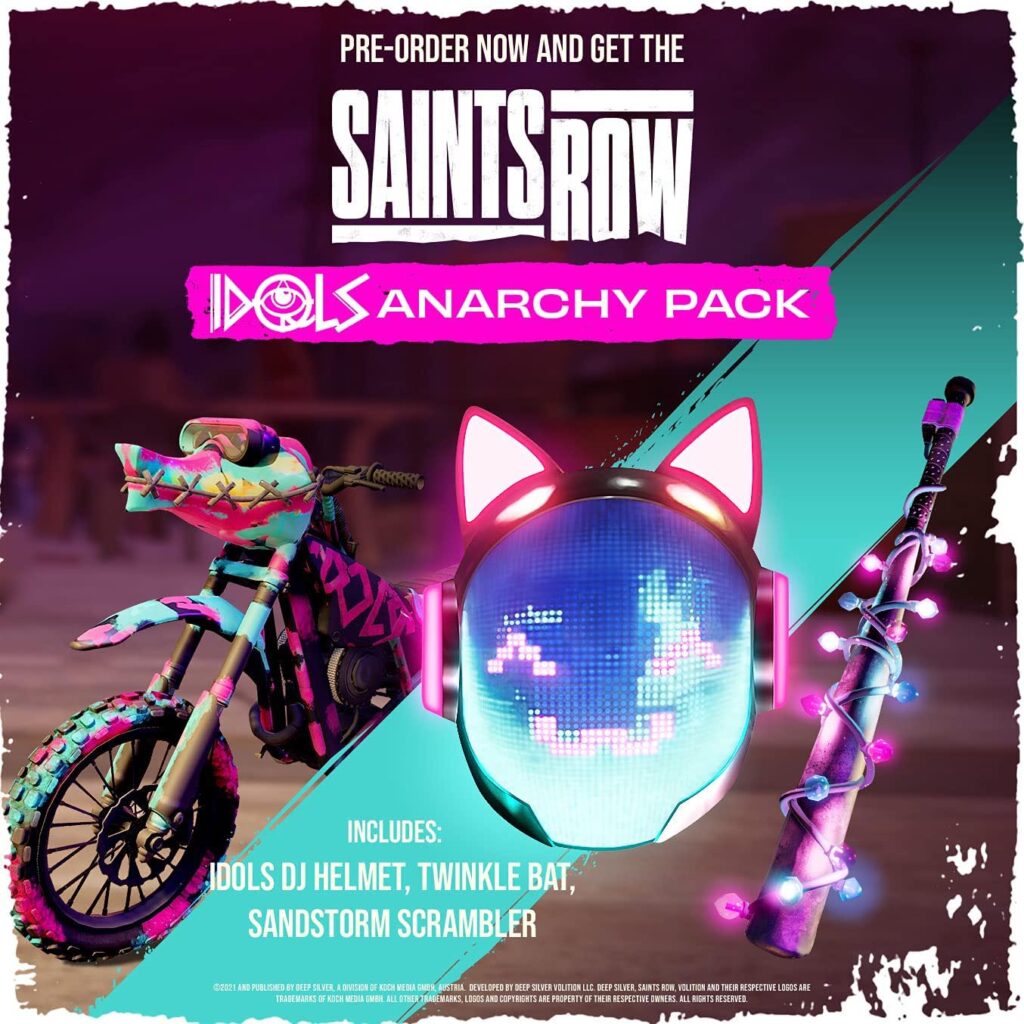 It includes a copy of the Saints Row base game and the Idols Anarchy Pack as a pre-order bonus. In case you are wondering what the Idols Anarchy Pack is, well, it's a set of three customization items:
Idols DJ Helmet
Twinkle Bat
Sandstorm Scrambler
While you don't necessarily need them in the game, it's good to have them since they are free. The Saints Row 2022 Standard Edition costs $59.99, and you can find it on Amazon or sold by Best Buy and GameStop.
For PC, it is also available on Epic Games Store, while for Xbox and PlayStation, you can pre-order it from the PS Store or MS Store in digital form. It is worth knowing that if you opt to buy it from GameStop, you'll get two additional bonuses (part of the Criminal Customs Edition):
Saints Custom Convertible
Saints Custom Stab Jacket
Again, these are customization items, but since the price for the Standard and Criminal Custom Edition is the same, why not buy them? This edition is recommended if you are on a tight budget or new to the Saints Row franchise. If you played other titles in the series but did not enjoy the trailers revealed by developers, you'll also want to play safe and save a couple of bucks because some notable changes are coming to the new SR game.
Legacy Edition Price & Content
If you have an additional $30 to spare, then you can opt for the Saints Row Legacy Edition, but to do this, you'll need to get it from Best Buy.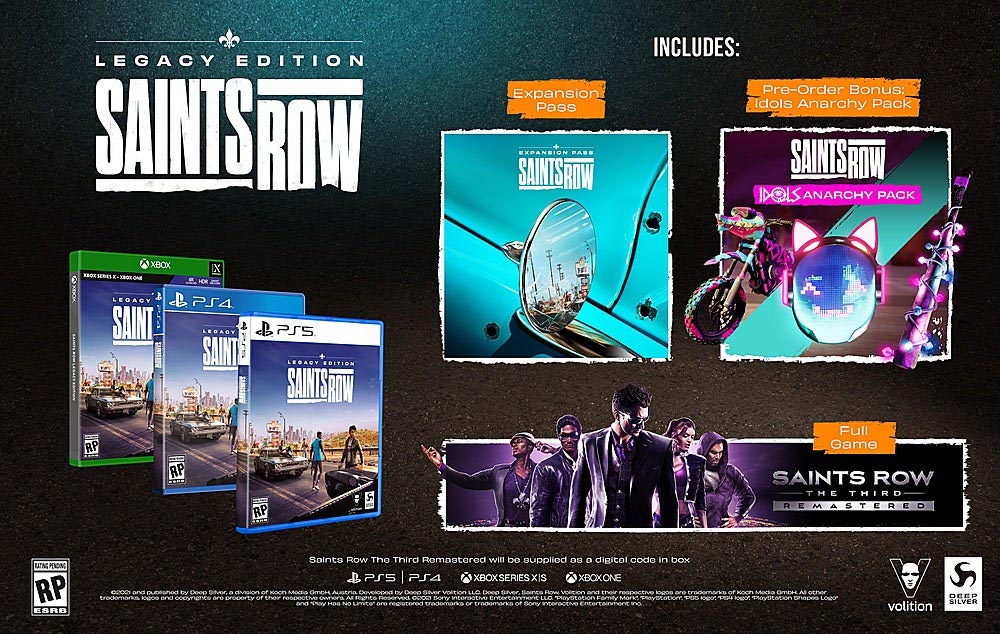 Priced at $89.99, the Legacy Edition includes the following:
Base Game
Idols Anarchy Pack (Idols DJ Helmet, Twinkle Bat, Sandstorm Scrambler)
Expansion Pass
Saints Row The Third Remastered
Available on all platforms, this edition, as you can see, includes the Expansion Pass as well as a digital code for Saints Row The Third Remastered; however, is the price justified? This depends on the gaming platforms you own and the subscriptions you use. Simply put, if you are an active Xbox Game Pass member, Saints Row The Third Remastered currently costs $10, with a 75% discount applied at the time of this writing.
On the other hand, if you subscribed to the PlayStation Premium Tier, you can download it for free, so there is no need to pay for a copy of Saints Row The Third Remastered. Granted, you'll also get the Expansion Pass, but it is also included in the next edition, which comes with a lot more for the same price. So far, Best Buy's Legacy Edition offer for the new Saints Row game is the worst on the market.
Notorious Edition Price & Content
For the same price as the Legacy Edition, Gamestop comes with an offer for those who are looking to buy the physical version of Saints Row 2022.
The Saints Row Notorious Edition is exclusive to Gamestop, and for $89.99, you'll get the following:
Exclusive Steelbook with the game disc
Double-Sided Poster 66 cm (W) x 39.3 cm (H)
Mini Artbook
4 Santo Ileso Postcards
4 Character Art Cards
Expansion Pass
Los Panteros American Muscle Bundle Bonus
The Saints Criminal Customs Bonus
Now, as you can see, this retailer's offer is notably better than the one from Best Buy, especially for collectors, because the Notorious Edition comes with many physical items, even if all of them are made of paper. This is what you can call the Saints Row 2022 Collector's Edition, and even if it doesn't include the Saints Row The Third Remastered, it's the one you should opt for if you are a Game Pass or PlayStation Premium subscriber.
Alongside the physical items, you'll also get to explore the American southwest streets of Santo Ileso in style, thanks to the Los Panteros American Muscle Bundle.
Gold Edition Price & Content
Assuming you are not a fan of physical editions, or you can't pre-order Saints Row from Gamestop, then you can go with the Gold Edition, which is available on all platforms in digital format.
It costs $89.00, and it includes:
Idols Anarchy Pack
Saints Row Expansion Pass
Los Panteros American Muscle Bundle
Saints Criminal Customs
Again, this is worth buying, especially if you are a PlayStation Premium Tier subscriber, because you have free access to Saints Row The Third Remasted, which is also the only difference between the Gold Edition and the Platinum Edition below.
Platinum Edition Price & Content
Last but not least, we have the Saints Row Reboot Platinum Edition, which is the most expensive one ($99) and, honestly, the worst available.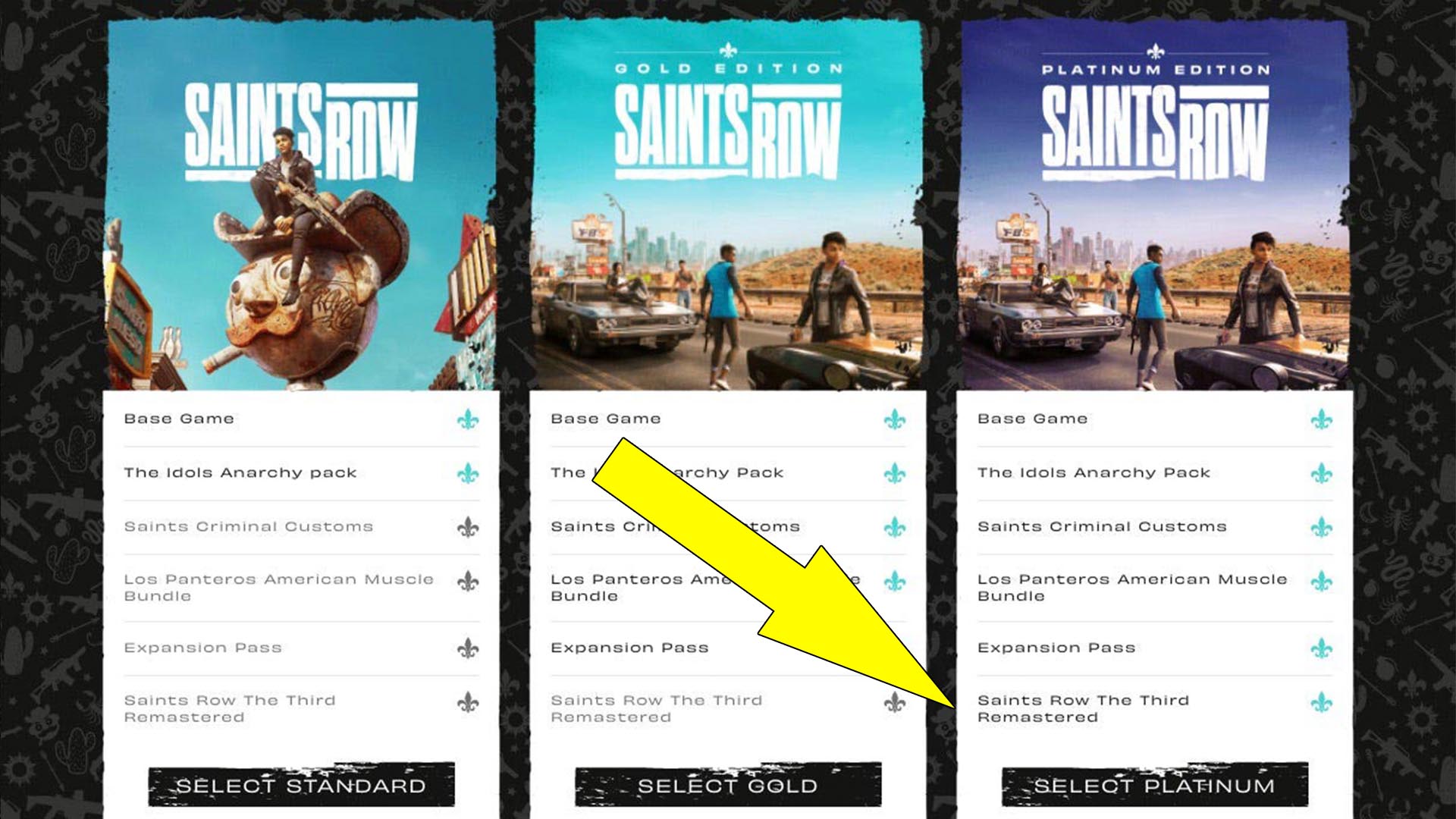 As mentioned above, it includes everything you get from the Gold Edition, and for an extra $10, you get the SR The Third Remastered. While Saints Row The Third Remaster is a great title, it's already free on PlayStation Premium, and on Xbox, you have a 75% discount as a Game Pass member.
So, as a summary, if you wonder what Saints Row Reboot edition you should pre-order, the best options are:
Standard Edition – Recommended for new players or those who didn't enjoy the changes from the announcement trailer but still wish to try the game
Notorious Edition – Recommended for physical items collectors and fans who want to enjoy the full Saint Row experience
Gold Edition – If you don't care about postcards and physical items, yet you still want to get the most from the upcoming Saints Row 2022
Regardless of what you choose, remember that the Expansion Pass grants access to new map areas, as we already explained.
Last but not least, as we get close to the release date, before placing your Saints Row Reboot pre-order, consider checking this gameplay trailer.