Lego Star Wars Skywalker Saga: How To Solve Dowager Downer Puzzle
Lego Star Wars Skywalker Saga Dowager Downer Puzzle is trickier than the previous one we completed in the Mos Eisley area, named Stomp A Womp Rat.
That is because you have a little jumping puzzle where you can lose some time until you get the hang of it, and as always, you need to pay extra attention to details.
A Bounty Hunter character is mandatory if you want to complete the Dowager Downer mission. A Jedi or Dark Side character would also be of assistance for the jumping puzzle because of his double jump.
And you might want to consult the guide below, where I'll explain how to complete and, of course, where to find the Dowager Downer Kyber Brick Puzzle in the video game developed by TT Games.
Lego Star Wars: The Skywalker Saga Dowager Downer Puzzle Location
You can solve the Lego Star Wars Skywalker Saga Dowager Downer Puzzle in front of the Dowager Queen hotel on the east part of Mos Eisley.
Check the following map to find the location as quickly as possible.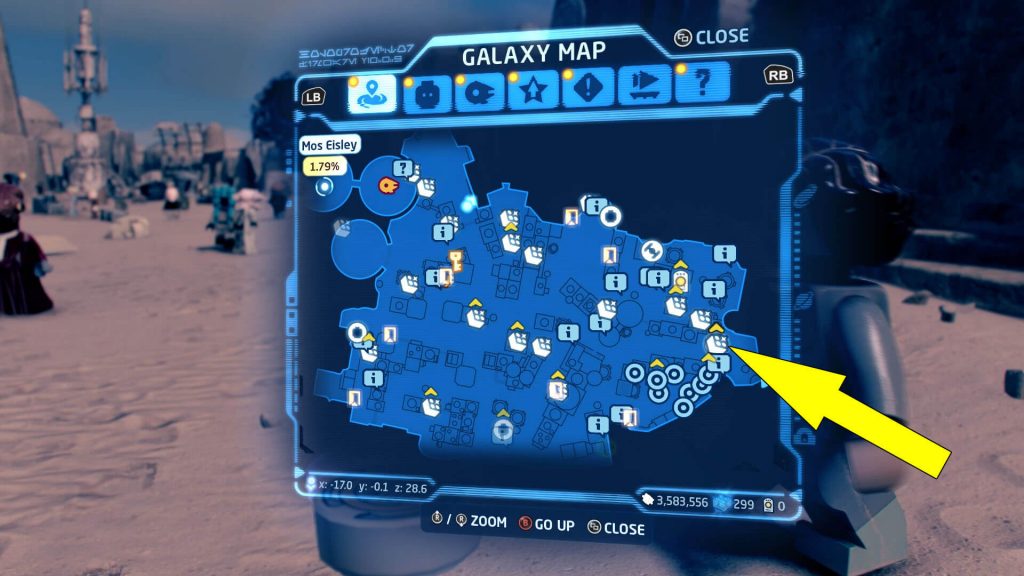 Before you start, let me share the Puzzle's rumor, so you don't have to waste your studs on it.
You staying in the Dowager Queen hotel? Doesn't look that secure to me. I certainly wouldn't put my valuables in there… But then again, I don't have anything of value. Other than friendship, of course!

Dowager Downer Kyber Brick Puzzle Rumor
As you can see, the tip is not of much assistance, so continue reading to find out how to solve Lego Star Wars Skywalker Saga Dowager Downer Puzzle.
Dowager Downer Puzzle Solution – How To Get The Kyber Brick
When you arrive at the location marked on the map above, you'll see that the hotel is actually a crashed rocket.
You have to climb to the small platform on the rocket and pull out a piece of metal exactly where I showed you in the previous image.
To do so, you must first destroy the crates at the rocket's base to reveal an Astromech Droid console, as shown in the next screenshot.
Then switch to an Astromech Droid character and interact with the console to reveal some more platforms needed for the jumping puzzle I mentioned before, which I suggest you do with a Jedi or Dark Side character.
Some platforms will close once in a while and could kill you if you are on them, so time your jumps carefully.
After a couple of tries, you'll reach the highest platform, and then you can switch to a Bounty Hunter or Hero character to pull the piece of metal mentioned earlier out of the rocket.
Behind the piece of metal, you can see a stormtrooper holding the Kyber Brick collectible you are chasing to solve the Puzzle.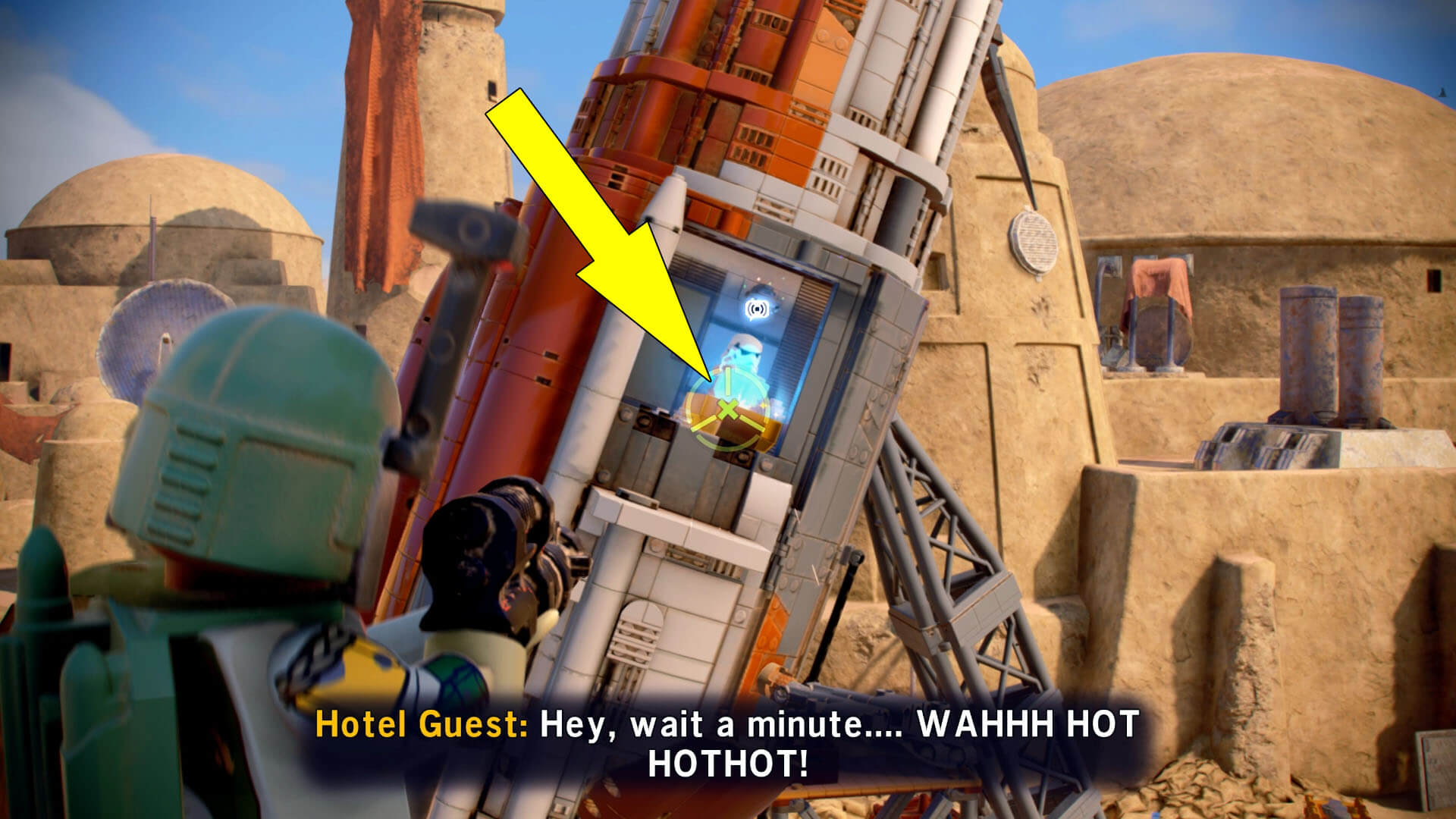 Switch to a Bounty Hunter and position yourself, so you have a clear shot at what seems to be a golden bathtub, just like in the image above.
Destroy the bathtub and grab the collectible to complete the Lego Star Wars Skywalker Saga Dowager Downer Puzzle.