Lego Star Wars Skywalker Saga Stay On Target Challenges are a little different from the other ones in Episode IV because you have to complete them while flying an X Wing.
The main objective of destroying the Death Star will put your pilot skills to the test, and you will also have to make time for the three Challenges during the intense dogfight.
The good news is that you can go for 100% completion in your first run of this mission. But you can come back later if you missed something.
Now let's focus on how to complete the Lego Star Wars Skywalker Saga Stay On Target Challenges with the help of the following guide.
How To Complete Lego Star Wars: The Skywalker Saga Stay On Target Challenge #1
The first Challenge you can complete is to destroy ten turrets while doing the trench run.
You can start doing that as soon as you begin the mission.
There are plenty of turrets you can destroy. Some of them will actually get in your way, so you can't miss them.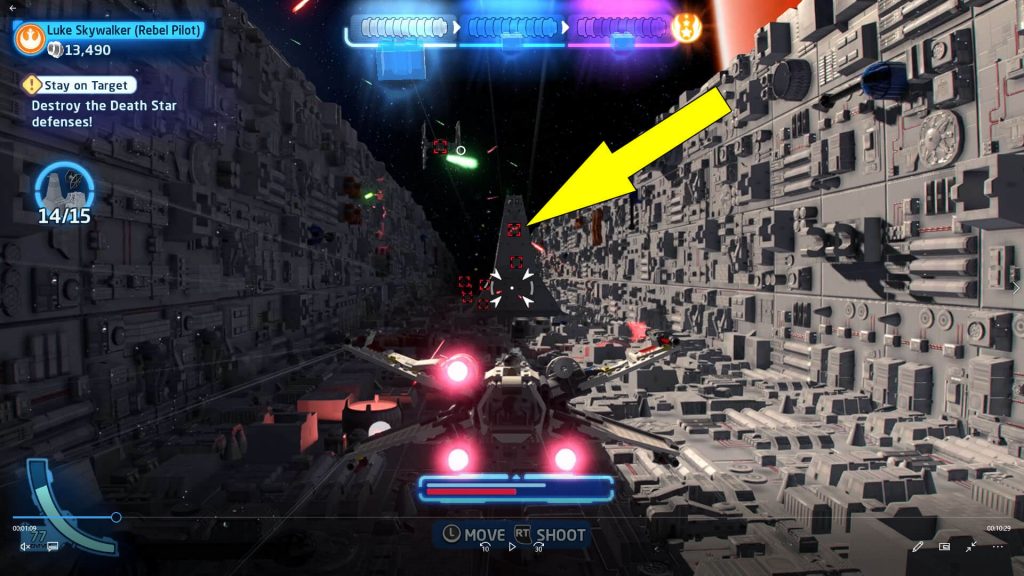 You can also find turrets on the sidewalls, which you can easily miss if you don't pay attention.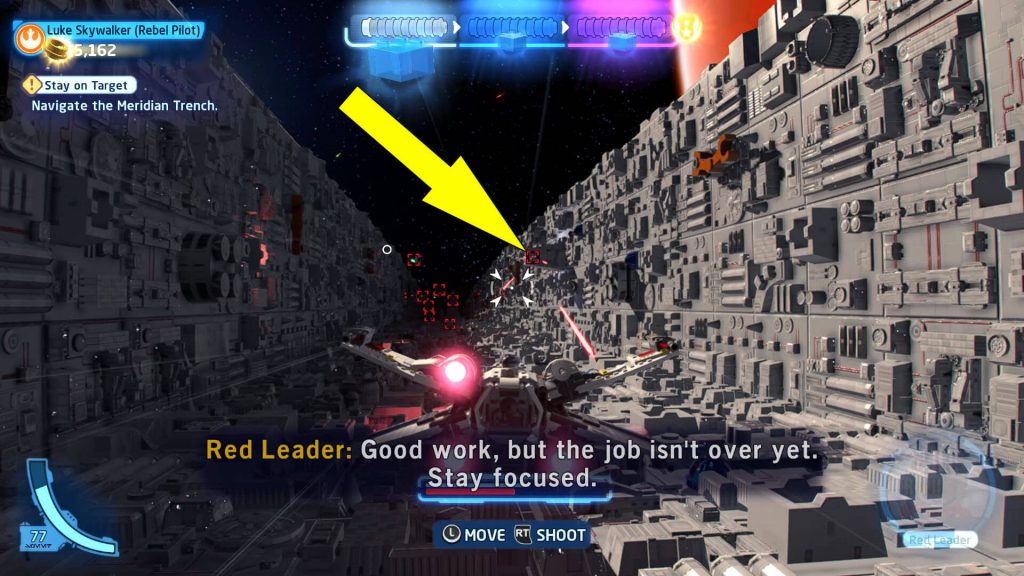 Destroy ten of them, and you will complete the Lego Star Wars Skywalker Saga Stay On Target Challenge: Hope That's Insured.
How To Complete Stay On Target Challenge #2
For the second Challenge, you will have to use a "loop maneuver" to break out of Darth Vader's targeting systems three times.
To do that, you will first have to make your way to the part of the mission where Lord Vader joins the proceedings.
Now keep an eye out for the targeting systems pointer on your screen and push the corresponding buttons of your input's device, like in the following image. Press both of them at the same time to get a loop maneuver.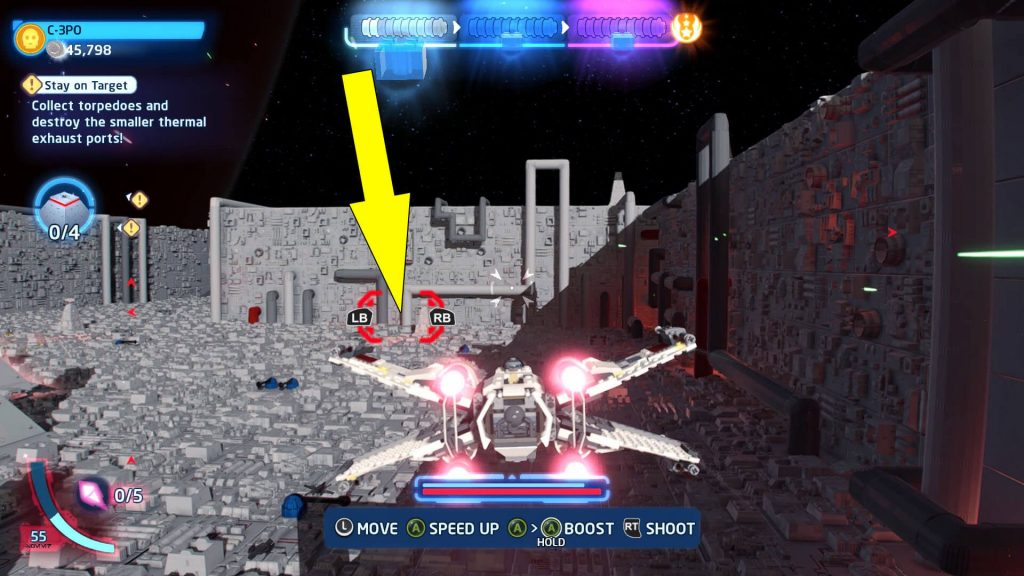 Try to wait for a little after he targets you to ensure it works, and then push the buttons. I'm not sure it's necessary to wait, but that is how I did it.
After doing this three times, you will receive confirmation that you have completed the Stay On Target Challenge: Clever Flying.
How To Complete Stay On Target Challenge #3
Now all you have to do is cause severe damage to Darth Vader's ship, and you will complete the Stay On Target Challenge: That's Not Going to Buff Out…
The harder part of this Challenge is actually to find Vader. So to help you out, here is what his ship looks like: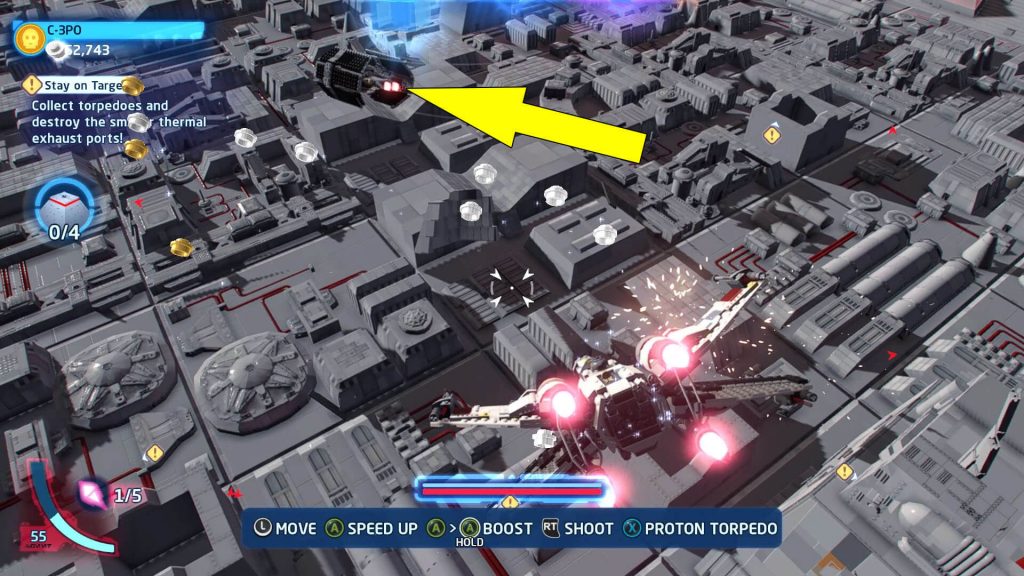 Another thing to look for when he is at a longer distance, where you can't see him, is that he can tank a lot of damage (you can destroy the other ships in two or three hits). So, if you are shooting something that doesn't explode, throw everything you got at it.
Also, if you can't find Vader, try to look behind you because he will be there trying to target you most of the time.
It would help if you also tried to shoot some torpedoes at him to damage him faster. If you run out of them, you can always collect more from nearby.
You will do enough damage in no time and be done with the last Challenge.
Congratulations are in order because it seems you are the best pilot in the rebellion. You destroyed the Death Star and completed all three Stay On Target Challenges in the game developed by TT Games.