Atlas Fallen Bastengar's Underground Elite Foe is a powerful enemy you must defeat if you want to get a step closer to unlocking the Slayer Trophy/Achievement.
Bastengar's Underground Elite Foe is named Devorur, and it classifies as an Elite Lesser Wraith, which is the weakest type.
However, trade carefully, as the powerful Wraith is still an Elite and can punish you if not taken seriously.
After slaying Devorur, you will get the Avid Generation Essence Stone as a reward, which gives you protection from the Momentum draining hits if equipped.
As such, don't hesitate to check our guide below if you want to learn where to find Atlas Fallen Bastengar's Underground Elite Foe and get tips on how to defeat him.
Bastengar's Underground Elite Foe Location Map in Atlas Fallen
The Elite Lesser Wraith is found on the north side of the region, as shown on the following map.
To continue, I'll provide additional screenshots and tips on how to defeat and get to the Elite Foe.
Where To Find Bastengar's Underground Elite Foe in Atlas Fallen
To reach the boss-type enemy quicker, it would be best to fast travel to the Sunken City Anvil, assuming you've already unlocked it on a prior visit to the area.
Then head to the big broken bridge leading to the northern side of the region.
Now, double jump and dash three times to get across the huge gap. Thus, you'll first need to upgrade your Gauntlet to unlock the third air dash, which can be done by progressing with the main story.
It is a big jump, but you can do it, so make the leap of faith.
Once you are on the other side of the broken bridge, continue north and keep an eye on the right side to shortly see a sort of big red curtains kind of hiding the entrance to a giant building.
Head inside the building where the Elite Foe and his Wraith friends are waiting to ambush you.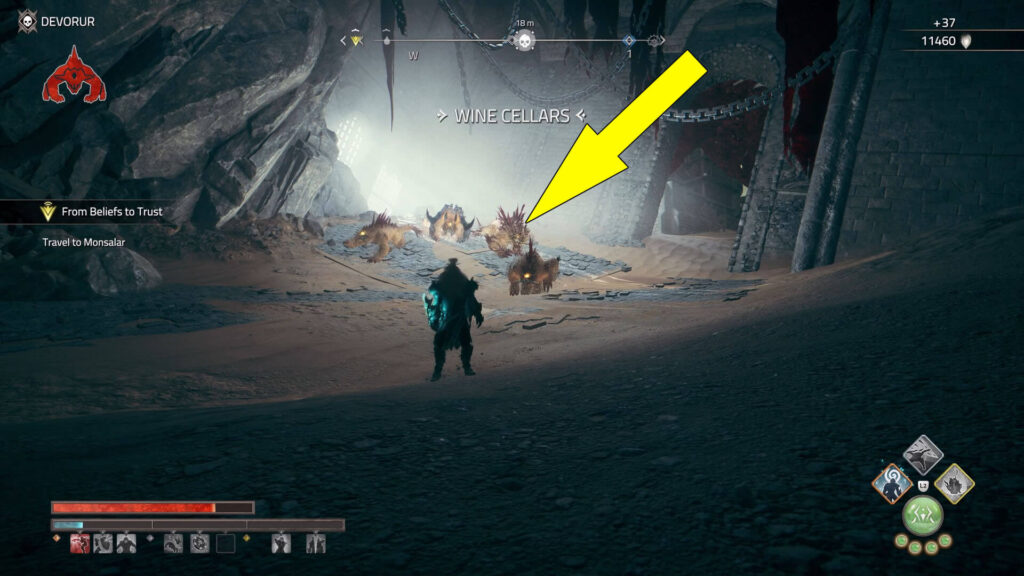 The joke is on them because you are unstoppable with that Gauntlet.
How To Defeat Bastengar's Underground Elite Foe in Atlas Fallen
As long as you dodge Devorur's and his minions' attacks, you should be fine.
Also, focus on the normal Wraiths when there are any, so you don't get overwhelmed.
Note that Devorur can sacrifice a nearby Mawer to empower itself, and if that happens, you must be extra careful. The good part is that at least the Mawer gets killed in the process.
If, by any chance, you can't take down Devorur now, you can return later after you have made some upgrades to your armour and become more powerful.
I am sure you will eventually kill the powerful enemy, and then don't forget to get the Essence Stone.
Fantastic job, friend! The Atlas Fallen Bastengar's Underground Elite Foe has been slayed, and its Essence Stone collected. However, you can now complete other activities in the region, like Bastengar's Underground Heavenly Shrine.