Diablo 4 Desiccation is a Kehjistan side-quest in which you must play the role of an exterminator and cleanse a well of flies.
Thus, Desiccation is one of the 44 Kehjistan side-quests, and assuming you're a completionist, you must not miss a single one.
The problem is that the quest can be a little tricky because you have to destroy a couple of Fly Nests that are not marked on your map.
As such, it would be best to check the following walkthrough to make sure you don't waste too much time completing D4 Desiccation side-quest.
How To Start Desiccation Quest in Diablo 4
Just like with the Symbol of Faith side-quest, the requirements to start Desiccation are not that hard to meet.
You just have to progress with the main story all the way to Act 4 and start exploring the Kehjistan region.
Then, you must travel to Searing Expanse in the western part of the Amber Sands area and look for an injured woman.
Her exact location is pinpointed on the map below, which you should check out if you have no luck finding her by yourself.
The woman is an Acolyte of Akarat named Naglaa, and before anything, you must give her one of your healing potions to make her better.
Once Naglaa is up, talk to her to learn that she is here to clear the flies away from their well, but she is not made for this kind of work and got hurt.
Now if you would cleanse the well yourself, Naglaa says Akarat will return your kindness when you get to the chapel.
Because you can't resist helping people in need, let's see how to cleanse the well.
Where To Find the Fly Nests in Diablo 4
Upon finishing talking to Naglaa, you can open your map to see you're at the edge of the quest's search area.
Inside the said search area, you must find and destroy four Fly Nests, just like the one in the next image.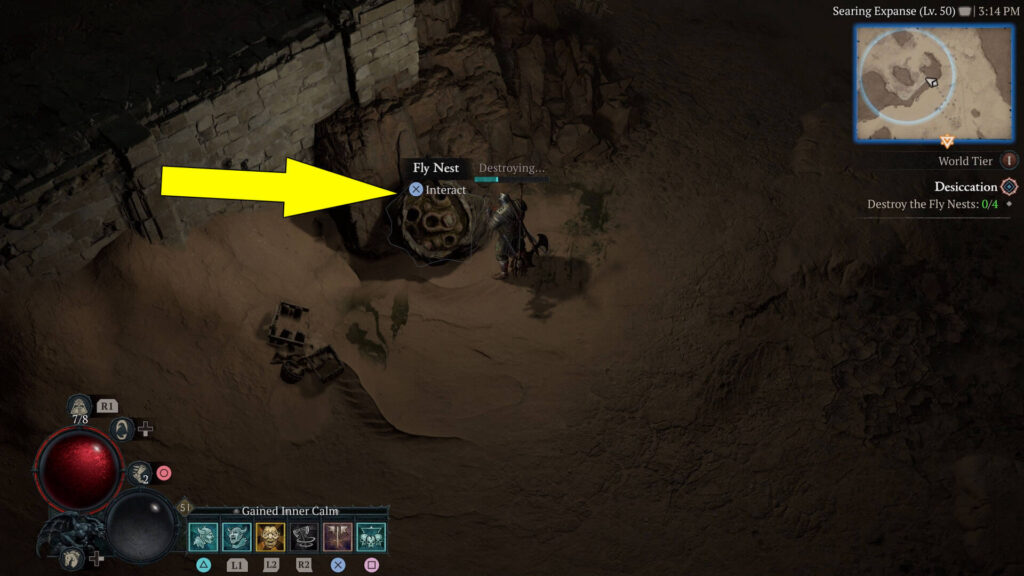 The search area is pretty small, but just in case you can't find one or two of the nests, don't hesitate to look over the D4 map below, where we've marked their locations.
It's worth mentioning that the order in which you destroy the nests doesn't matter.
Also, you might run into a couple of mobs while searching the area, but nothing you can't handle.
After destroying all four nests, you can head to the Zakarum Chapel in the northwestern corner of the Amber Sands area.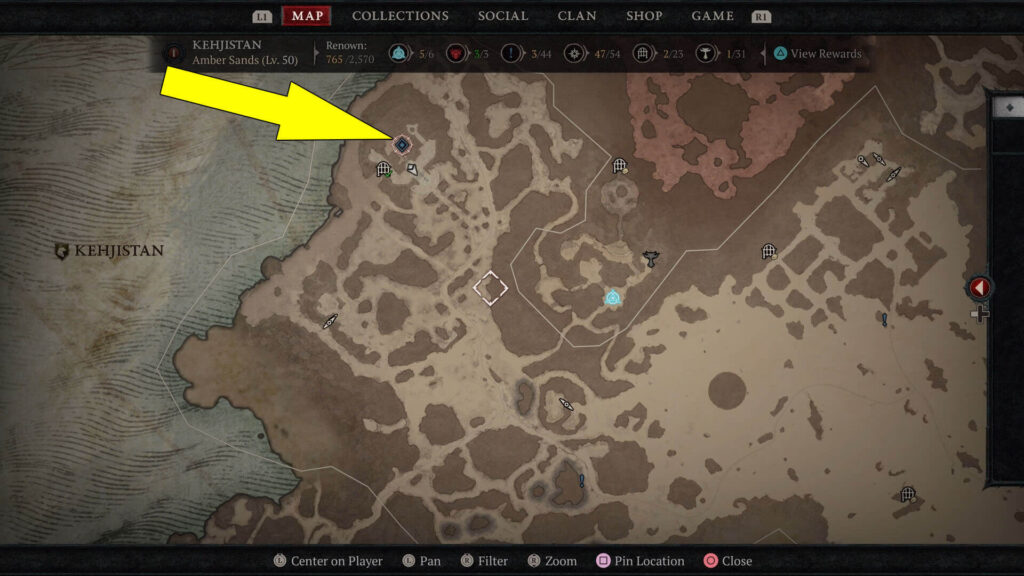 Finally, you must enter the church and tell Naglaa you took care of the task.
She will thank you in the name of everybody and give you a reward that apparently they can't afford.
That's all, friend! You've completed Diablo 4 Desiccation quest and got the following: Gold, XP, Renown points, and a Cache. But if you want to continue, there are more side-quests you can start in the Amber Sands area, like Mirage.