An Unlawful Order is a Diablo 4 kill quest, part of the Acts of Atonement questline, in which you must help Edgar confront Osric, the Inquisitor captain who butchered a lot of innocent people in Caldeum.
Diablo 4 An Unlawful Order also counts as one of the 44 Kehjistan side-quests, and they are all mandatory, assuming you are a completionist and want to get 100% in the desert region.
However, the Unlawful Order side-quest can be tricky as you need to kill Osric, who is an Elite enemy, and his Knights.
As such, throughout the walkthrough below, we will provide step-by-step instructions to help you complete D4 An Unlawful Order side-quest quickly.
How To Start An Unlawful Order Quest in Diablo 4
Because An Unlawful Order is part of a questline, you must complete the previous three quests, the last being Justice Delayed.
Then, you must meet Edgar in Caldeum Bazar, as the following map shows.
Now if you want to go directly to Edgar, we have pinpointed his exact location on the map below.
When you get to the NPC, who is waiting for you near two red tents southwest of the Renegade's Retreat dungeon, he will tell you that Osric and his crew can be found in a garrison near the main square.
Unfortunately, the fastest way to the Inquisitor captain is through the front gates, so you will meet some resistance, nothing you and Edgar can not easily handle.
Thus, let us see where you can find Osric precisely.
Where To Find Osric's Hideout in Diablo 4
After listening to Edgar's plan, you can open your map to see a small search area where you can find Osric's hideout.
To continue, head to the search area and slay all Knights Penitent, who will get marked with red dots on the minimap when you get close enough.
Then you are free to go to the blue marker on the minimap and enter Osric's garrison.
Once you get to Osric in the larger room, you can talk to him, but it will lead nowhere, so next, you must defeat the Inquisitor captain and his Knights.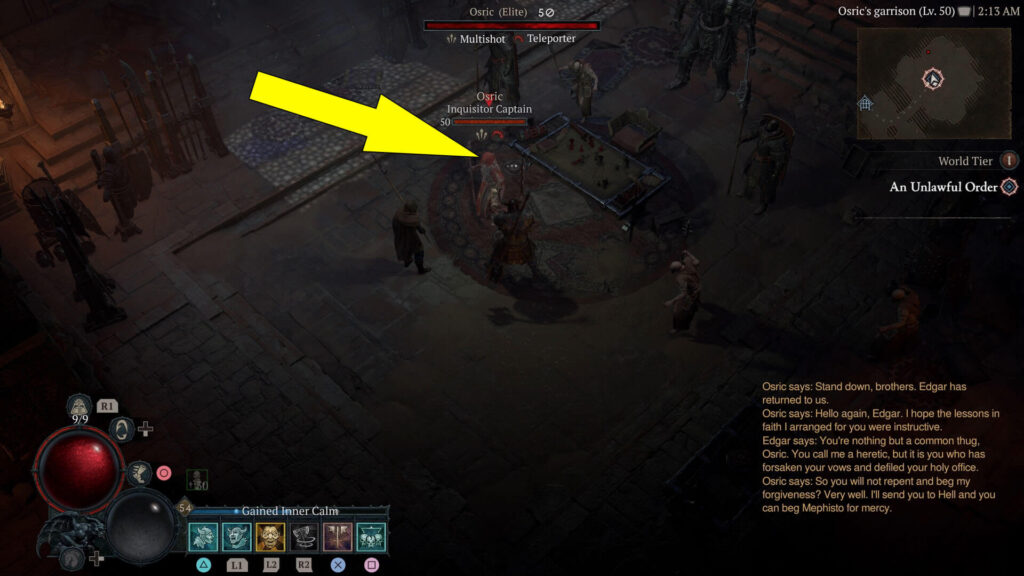 Depending on your World Tier level, the fight can be intense as there are plenty of Knights, and Osric himself is quite powerful.
But we have faith you will get the job done and defeat all of them.
When you are done, speak with Edgar one last time, and he will tell you that he doesn't know how to thank you and gives you his weapon.
Congratulations, our Nephalem friend! You have managed to complete Diablo 4 Unlawful Order side-quest and the Acts of Atonement questline. Your rewards for completing the quest are XP, Gold, Renown points, and a Rare Polearm.