Lego Star Wars Skywalker Saga Revelations Minikits can be obtained while fighting Darth Vader on Bespin.
You actually have to battle with Vader three times in Revelations, the last mission in Episode V: The Empire Strikes Back of the video game developed by TT Games.
But don't worry, you can look for the Minikits between the three phases of the boss fight.
You can easily miss the collectibles, so check the guide below to obtain all five Revelations Minikits.
Minikit #1: Appears From The Floor
After your first encounter with Darth Vader, before pursuing him, turn around and look for a switch on the wall.
Interact with the switch to make the first Revelations Minikit appear from the floor.
Grab it fast and continue with the mission.
Minikit #2: In The Middle Pipe
Now make your way through one of the pipes, and when you reach the other side, turn back and enter the middle pipe that is only accessible from this side.
You will see a grapple point like in the following image if you look up.
Switch to R2-D2 and pull down the second Revelations Minikit.
Minikit #3: In The Middle Of The Room
You can now continue your search for Vader and after you slide through another pipe to reach the next room, find the Protocol Droid console on the left, as shown in the next screenshot.
Switch to C-3PO or any Protocol Droid and use the console to reveal the next Revelations Minikit in the middle of the room.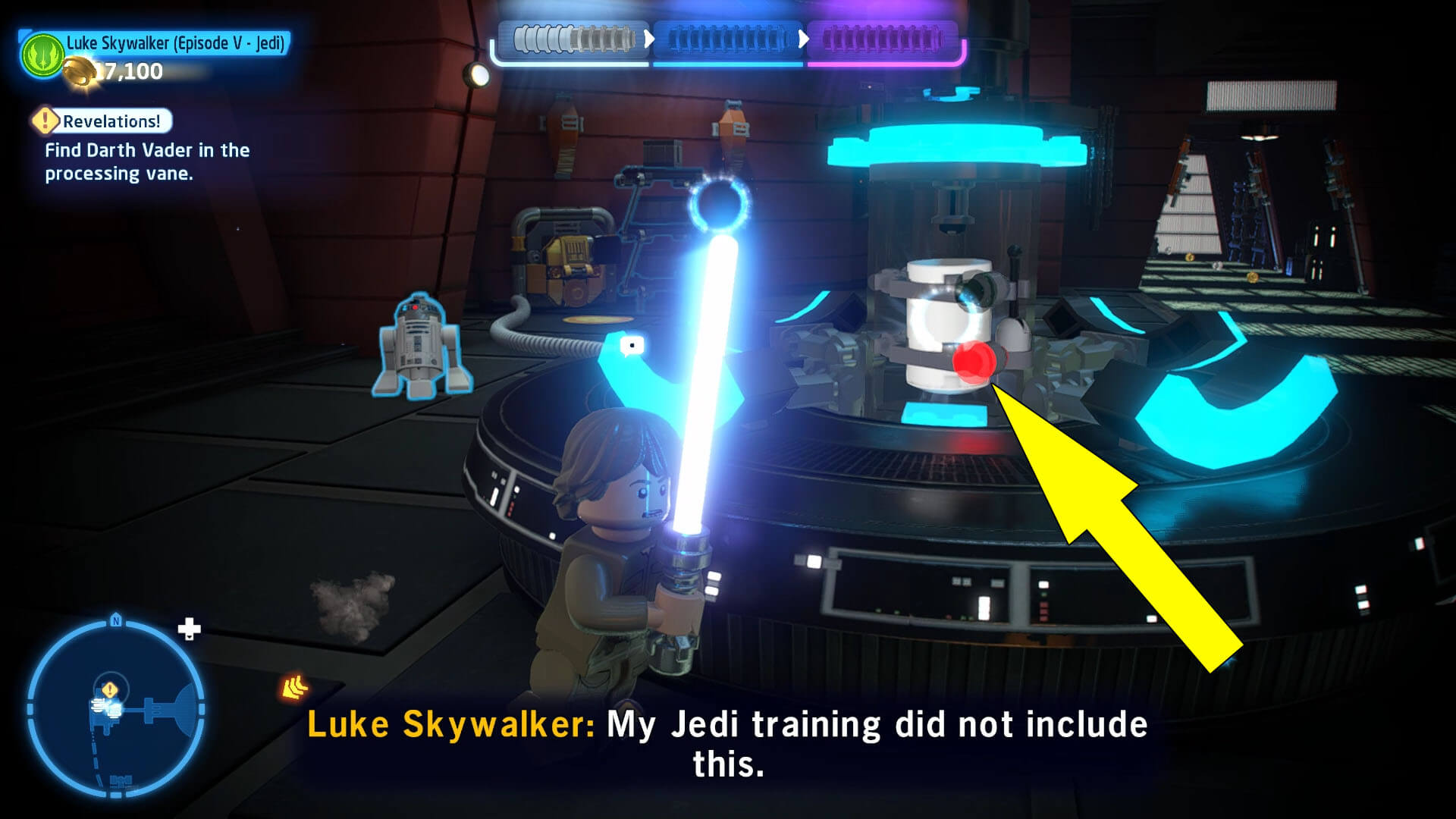 Now take your next shoot at beating Vader.
Minikit #4: On The Wall Near The Hero Console
After the second phase of the boss fight, you will get sucked out the window and cling to a platform outside.
Look for the Hero console on the left and switch to a Hero character, of course.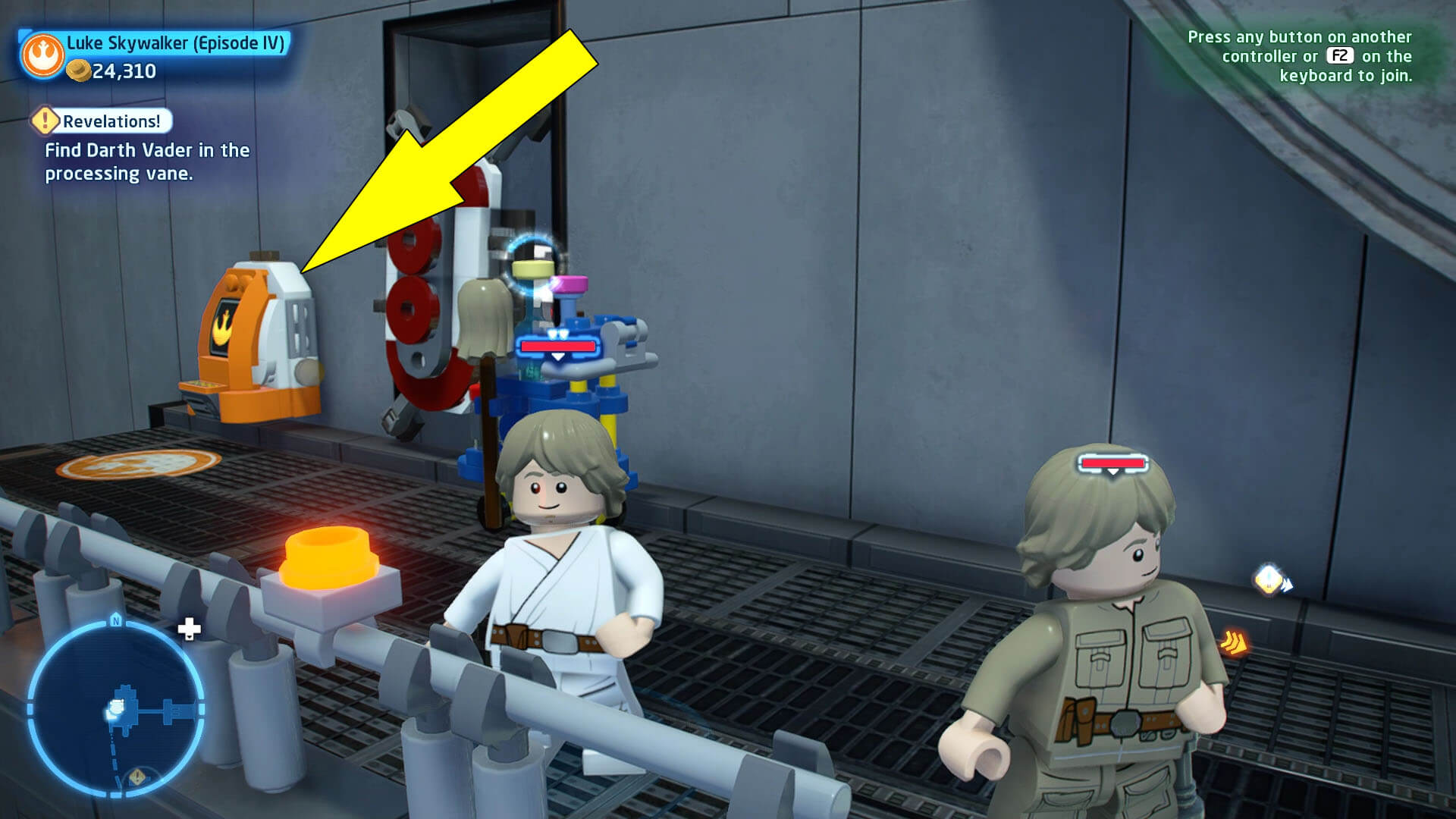 Now use the console and grab the fourth Revelations Minikit from the wall.
Minikit #5: Behind Lando's Picture
Start to look for Vader again, and you will reach a corridor with two doors to the left and two to the right.
Enter the first door to the right, and you will see a big picture with Lando.
Destroy the picture because you will find the final Revelations Minikit behind it.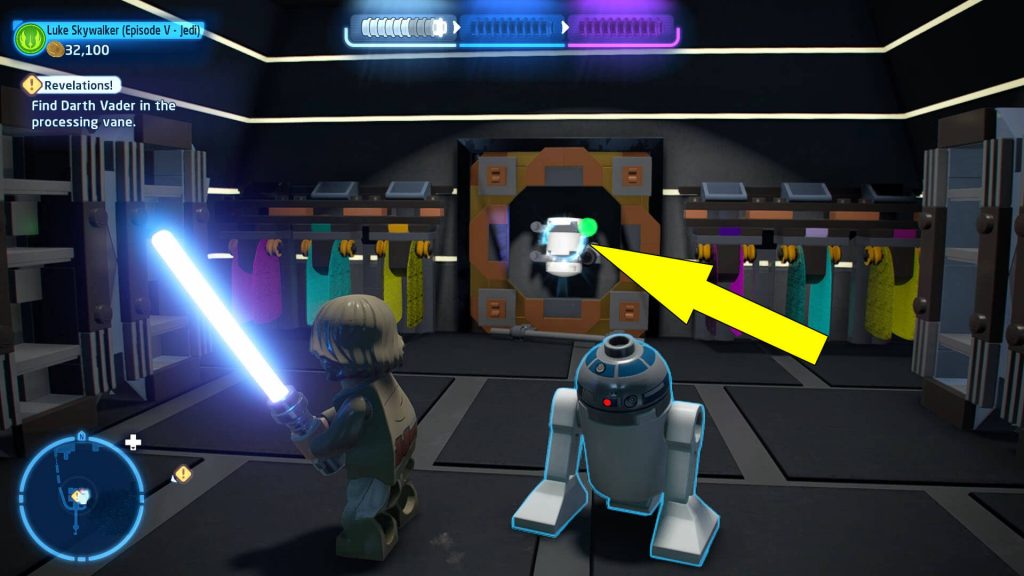 You can now fight with Vader and end the mission because you have just obtained all five Lego Star Wars Skywalker Saga Revelations Minikits.