Sonic Frontiers M-017 is one of the 25 Challenges available on Kronos Island, and by completing it, you'll get a step closer to revealing the entire map.
It's worth mentioning that when you finish all 25 Challenges on Kronos Island, you also unlock fast traveling in the same area. You'll have the ability to teleport at any portal in this area using the in-game map.
Therefore, you have enough reasons to complete Challenge M-017, and if you get stuck at any point, you can check the following guide.
Sonic Frontiers Challenge M-017 Location
You can find this Challenge in the middle of the bigger island in this area, as you can see on the map below.
The M-017 sign is on the high ground, a little northeast of the yellow Chaos Emerald.
If you want to complete this Challenge after the previous one in the order they are numbered, named M-016 (covered in this guide), you just have to head southwest from the latter's location, cross the bridge and go up the hill.
How To Complete M-017 Challenge On Kronos Island
Now, you want to locate the pedestal surrounded by stone paths, near the Challenge's sign, just like in the image above.
Then use your Cyloop skill by holding the Y button on your Xbox controller, and make a circle around this pedestal.
Doing so will spawn a blue ball above the pedestal and a blue circle next to the M-017 sign.
Your objective is to make the ball go through the ring.
So position yourself to give the right trajectory to the ball and press the X button, also on your Xbox controller.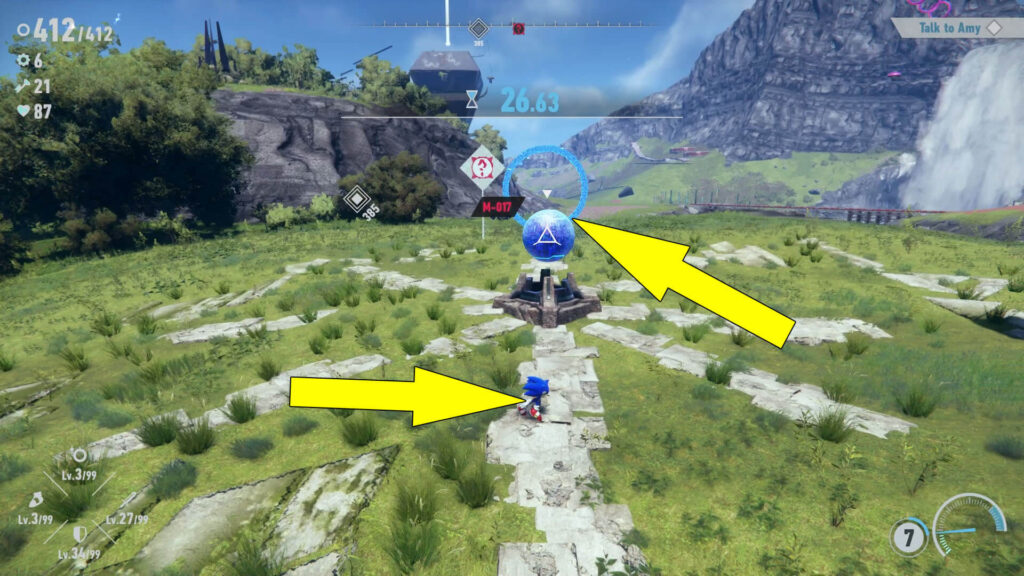 The ball should go through the circle, and just like that, Sonic Frontiers Challenge M-017 comes to an end, revealing more of the map.