Star Wars Jedi Survivor Sodden Grotto is a small area located near Southern Reach, and it features eight collectibles, including one Chest from which you'll get a customization item.
Also, the Sodden Grotto Chest is mandatory if you want to achieve 100% completion in the area part of planet Koboh.
Just like the Sodden Grotto Databank, the Chest collectible doesn't require any upgrade or special ability, meaning you can pick it up early in the video game developed by Respawn Entertainment.
However, it's very likely that you'll miss the collectible if you don't carefully explore the area because it's not located on the main path.
Therefore, throughout the following SW Jedi Survivor Sodden Grotto Chest location guide, we'll explain exactly where to find the collectible.
Koboh Sodden Grotto Chest Location Map
First, you'll need to make your way to the Sodden Grotto mine; to do so, you should start from the Rambler's Reach Outpost Meditation Point.
Then face the outpost, climb the wall with the vines on the left side, and once up, you'll see the mine's entrance on the left side.
Now, on the SW Jedi Survivor map below, you have the location of the Chest collectible in the Sodden Grotto area.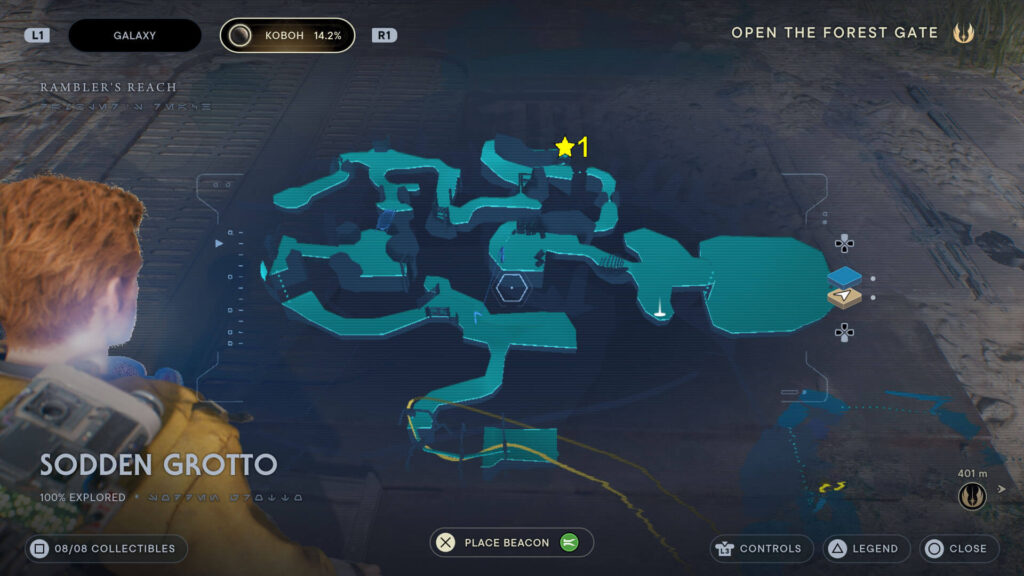 In addition, we'll provide more instructions and screenshots to help you reach the SW Jedi Survivor collectible.
Chest #1 (Scrapyard Legs): At The Back Of A Dark Section
Once you've entered the mine, proceed on the linear path until you reach a crossroad.
Don't worry, you won't encounter too many enemies, and the ones you do are not strong at all, except the boss at the end of the mine, near the Meditation Point.
At the crossroad, you must choose the path to the right, where you must slash some cables with your lightsaber to continue.
Then head to the right and continue until you get to a tight spot where you have to squeeze through.
Attention, in this area, you have one of the two Sodden Grotto Treasures if it interests you.
Now head to the left to enter a dark section where you should use your lightsaber to see where you are going by holding the
/

button on your PlayStation/Xbox controller.
Make your way to the back of the dark section because there you'll find the Chest you're looking for, as shown in the next image.
Since you've found the Star Wars Jedi Survivor Sodden Grotto Chest, you can continue exploring the mine to also locate the Sodden Grotto Essence, or just head to our Wiki Hub Page here for more guides on collectibles.