The four Star Wars Jedi Survivor Sodden Grotto Databank are collectibles you can find while exploring the relatively small mine near Southern Reach, where you must also look for some missing prospectors.
Sodden Grotto is located near the Southern Reach area on planet Koboh; just start from Rambler's Reach Outpost Meditation Point, face the settlement, head left to climb the wall covered with vines, and once up, you should see the mine's entrance in the mountain wall on the left side.
Because you don't need any upgrades or special skills, we recommend you obtain the four Databanks on your first run of the mine, so you won't have to backtrack later if you want 100% completion in the area.
Now if you want to make sure you don't miss any of the four SW Jedi Survivor Sodden Grotto Databank collectibles, don't hesitate to check the following guide.
Koboh Sodden Grotto Databank Locations Map
Once in the Sodden Grotto area, you should look over our map below because, on it, we've pinpointed the locations of the four Databanks.
Also, we'll provide additional instructions and screenshots to guide you to the said collectibles.
Databank #1 (Dead Researcher): Next To A Light
After entering the mine, proceed on the pretty linear path until you get to a crossroad.
Both paths are blocked by cables, and you must choose the one on the left.
Cut the cables with your lightsaber, then go through the tight spot on the left side and turn right to see a dead body next to a light at the back of this section.
Interact with the body to obtain the first Databank collectible in the SW Jedi Survivor Sodden Grotto area.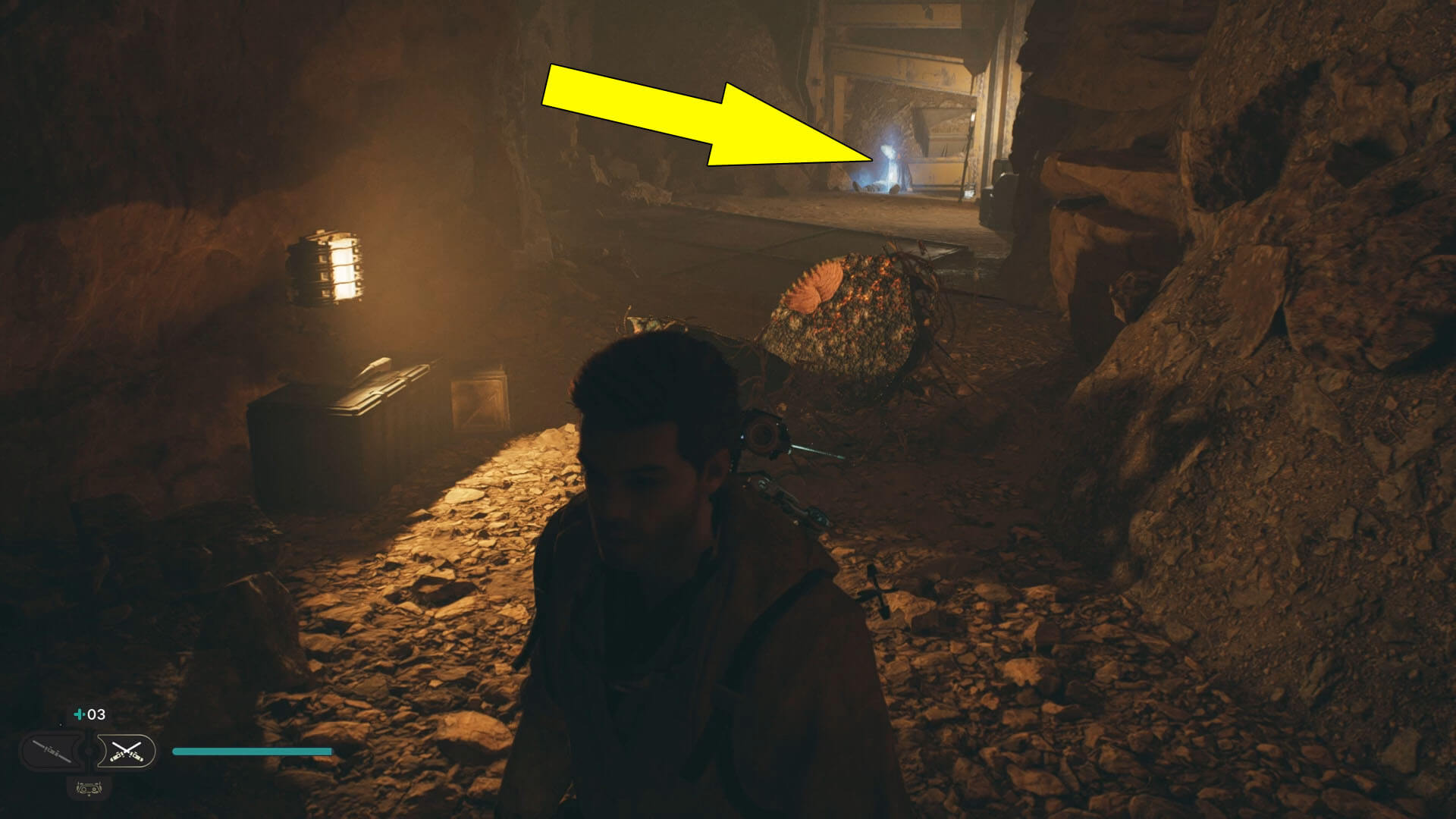 Databank #2 (Dead Gorgers): On A Ramp
Now go back to the crossroad from earlier and head on the other path.
Cut these cables as well because they are blocking your progress; go through, head to the right, then left down the ramp to find a dead creature you can scan to get credit for the second Sodden Grotto Databank.
Databanks #3 And 4 (Massive Ribcage And Prospector Remains): Near The Sodden Grotto Meditation Point
Upon getting the previous collectible, squeeze through the tight spot to find one of the two Sodden Grotto Treasures and continue on the linear path until you reach a Meditation Point on the right side past a big skeleton.
Scan the skeleton for the third Databank and then interact with the echo on the other side of the saving point to get credit for the fourth collectible as well.
Good job, our Jedi friend! You've found all four Star Wars Jedi Survivor Sodden Grotto Databanks. Now you should go search for the Chest available in the same area or visit our Wiki Hub Page here for other collectibles you might want.