Deadly Trade is a Diablo 4 gather quest that is available in Kehjistan, the fourth region of the video game published by Blizzard Entertainment.
Kehjistan has a total of 44 side-quests, and they are all required if you want to achieve 100% completion in the desert region.
Diablo 4 Deadly Trade can be tricky if you don't know how to obtain the quest items required for one of the objectives.
Now if you want to complete D4 Deadly Trade as fast as possible, make sure to check the following walkthrough.
How To Start Deadly Trade Quest in Diablo 4
The requirements to start Deadly Trade are simple; you must reach Act 4 and the Kehjistan region.
Then you must head to Gea Kul, the biggest town in Kehjistan, located in the southwestern corner of the region.
When you get to Gea Kul, you must find the Work Notice near the stables on the north side of the town.
We've marked the exact place on the D4 map below.
Now interact with the Work Notice to get the following message:
Mercenary wanted for one-off job. Must not be afraid of goatmen. See Shahos by the docks.
As such, you need to head to the docks and find this Shahos.
The docks and Shahos are located on the east side of the town, as shown on the next map.
Once you get to the spot, talk to the NPC to find out he has a shipment leaving for Skovos in a fortnight, but some of his stock spoiled, and he needs to get more.
However, he deals with Khazra Glands, and you must help him get what he is missing for the shipment.
Where To Find Khazra Glands in Diablo 4
After finishing your discussion with Shahos, you can open your map to see the quest's search area on the south side of the Southern Expanse area.
Thus, head to the search area and start looking for goatmen, which, as you're about to see, get marked with red dots on your minimap when you get close enough.
You need to obtain a total of twenty Khazra Glands, and you should get one upon killing around five goatmen.
It's worth mentioning that considering the goatmen are not that dangerous, you should group them up by running around and then kill them with AoE abilities.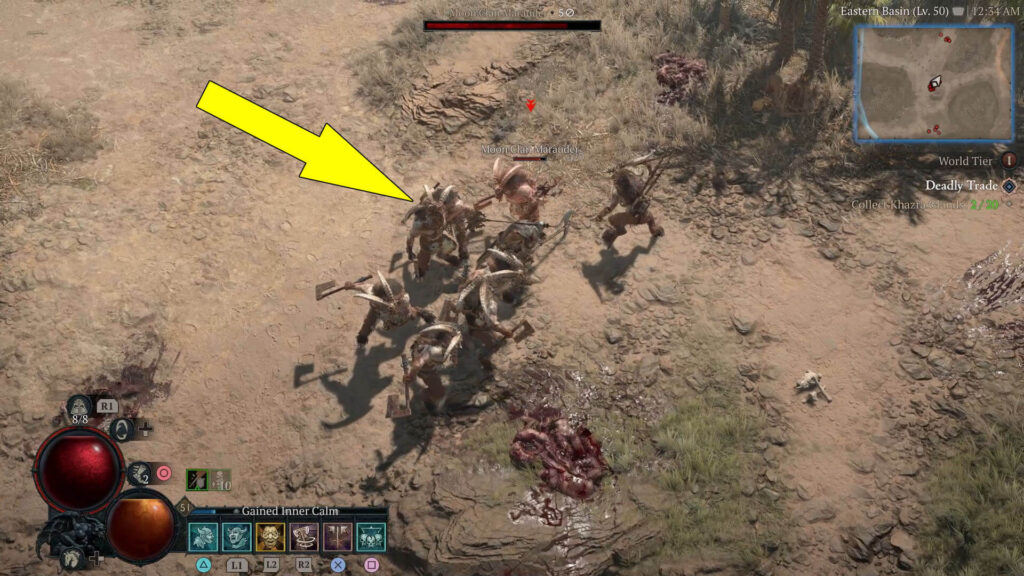 Now have a nice hunt, and when you're done, get back to Shahos, preferably by using the Gea Kul Waypoint to fast travel.
To complete Diablo 4 Deadly Trade, talk to the NPC, who is happy to have dealt with you and will gladly pay you. Hence, your rewards are the following: Gold, XP, Renown points, and a Cache. But there are more Kehjistan quests waiting for you, like Final Straw.