Diablo 4 Izel of the Vizjerei is a Kehjistan side-quest, part of the A Voice from the Past questline, in which you must help Izel get free from the shrine she is trapped in.
Considering that Izel of Vizjerei takes place in Kehjistan, it would be best to check our Kehjistan side-quests locations guide if you want to complete other quests in the region.
The Izel Vizjerei quest can be difficult because you need to find an athenaeum where you must fight plenty of mobs, including two Elites.
Therefore, don't hesitate to check our walkthrough below if you encounter problems with D4 Izel of the Vizjerei quest.
How To Start Izel of the Vizjerei Quest in Diablo 4
To start the quest, you must first reach the Kehjistan region in Act 4.
Also, you must complete the previous two quests in the questline: The Speaking Stone and A Voice from the Past.
When you are good to go, make your way to the Central Plateau on the north side of the Southern Expanse area at the location marked on the following map.
Next, you have to interact with the statue to retrieve Izel, who needs your help locating her old athenaeum.
Where To Find the Mountain Path in Diablo 4
Izel needs you to take her to Caldeum so she can get her bearings; you have the exact location marked on your map.
Once you reach the spot, the NPC will recall that the athenaeum was near Dahlgur Oasis, now pinpointed on your map.
From the Oasis, you must head north until you find a mountain pass leading to the entrance to the athenaeum.
Just in case you have problems finding the athenaeum, you can check our next map, where we've marked the exact spots mentioned above in the order you must reach them.
Upon finally entering the athenaeum, advance to the larger room where you'll be attacked by the Defender of the Vizjerei Elite enemy and a bunch of Vengeful Spirits.
Deal with the athenaeum's protectors, which shouldn't be too hard, then place Izel on the altar marked with a blue waypoint on your minimap.
To continue, you need to find a Magical Conduit amongst the ruins; as such, go interact with the three spots marked on your minimap to eventually discover the conduit.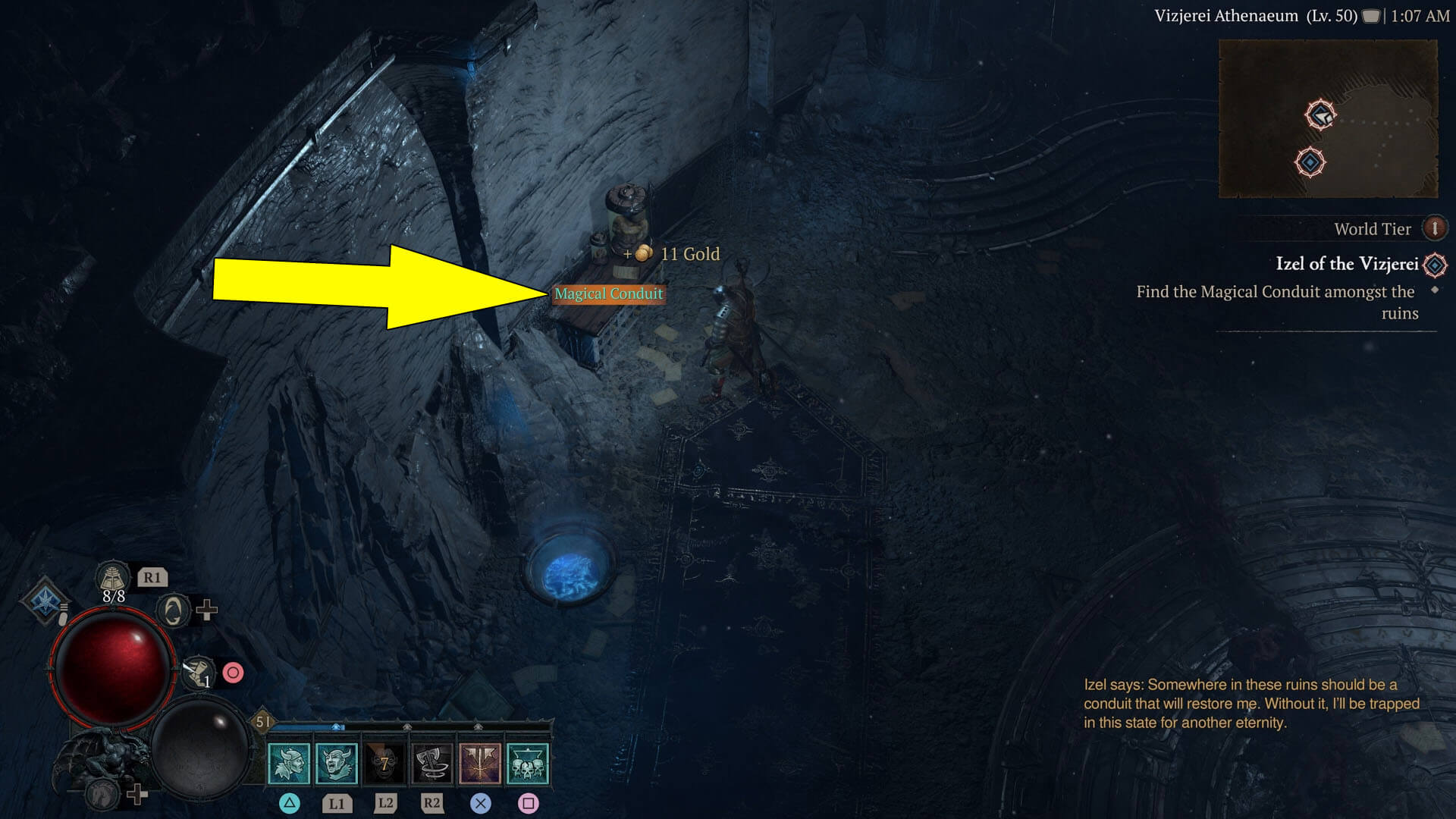 Now bring the conduit to the altar, then listen to Izel, who will try to possess you.
To think you were just trying to help, but at least you're strong enough to resist possession.
However, you will have to fight Izel, who can be a little hard to take down, but we're sure you'll eventually do it.
After you defeat the Elite enemy, you complete Diablo 4 Izel of Vizjerei and receive some loot, XP, Gold, Renown points, and a Cache. But if you want to continue questing, you can start Pinch of Poison, a quest available in the Gea Kul town.