Diablo 4 Ire of the Witch is a search-based quest you can complete in the Rotspill Delta area of the Hawezar region.
It's worth mentioning that Ire of the Witch counts as one of the 49 Hawezar side-quests, and it's necessary for 100% completion in the swampy region.
In the Ire of Witch side-quest, you must collect an unpaid debt for Zurke, who you can meet while exploring Hawezar.
Now to make sure you don't encounter any difficulties while playing D4 Ire of the Witch side-quest, check our walkthrough below.
How To Start Ire of the Witch Quest in Diablo 4
To play the Ire of the Witch side-quest, you must first meet a couple of requirements:
reach the Hawezar region in Act 5
complete the Fragments of Mortality main-quest
Then you need to head to Zurke's Hut on the west side of the Rotspill Delta area.
To aid you even further, we have pinpointed the exact location of the quest giver on the following D4 map.
When you get to the spot, you should find Zurke in front of his hut, and he will tell you he is looking for a backstabbin' cur named Samil, who owes him a body.
Since Zurke is too busy to hunt him down himself, you have to step in and help the NPC.
Samil is supposed to be in the Graveyard; thus, you can start your search there.
To continue, let's see where you can find Samil precisely.
Where To Find Samil in Diablo 4
After finishing speaking with Zurke, you can immediately open the map to see the quest's search area covering the Sodden Graveyard on the south side of the Rotspill Delta area.
As such, head to the Sodden Graveyard and start looking for Samil.
Also, you can complete an event in the same Graveyard if you are looking for some extra loot, but be careful while exploring the area because there are plenty of mobs that will want to kill you, including Elites.
Just in case you need help finding Samil, we will provide the next map where we have marked his exact location.
Once you get to the spot, you will actually find Samil's Corpse by a ledge, so interact with it to take it to Zurke as proof.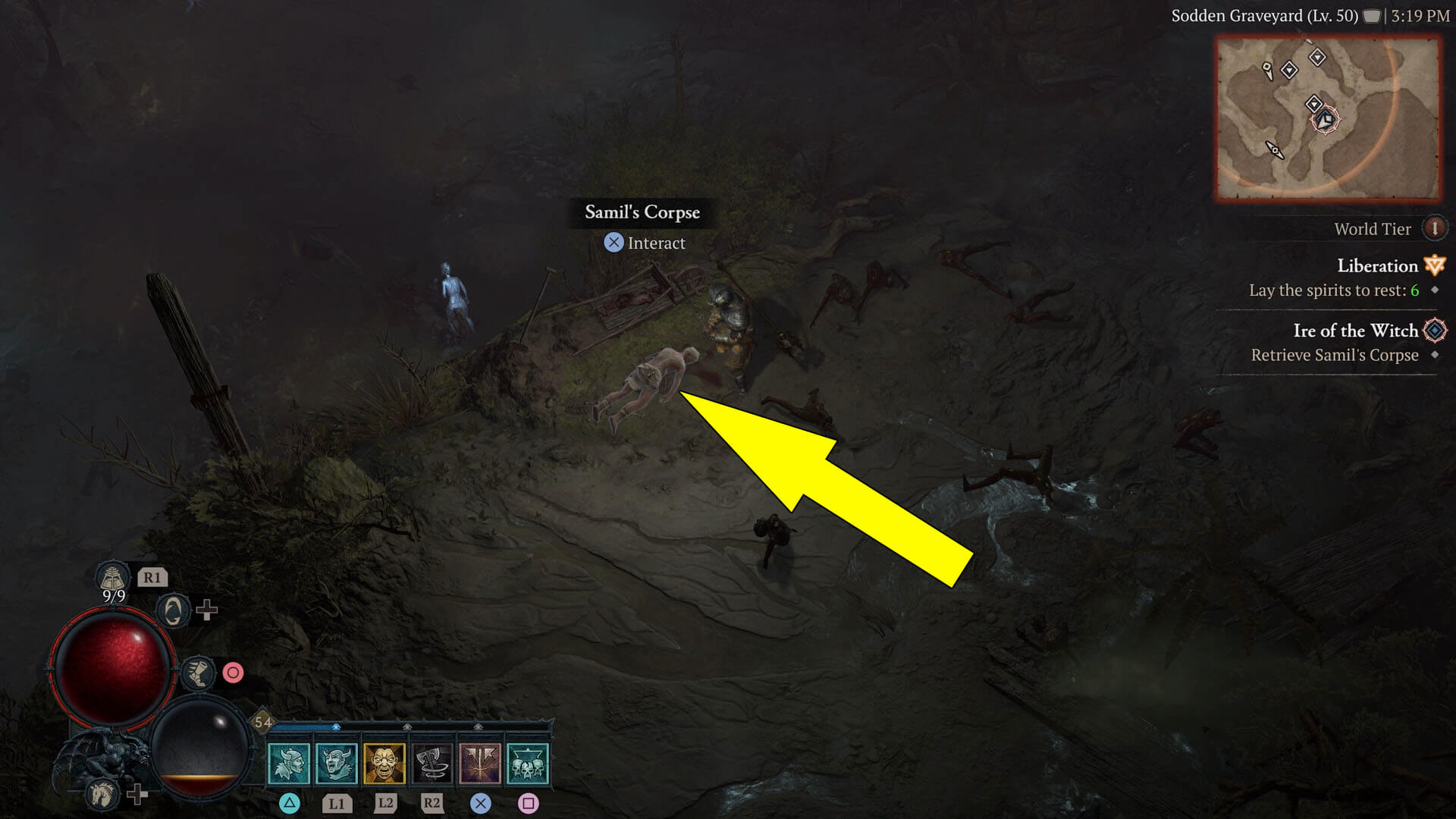 Zurke is waiting for you in his hut this time, which has a blue marker on the minimap for you to follow.
When you give him the news, he will be very happy because he can use Samil's Corpse.
Now place the Corpse on the cot next to the NPC to complete Diablo 4 Ire of Witch quest and receive XP, Gold, and Renown points. However, you are not done here because if you speak with Zurke again, you will start another Hawezar side-quest, named Perceived Threat.