Diablo 4 Menestad Coffers is an early side-quest you can trigger when you enter Kyovashad during the prologue of the game, and it requires you to find Monk Bozan, an NPC who has gone missing on the road to Menestad.
Menestad Coffers side-quest is very accessible, but like most Diablo IV side-quests, it requires you to search an area filled with enemies you must dispatch.
In this case, you must travel northwest of Kyovashad, where you have to find Monk Bozan. Assuming you need help with this quest, our Diablo IV Menestad Coffers walkthrough reveals a possible location for Monk Bozan and covers all objectives you must complete.
How To Start the Menestad Coffers Quest in Diablo IV
To start the Menestad Coffers quest, first, you must reach the hub town known as Kyovashad in the Fractured Peaks region.
After entering Kyovashad, focus on completing the prologue and start Act 1 to unlock multiple side-quests, including Raising Spirits.
Now, open your map, and northwest of Kyovashad Waypoint, you should see an exclamation mark at the location marked below.
Head to the marker's location, and by the road, look for Kudomila, a Tithe Collector.
Talk to the NPC, and ask her why she looks so concerned. She tells you that she is waiting for Monk Bozan, who was sent to Menestad to deliver some tithing demands. The problem is that Monk Bozan went missing, and she wants you to look for him on the road to Menestad.
Where To Find Monk Bozan on the Road to Menestad
To find Monk Bozan in Diablo IV Menestad Coffers quest, open your journal, and track the current quest. Next, you'll want to check the map, and northwest of Kyovashad, you'll see a large highlighted area.
Your objective is to reach the highlighted area and search for Monk Bozan within its borders.
It's also worth knowing that in Diablo 4, the locations of some NPCs or quest items are random; hence our guide reveals one of the possible spots where you can find Monk Bozan.
As you can see below, this location is the northernmost end of the search area, also known as Crags of Ill Wind.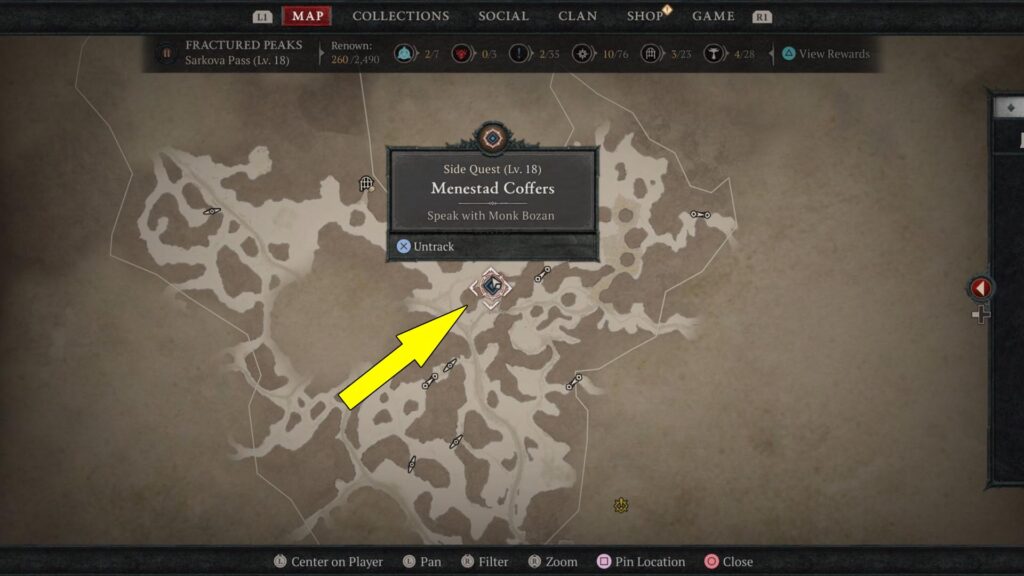 Make sure you start your search for Monk Bozan at the location above, and if you can't find him, keep exploring the highlighted area.
What you are looking for is a badly hurt NPC (pictured below).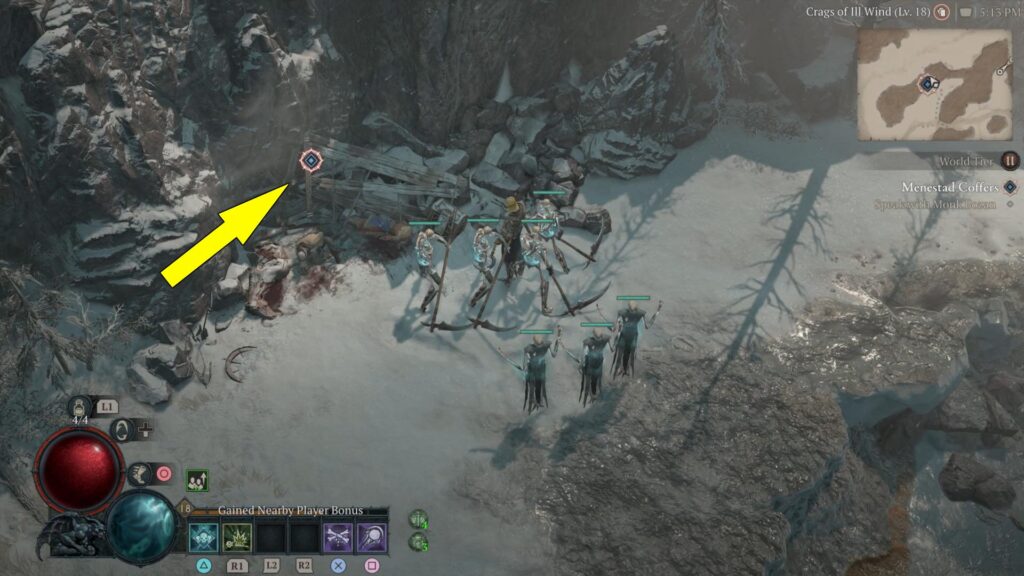 After talking to him, Monk Bozan tells you that his guard betrayed him, and he is badly hurt. Since he has to return to Kyovashad and request a knight escort, he wants you to complete his delivery in Menestad.
So, open the strongbox near the monk and collect the Tithing Demands.
Where To Find Talgun the Merchant Lord
With the Tithing Demands in your inventory, open your map again, and you'll see that Talgun, the Merchant Lord, is found in a smaller village west of the area where you have discovered Monk Bozan.
Follow the road leading to Menestad, and when you enter the small village several steps east of Menestad Waypoint, you will see another NPC waiting for you. It is Talgun the Merchant Lord.
Talgun tells you that he is grateful for delivering the Tithing Demands, and in exchange, he rewards you with Gold and a Salvage Cache.
Make sure you open it by accessing your inventory to receive a random reward such as a Veiled Crystal.
For completing the Diablo 4 Menestad Coffers side-quest, you'll also receive XP and increase your Fractured Peaks renown by 20.
Last but not least, remember that Menestad Coffers counts as one of the 35 Fractured Peaks side-quests you must complete in the first region. If you need help with them, consider visiting our Diablo IV Wiki hub.