Raising Spirits is the first Diablo IV side-quest you can complete upon reaching Kyovashad, the hub town in the Fractured Peaks region.
Diablo 4 Raising Spirits side-quest introduces the emote system available in the video game published by Blizzard Entertainment, which means that it serves as a tutorial on how to use the emotes and how to equip them.
For the Raising Spirits quest, you must use a specific emote to boost the morale of the Kyovashad training militia.
In case you need help with it, throughout the following Diablo IV Raising Spirits walkthrough, we go over this quest, its rewards, and all objectives.
How To Start the Raising Spirits Quest in Diablo IV
Raising Spirits becomes available after entering the town known as Kyovashad in the Fractured Peaks region.
You can trigger it during the game's prologue once you begin the Missing Pieces main quest. When you reach Kyovashad, open your map, and close to World Tier Statue, you'll see a blue exclamation mark. Its location is marked on the map below.
Once you get to the location marked above, near the Kyovashad World Tier Statue, look for Guard Boza.
Interact with the NPC and ask him how fares the city guard. He tells you that the militia is training day and night, and they deserve a morale boost and a cheer.
However, Guard Boza can't praise them because he will look soft, so it's your job to give them a cheer. In exchange, he is willing to pay you. Here is what you have to do next.
How To Cheer at the Training Militia in Kyovashad
After you trigger the Training Militia quest, several steps northeast of Guard Boza, you can find a small training yard.
Get inside and position yourself close to the training militia. Now, you have to equip and use the Cheer Emote while standing close to the soldiers:
Press Up on your PlayStation/Xbox Dpad (/)
Now select an empty slot from your Action Wheel. If needed, press / or / to access additional Action Wheels
Upon selecting an empty slot, press / to customize it
From the list of Emotes, select Cheer and press / to assign it to the empty slot
Save your changes 
Finally, press Up again and pick the Cheer Emote to praise the guards near the training dummies.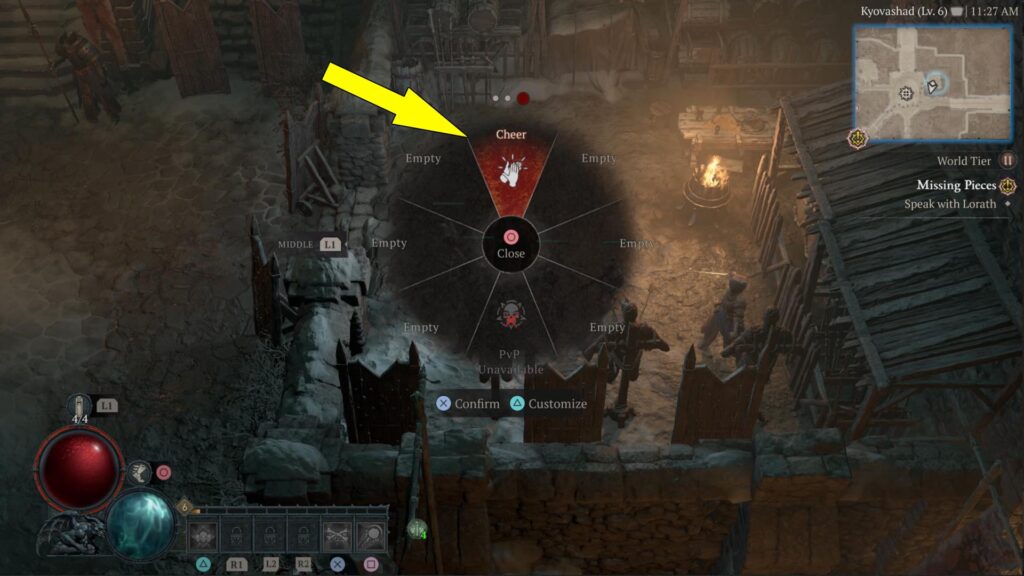 After you boost their morale, return to Guard Boza and tell him you encouraged the guards. For finishing the Raising Spirits side-quest, you'll increase your Fractured Peaks Renown by 20 points.
Additionally, Guard Boza rewards you with gold and a Herb Cache. Make sure you open your inventory and unlock the Cache to get several random herbs such as Reddamine, Gallowvine, Howler Moss, Blightshade, Lifesbane, and Biteberry.
Now that you know how to finish the Raising Spirits quest in Diablo 4, visit our Fractured Peaks side-quests list to track other quests or our Diablo 4 Wiki if you need help completing them.