Diablo 4 Road to Ruin is an escort quest you must complete in Kehjistan, assuming you want to achieve 100% completion in the region.
Road to Ruin is part of the Unsafe Travels questline, which features a total of three side-quests, and you can complete all of them in the Kehjistan region.
The quest is fairly accessible, and to finish it, you must escort Mahjoob, a male NPC, to his safehouse.
Now if you get stuck at any point in D4 Road to Ruin side-quest, you can always check our walkthrough below.
How To Start Road to Ruin Quest in Diablo 4
As mentioned, Road to Ruin is part of a questline; thus, you must first complete the previous quest, named Unsafe Travels.
Keep in mind that you must reach Act 4 and the Kehjistan region for this questline.
When you're all set, you must find Mahjoob, the Desert Guide you've helped in the first quest to get a cure so he can treat a wound he got from fighting a demon.
Mahjoob is now located on the eastern side of the Amber Sands area, and we've pinpointed his location on the next map to help you find him faster.
It seems the NPC is wounded again, and you should speak with him to see how you can help.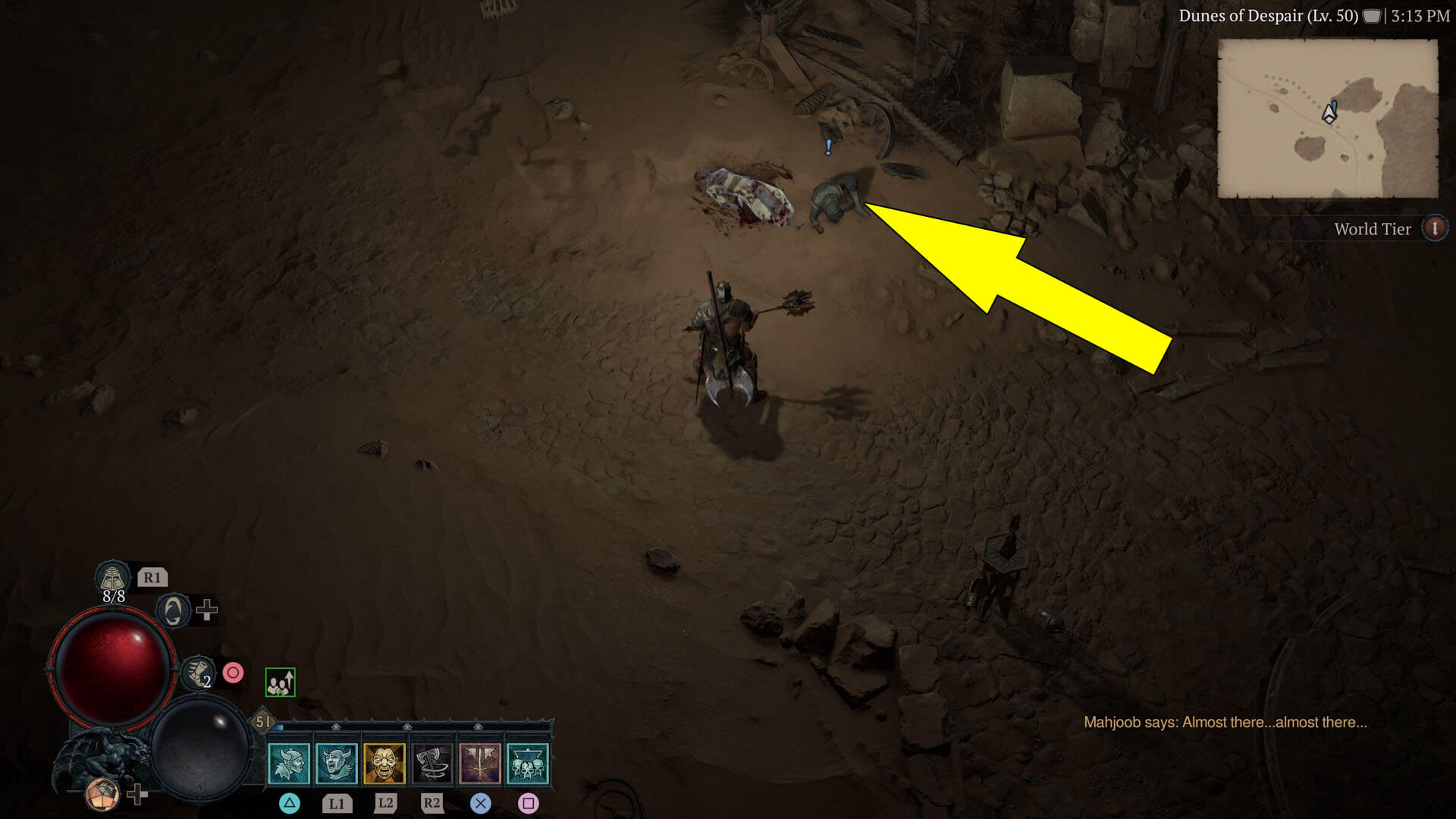 Mahjoob will tell you that his hand festered, probably because the ghost palm flower you gave him in the previous quest was rotten.
However, the NPC tells you not to worry because he has another flower in a safehouse nearby.
Therefore, you must help the Desert Guide reach the said safehouse in order to save his life.
How To Accompany Mahjoob in Diablo 4
To continue, you must follow the NPC until he stops, then you have to talk to him again.
It will be a short conversation because you'll get attacked by a few mobs, but nothing too difficult.
After defeating all the enemies, you can speak with Mahjoob yet again to tell him the demons seem to have an interest in him.
The NPC will say that the safehouse is in the nearby ruins and you should move quickly.
Hence you have to keep going, but the problem is that you'll get attacked by more mobs.
Upon defeating this lot of enemies as well, you must help Mahjoob get up again, as you're really close to his safehouse.
Shortly after, you'll reach your destination, and the NPC will sit down next to the safehouse entrance.
Now you must talk to Mahjoob, who is very happy you finally made it and tells you he needs to rest for a brief moment.
That's all for Diablo 4 Road Ruin quest, and for completing it, you get some well-earned rewards: XP, Gold, Renown points, and a Cache. However, you're probably curious how the questline ends, so you should start the next and final side-quest, The Only Cure. Or you can focus on any of the 44 Kehjistan side-quests.