Sight to Madness is a Diablo 4 Kyovashad side quest you can complete during the first act of the video game developed by Blizzard Entertainment, and it requires your presence inside the Cultist Refuge dungeon, where you must find Theya.
However, Diablo 4 Sight to Madness quest comes with several requirements; otherwise, you won't be able to talk to Vilek, the quest giver.
Furthermore, you also need to know how to unlock the Cultist Refuge dungeon; therefore, throughout the following guide, we'll go over all objectives and requirements that will eventually help you get your hands on Theya's Necklace of Eyes.
How To Start the Sight to Madness Quest in Diablo IV
The Sight to Madness D4 side quest becomes available on the northern side of Kyovashad, the central city in Fractured Peaks.
To be able to play it, though, first, you must progress through Act 1, so you can talk to Vilek, the prisoner found at the location marked below.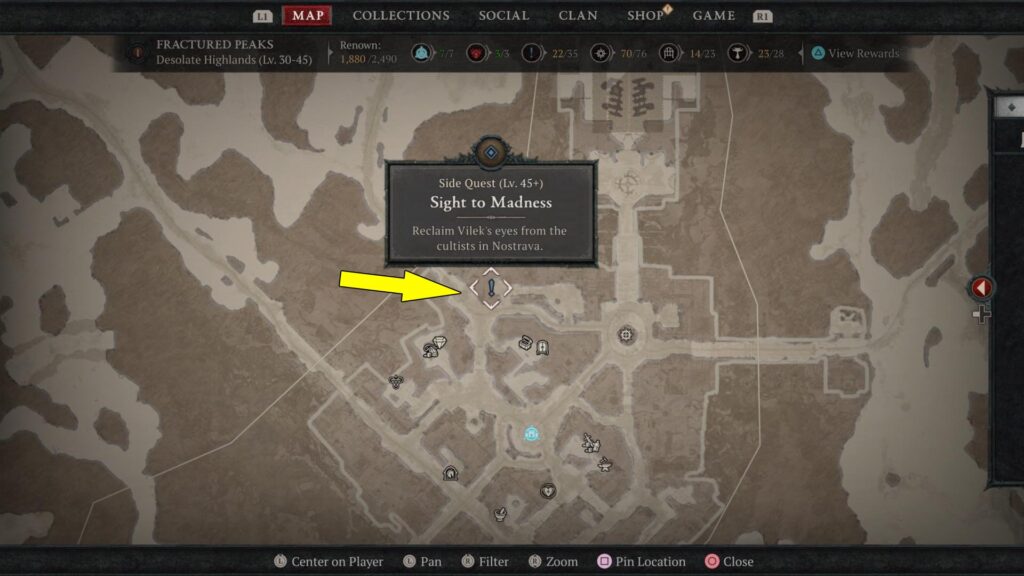 When the exclamation mark appears on your map, travel to Vilek's location, and you'll find him tied up. Talk to Vilek, and he'll tell you that Theya stole his eyes, and she is wearing them around her neck.
Thus, Vilek can see everything happening around Theya, who is a cultist. You can only imagine the horrors Vilek witnesses. So let's see where to find the cultist and help Vilek.
Where To Find Theya and the Diablo 4 Necklace of Eyes
To find Theya, you must travel west of Kyovashad and reach Nostrava, one of the three Fractured Peaks Strongholds.
Furthermore, you must conquer Nostrava; otherwise, the Cultist Refuge dungeon marked on the map below won't be available.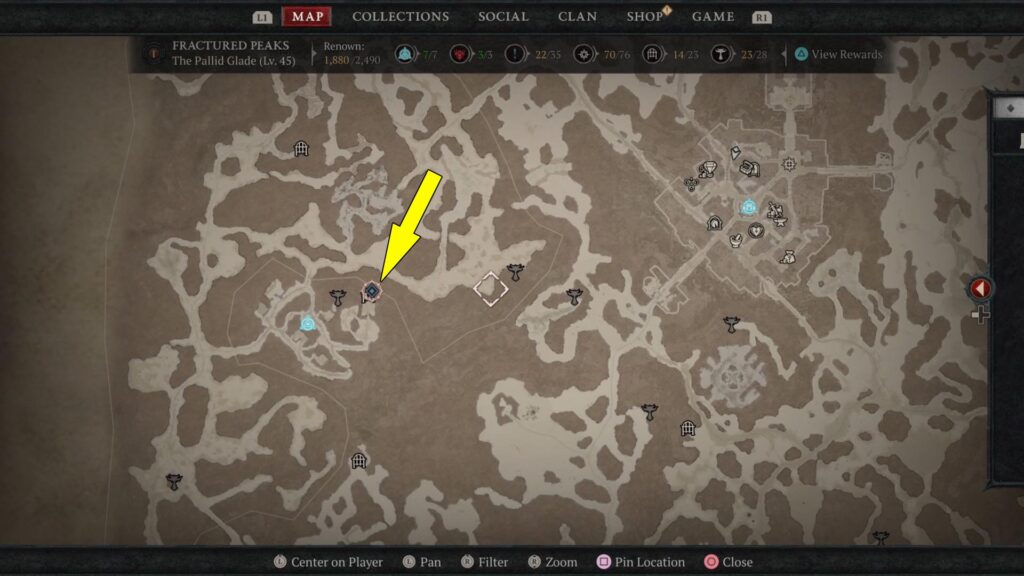 Once you conquer Nostrava, head inside the Diablo 4 Cultist Refuge dungeon, which, as you probably know, is randomly generated.
This means that Theya, or the boss you have to defeat, doesn't have a fixed location, but she won't spawn unless you play the Sight to Madness side quest.
While it's impossible to pinpoint Theya's location, it is worth knowing that you won't have to complete the dungeon, to get to her.
Furthermore, when you get close to her, you should be able to see a blue circle on your minimap.
Here is what Theya looks like in Diablo 4.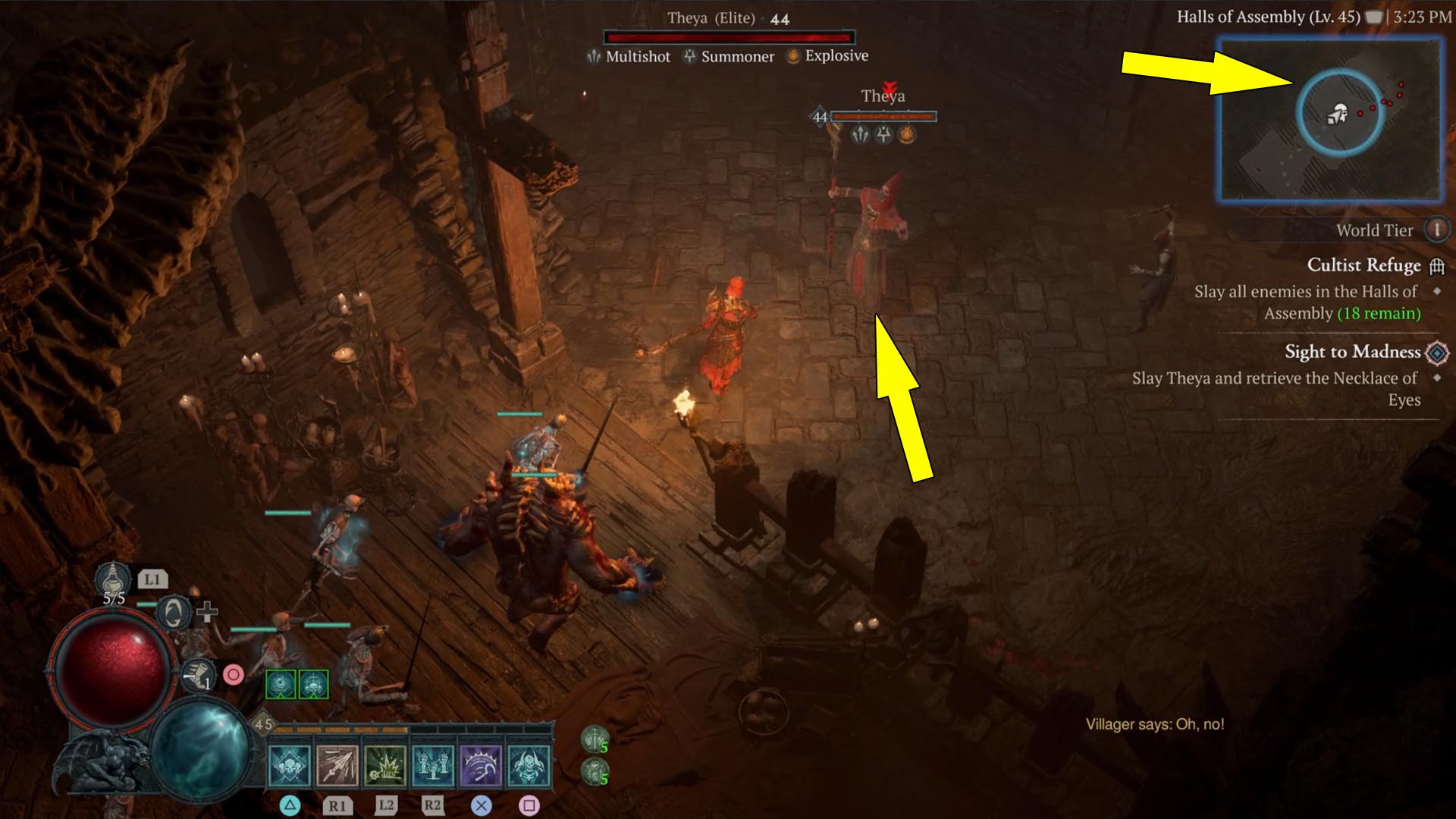 Defeating the Elite summoner is mandatory because she drops the Necklace of Eyes quest item. Make sure you pick it up from the ground, exit the Cultist Refuge and head back to Kyovashad.
Speak to Vilek and give him back the eyes to complete the Diablo IV Sight to Madness quest and receive XP, Gold, 20 Renown Points, and a Salvage Cache.
Finally, pay close attention to what happens to Vilek, and when ready, check our Fractured Peaks D4 side quests list to track the remaining quests you must complete to get 100% completion in the first region of the game.