Diablo 4 Stolen Artifice is a gather quest you can complete in the Scosglen region, in which you have to retrieve a Runic Charm for Merryn, a woman NPC.
As such, Stolen Artifice is part of the 47 Scosglen side-quests, and you have to finish all of them, assuming you want to achieve 100% completion in the region.
However, the quest can get tricky as you need to find and kill an Elite enemy to get the charm for Merryn.
Therefore, it would be best to check the following walkthrough to make sure you don't encounter any problems while completing D4 Stolen Artifice side-quest.
How To Start Stolen Artifice Quest in Diablo 4
In order to play Stolen Artifice, you have to reach the Scosglen region in Act 2 and progress with the story until you complete the Dark Omen main-quest.
Then you must travel to Braestaig, a village located in the southern part of the Wailing Hills area.
Note that the village has a Waypoint you can use to fast travel, that is, if you've already unlocked it on a prior visit to the area.
Finally, you must go to the north side of the village to find Merryn, the quest giver, near the Blacksmith and the Armor Vendor.
Now ask Merryn if she needs help, and she will tell you a thief named Darcel stole a Runinc Charm from her.
The problem is that Merryn was using the charm to heal a mother that is weak because of childbirth.
You probably can guess where this is going; you have to find Darcel and get the charm back for Merryn.
Where To Find Darcel in Diablo 4
After finishing your conversation with Merryn, you can open your map to see the quest's search area on the west side of Wailing Hills, where you can look for Darcel.
Once you reach the spot, you'll find a couple of mobs, among which Darcel "Shambles," which is also marked on the minimap with a skull.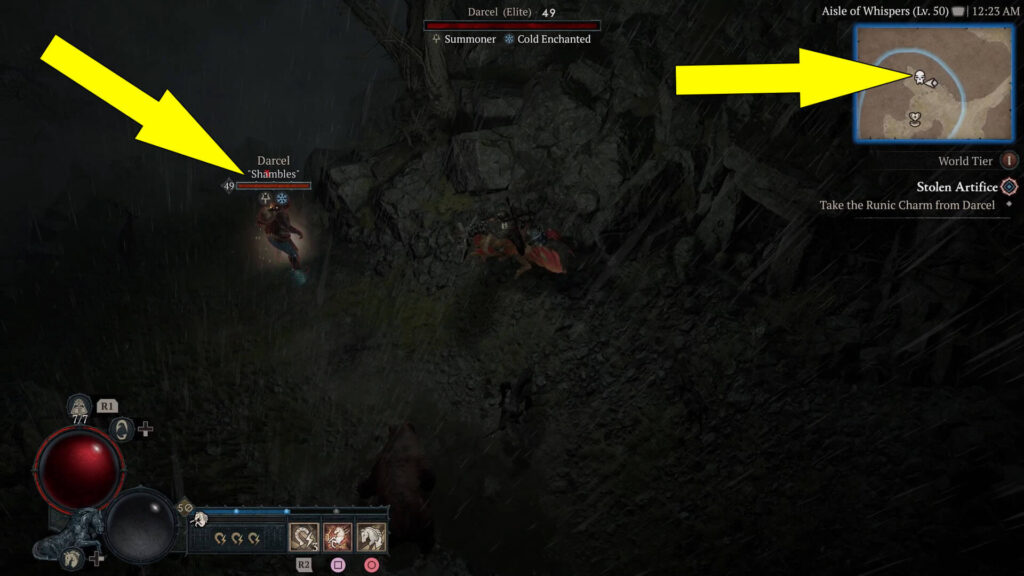 As you can see, Darcel is an Elite enemy, and you must treat him seriously because he can be lethal; it all depends on your World Tier level, of course.
However, we have faith that you'll eventually take the thief down and make him drop the Runic Charm on the ground.
Pick up the quest item and make your back to Braestaig, preferably by using the Waypoint, to avoid wasting time.
Now, speak with Merryn again to tell her the good news and give her the charm.
Great job, Nephalem! You've saved the day again and completed Diablo 4 Stolen Artifice quest, receiving the following rewards: XP, Gold, Renown points, and a Cache. But if you're up for more questing, don't worry; you can start The Starving Strand side-quest, also available in Braestaig.