Lego Star Wars Skywalker Saga: How To Complete All Challenges In Revelations
The Lego Star Wars Skywalker Saga Revelations Challenges are necessary if you want to get 100% completion in the last mission of Episode V.
The time has come for Luke Skywalker to face Darth Vader for the first time.
This is a boss fight type of mission, divided into three phases where you will fight Vader.
Nonetheless, I'm sure you also want to complete all three Revelations Challenges, so check the guide below if you encounter problems with any of them.
How To Complete Lego Star Wars: The Skywalker Saga Revelations Challenge #1
For the first Challenge, you will have to force throw three separate objects at Darth Vader.
You can do this at the beginning of the mission during your first encounter with Vader.
There are plenty of objects lying around waiting to meet Vader's head.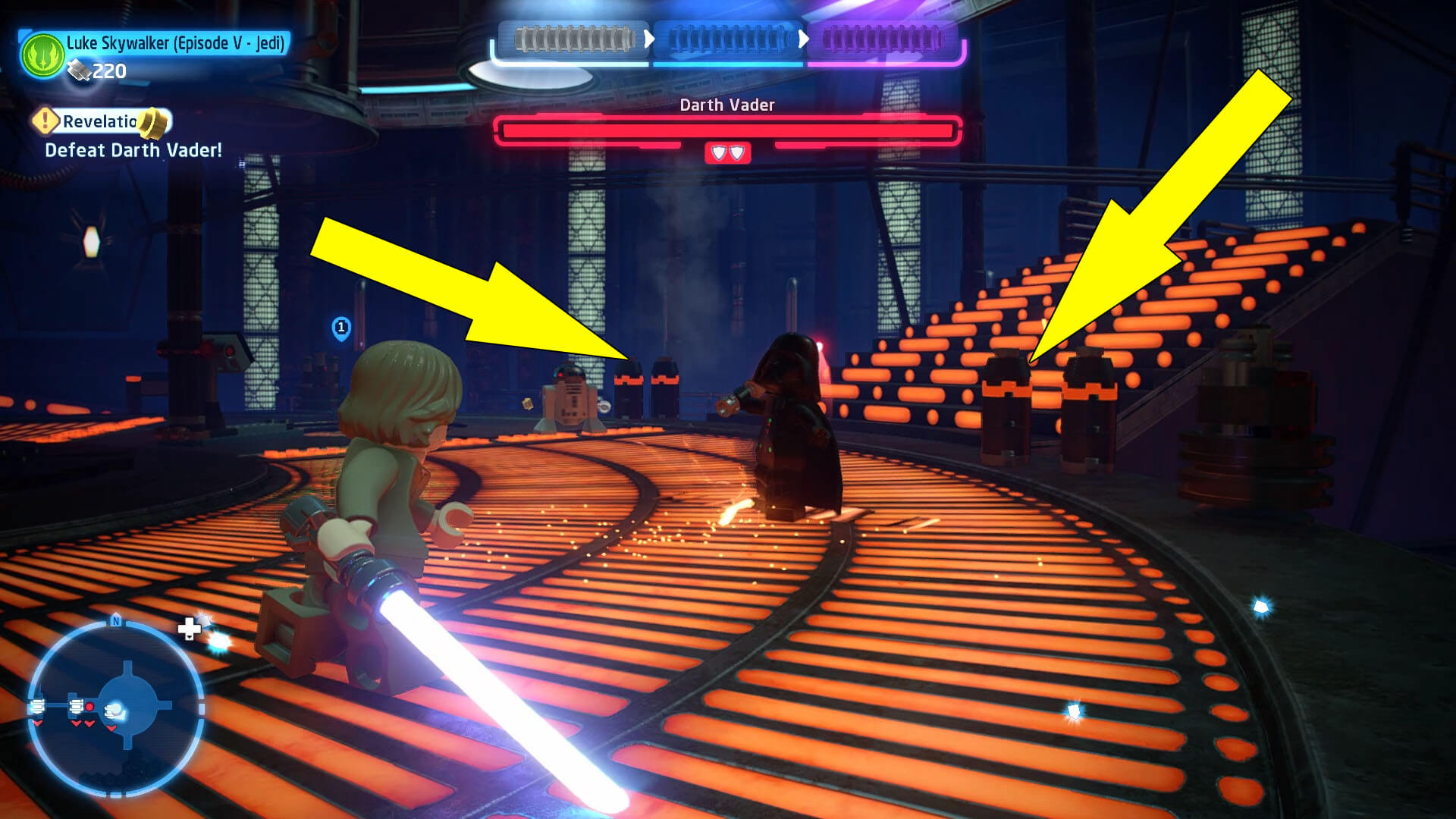 So hold the force button to lift one of the objects, then aim and throw.
If you haven't successfully hit him three times in this first encounter, you will have other opportunities later.
You will eventually do it and complete the Lego Star Wars Skywalker Saga Revelations Challenge: Force Feedback.
How To Complete Lego Star Wars Skywalker Saga Revelations Challenge #2
The second Challenge requires finding all of the hidden Ugnaughts throughout the level.
The Ugnaughts are humanoid creatures that won't attack you, and you will find them scattered throughout the mission.
I found Ugnaughts in five different places, and I will explain to you how to get to all of them.
After you finish your first duel with Lord Vader, you will see him cowardly running away, and after the cutscene, go to your left to find the first spot of the creatures.
You will now have to destroy the boxes near the vent on the left to discover an Astromech Droid console.
Switch to R2-D2 if you are in Story Mode or any Astromech Droid if you are in Free Play, and use the console to open the vent.
Proceed through the newly opened vent, and you will find another few Ugnaughts.
Open this side of the vent with the help of Luke's force, then exit and turn to the right to find more of the creatures.
You will have to fight Vader a second time in the next room, and he will eventually throw you out the window onto a platform.
Proceed forward and use R2-D2 to pull down some smaller platforms where you will find another two Ugnaughts.
Continue with the current mission objective, and right before your last fight with Vader, you will reach a corridor with two doors to the left and two to the right.
Go to the last door on the left and open it to find the final group of Ugnaughts. And you will complete the Revelations Challenge: Ugnaught-y.
Had enough of playing hide and seek?
How To Complete Lego Star Wars Revelations Challenge #3
Now that you learned your way through the mission restart it and complete the level in under ten minutes for the last Challenge.
I have no tips to give you here except hurry and don't waste time with other Challenges or finding collectibles. You will do that on another run of the mission.
It's not that hard, and I'm sure you will easily do it.
After your ten-minute or less speed run, you will complete the Lego Star Wars Skywalker Saga Revelations Challenge: Most Impressive.
Well done! Those were all three Revelations Challenges in the game developed by TT Games.