Starfield All for One is one of the many miscellaneous missions available in the pleasure city of Neon on the planet Volii Alpha.
During the All for One mission in Starfield, you'll discover that the merchants in Neon City are struggling to deal with the corruption in the business community and local security.
James Newill has proposed creating a merchants' alliance to combat this issue, but unfortunately, not everyone is on board with this idea.
So, your main objective is to convince Dietrich Sieghart to stop paying protection money to Neon Security. Here's how you can do it.
How To Start the Starfield All for One Side Mission
In order to start the All for One side mission, you must speak with James Newill, located in the Newill's Goods Shop.
After you land on the spaceport in Neon City, head across the bridge and take the elevator. Turn left after you exit the elevator and go past the Freestar Rangers Outpost.
Immediately after the Freestar outpost, you can find James Newill sweeping the floor in his shop.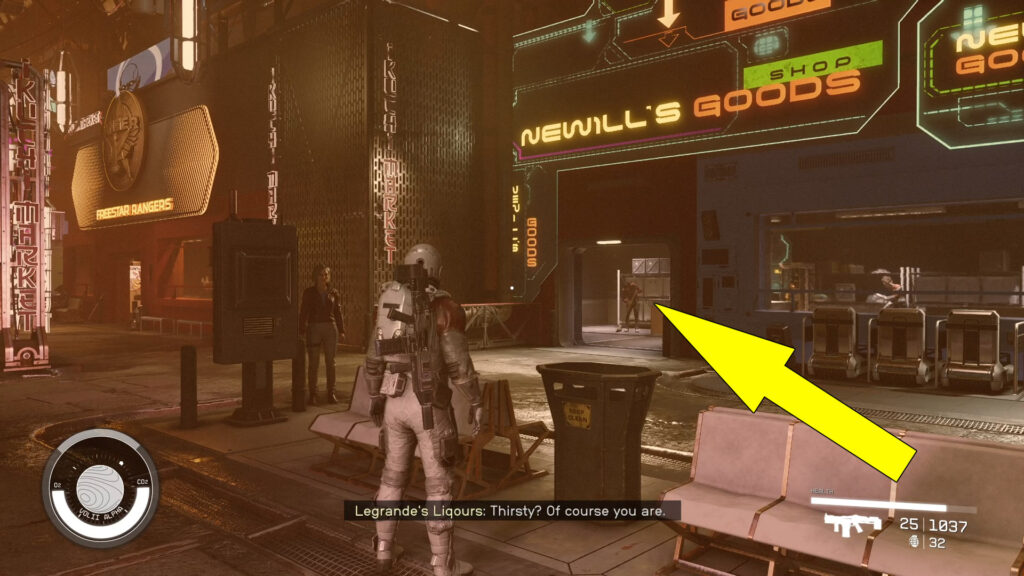 Engage in a conversation with him to learn more about his conflict with another shopkeeper, Dietrich Sieghart.
Once he finishes his rant, he will invite you to look around and buy something from his shop.
Then, select the "I'll go talk to Sieghard and see if I can talk some sense into him." dialogue option and continue the conversation to initiate the All For One mission in Starfield.
Now, let's see how we can persuade Dietrich Sieghart to stop paying money to Neon Security and join the merchants' alliance.
How To Convince Dietrich Sieghart in All for One Mission
Before you go straight to Dietrich, you'll notice that you have an optional objective that reads, "Ask Rosa Newill about Dietrich Sieghart."
As you probably guessed, Rosa Newill is James Newill's wife. You can find her looking a bit tired around the shop.
When you speak with Rosa, you'll find out that she disagrees with her husband's ideas, and she believes Sieghart isn't doing anything wrong because he probably does all of this to survive.
At the end of the conversation, she will invite you to browse their store before you leave to meet with Sieghart.
At this point, you'll be given the option to ask the following question: "What's your opinion about Dietrich Sieghart?".
After you ask her the above question and learn Rosa's honest opinion about Dietrich, you'll complete the "Ask Rosa Newill about Dietrich Sieghart" optional objective.
Going through this dialogue option will help you persuade him more easily.
Next, exit Newill's Goods Shop, head to the right, and pass the Spaceport Terminal elevator. Immediately on the left, you'll find his shop, Sieghart's Outfitters. Head inside and speak to Dietrich.
Go through the conversation to learn more about the difficulties he goes through with his business until he invites you to buy something from him.
Then, you'll be given the following dialogue option: "James Newill objects to you paying Neon Security protection fees."
You'll learn that Dietrich is aware of James' objections, but if he doesn't pay Dexler, he will lose his business. As you continue the conversation, you'll have the option to persuade him to stop the payments.
You must earn 4 Persuasion Points in three turns to successfully persuade him.
But suppose you asked Rosa Newill about Dietrich Sieghart, as we mentioned above. In that case, you will have a unique dialogue option that will immediately convince him to stop paying the protection fees to Dexler.
After successfully persuading Dietrich Sieghart, return to James Newill and tell him that Dietrich has agreed to stop the payments to end the All for One mission in Starfield.
However, there are plenty more missions available in the Neon City. Learn more about them on our Wiki Hub Page here.