At the beginning of your journey in Starfield, you will reach the big city of New Atlantis, where you can get all sorts of missions from various NPCs.
One of these NPCs is named Guillaume Degarmo, and to complete Gem Jealousy, the Starfield mission that you can start by talking to him, you must do an exchange on his behalf.
If you finish the said mission, you will be rewarded with 1000 credits and 100 XP. However, the mission can be tricky if you neglect to do a small thing, which I will talk about later.
Also, locating Guillaume Degarmo can be difficult because he is just one of the many people in New Atlantis.
As such, if you can't find Guillaume to start the Starfield Gem Jealousy mission or get stuck at any point while completing it, don't hesitate to check the walkthrough below.
How To Start the Starfield Gem Jealousy Side Mission
The quest giver, Guillaume Degarmo, is found in the Terrabrew cafe, the one in the Spaceport area of New Atlantis.
To get to the cafe, you must first go to the huge fountain in the middle of the area, and from that spot, look for The Viewport building; it's hard to miss because of its big sign.
From the entrance to The Viewport building, you need to head right, get past the Demison Mercantile shop, and then you should be able to see the cafe.
Once inside the cafe, look for a man with a gray goatee and ponytail.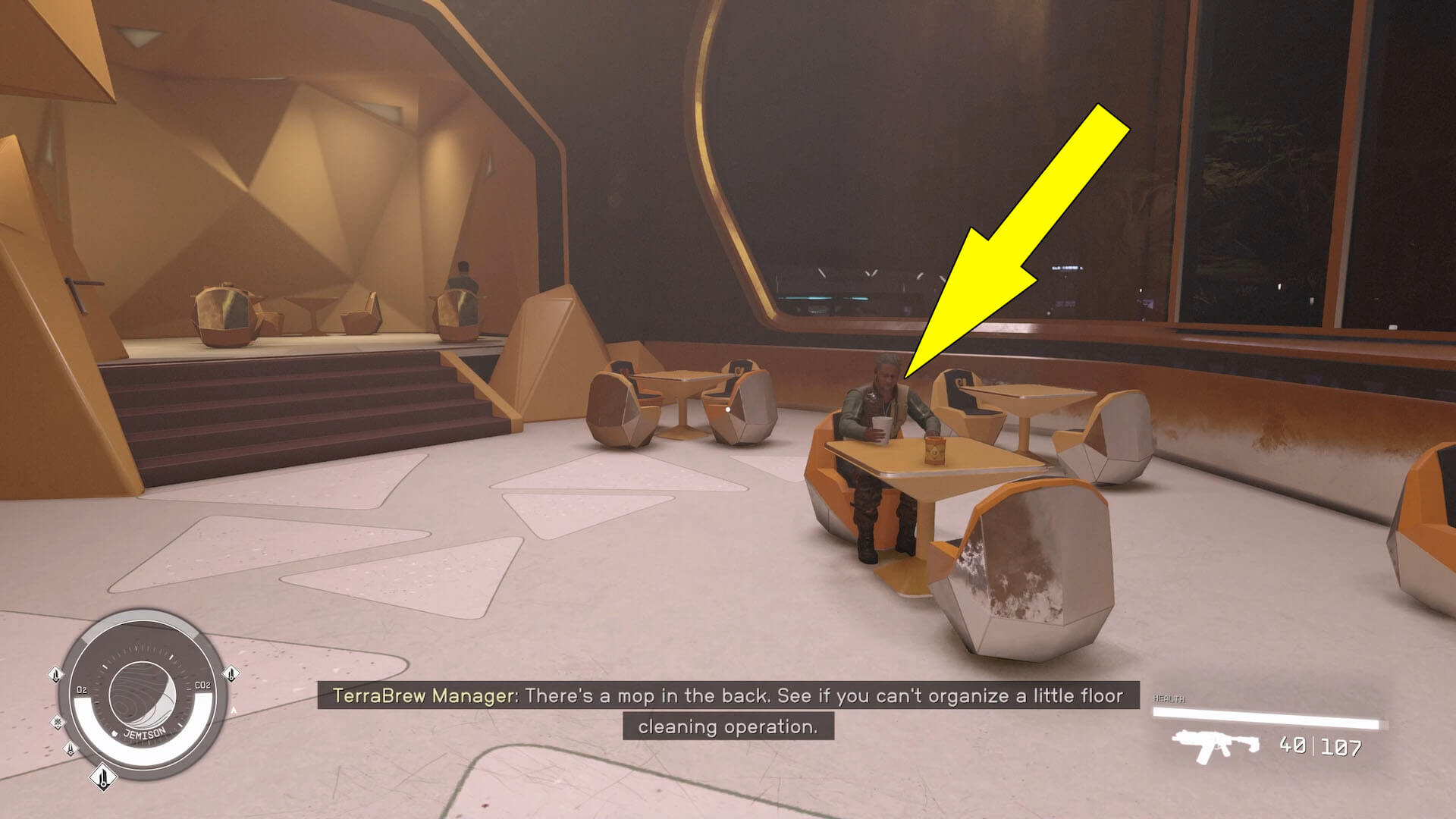 To get confirmation that you have found your man, get close to him and check his name.
Assuming he is Guillaume Degarmo, talk to him to learn that he has lost one of his collection's most prized items, a gem, in a bet with a man called George Saint-George.
Guillaume really wants the gem back and suggests an exchange. He wants you to give George an Old-Earth Plate for the gem.
Of course, Guillaume will provide the plate, but he just doesn't want to go make the exchange himself because he is afraid he will fail to retrieve the gem.
If you decide to help Guillaume, you must now find this George Saint-George guy.
George Saint-George's Location in Starfield
The problem is that George doesn't like staying in one place and can be anywhere in New Atlantis; thus, it would be best if you open your menu and track the mission.
Doing so will put a blue marker above George's head, making him easy to find. This is the step you shouldn't neglect I was talking about.
Follow the marker and look for a pretty old guy dressed in gray clothes, as shown in the following image.
When you finally find George, offer him the plate in exchange for the gem.
Luckily, he is very happy to do the trade, so your mission is a success.
Now, all that is left to do is return with the "Priceless" Gem to Guillaume, completing the Starfield Gem Jealousy misc mission. However, if you want to pick another mission and need help with it, make sure to check our Starfield Wiki.