Akila is a Starfield city on the planet with the same name in the Cheyenne System, and it features many side missions, such as the one named The Great Laredo Caper.
For Starfield The Great Laredo Caper mission, you must help a little girl by apprehending a thief who's been stealing guns and stuff from Laredo Arms.
The little girl and her friend, who think they are Ranger Surveillance Assistants, turn to you because none of the adults believe them.
Since you can't turn down the cute child and because the mission is a little tricky if you don't know how to make time pass, it would be best to check the Starfield Great Laredo Caper walkthrough below.
How To Start Starfield The Great Laredo Caper Mission
To start the mission, you must, of course, get to Akila City and then find the little girl I was talking about.
She is named Annie Wilcox, and to find her, you must enter the city through the main gate, coming from the spaceport.
Then immediately head right and go forward until you reach some stairs going down.
Thus, go down the stairs and look for Annie Wilcox next to the two silver tanks in front.
As mentioned, Annie and her friend Emily will explain how they are trying to catch a thief, but nobody believes them he even exists.
If you agree to help, Annie will tell you how she saw a suspicious character near Laredo Arms one night.
She watched him as long as she could, but bedtime got in the way eventually.
The next day, Annie returned to interrogate Justin Snead, who said they were tracking an inventory discrepancy at Laredo Arms.
After further investigation from Annie and Emily, they found out that the thief breaks in most nights.
As such, you should wait until midnight and wait for the thief to exit Laredo.
How To Make the Time Pass in Starfield
Now, you should go to Laredo Arms, which is close to the location where you met Annie, at about 00:00 local time.
To make time pass in Starfield if needed, is actually pretty easy; all you have to do is get to your ship and sleep in your bed.
Before getting into bed, you have to select how many hours you want to sleep, so do the math to wake up at about 00:00 local time.
To continue, get out of the ship and, assuming you have the mission tracked, follow the blue marker to find the thief suspect near Laredo Arms.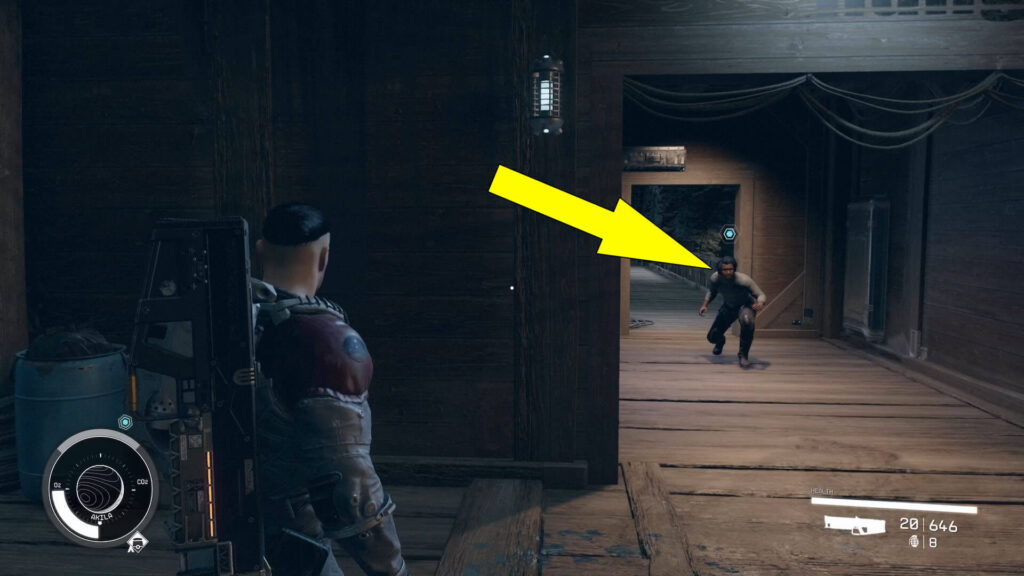 Confront him, and shortly, Akila City Security will come to aid you.
Upon finishing your discussion with the Security agent, you must report back to Annie Wilcox.
Where To Find Annie Wilcox in The Great Laredo Caper
The little girl is found at The Rock, up the stairs on the right side; just follow the blue marker to find her quickly.
Now, talk to Annie and her mom, Emma, to give them the good news.
Emma will thank you and reward you with 2500 credits.
Also, you'll obtain 55 XP for completing Starfield The Great Laredo Caper side mission, so well done! To continue, you can start another mission in Akila City, like Defensive Measures, for example.