Diablo 4 Bait the Trap is the second quest of the Discretionary Spending questline, which can be completed in the Hawezar region.
As such, Bait Trap also counts as one of the 49 Hawezar side-quests, all mandatory, assuming you're a completionist.
In the previous quest of the questline, you find out that Lyndon, the boss of the Backwater town, has a rat among his man, and you must find out who it is in Bait the Trap.
Therefore, throughout the walkthrough below, we'll provide step-by-step instructions to make sure you don't encounter any problems while completing D4 Bait the Trap side-quest.
How To Start Bait the Trap Quest in Diablo 4
In order to play the Bait Trap side-quest, you must get to the Hawezar region in Act 5.
Then you must complete the Discretionary Spending side-quest and meet Lyndon in Backwater to discuss what is to be done about the rat.
You can look for the quest giver in his hut on the east side of the town, as you can see on the following map.
But when you find the NPC, he will tell you to follow him outside the town, where you can hear his plan.
Lyndon has cleverly talked up fake deals in different parts of Backwater.
Each deal has a different location, so all you have to do is wait at all the spots to see where you get ambushed.
The location where you get ambushed reveals the rat; thus, let's see where the ambushes are located and head to each place.
Where To Find the Ambushes in Diablo 4
Luckily, a blue marker on the minimap will guide you to each ambush location, but to aid you even further, we've also pinpointed them on the next map in the order you must reach them.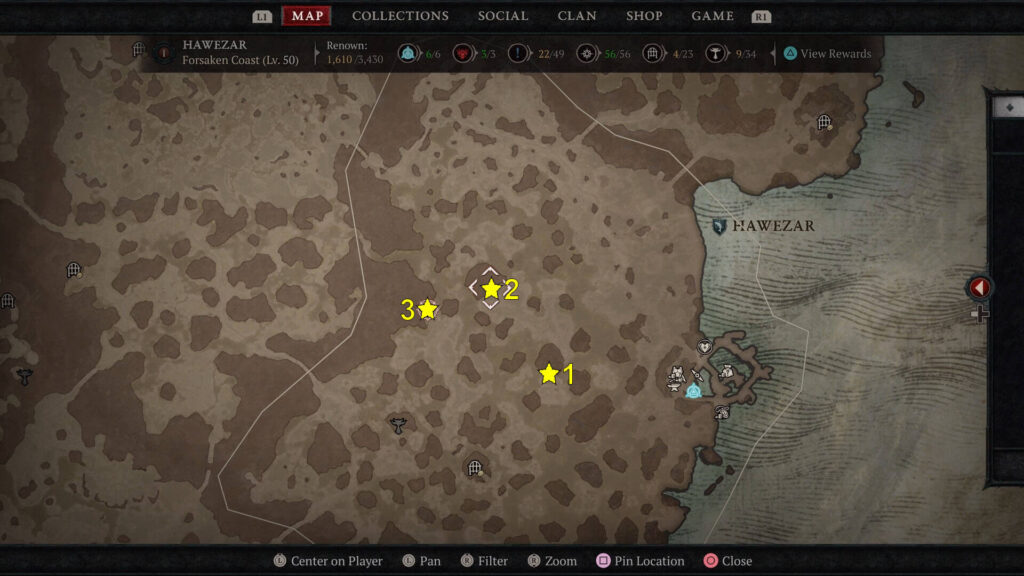 As you can see, the first ambush is located in the Secluded Clearing in the middle of the Forsaken Coast area, and once you get there, nobody shows up.
The second ambush should take place in the Quiet Clearing in the western part of the Forsaken Coast area, but nobody will show up there either.
Now head to the Isolated Shack at the third spot marked on our map for the last ambush.
This time you'll get attacked by a bunch of Backwater Traitors, which sadly means that the rat is nonother than Orton, Lyndon's right-hand man; who would have thought?
To continue, slay the mobs and, after, ask Lyndon what's next.
The Backwater boss will want to meet with Orton and sort this whole thing out in privacy.
However, Diablo 4 Bait Trap quest comes to an end, and you receive XP, Gold, and Renown points. But to find out how the story of the questline finishes, go ahead and start the Dead to Rights side-quest.