Diablo 4 Braega's Chronicles is one of the Scosglen hidden side quests, in which you'll have to bring an important lost book to an NPC.
But the D4 Braega's Chronicles quest item is randomly dropped by enemies in a specific subregion of Scosglen.
It can be quite tedious to discover which enemy drops the book and where. But no need to worry, we are here to help.
Therefore, during the following Diablo IV guide, you will learn how to unlock Braega's Chronicles quest, the rewards, as well as a complete walkthrough.
How To Start the Braega's Chronicles Quest in Diablo 4
In order to begin Braega's Chronicles quest in Diablo IV, it is recommended to progress and finish Act II. Then, you'll have to find and collect A History of Scolsgen quest item.
A History of Scolsgen quest item is randomly dropped by the Khazra enemies (Goatmen) in The Downs subregion of Scosglen.
Check the image below to see what the item looks like.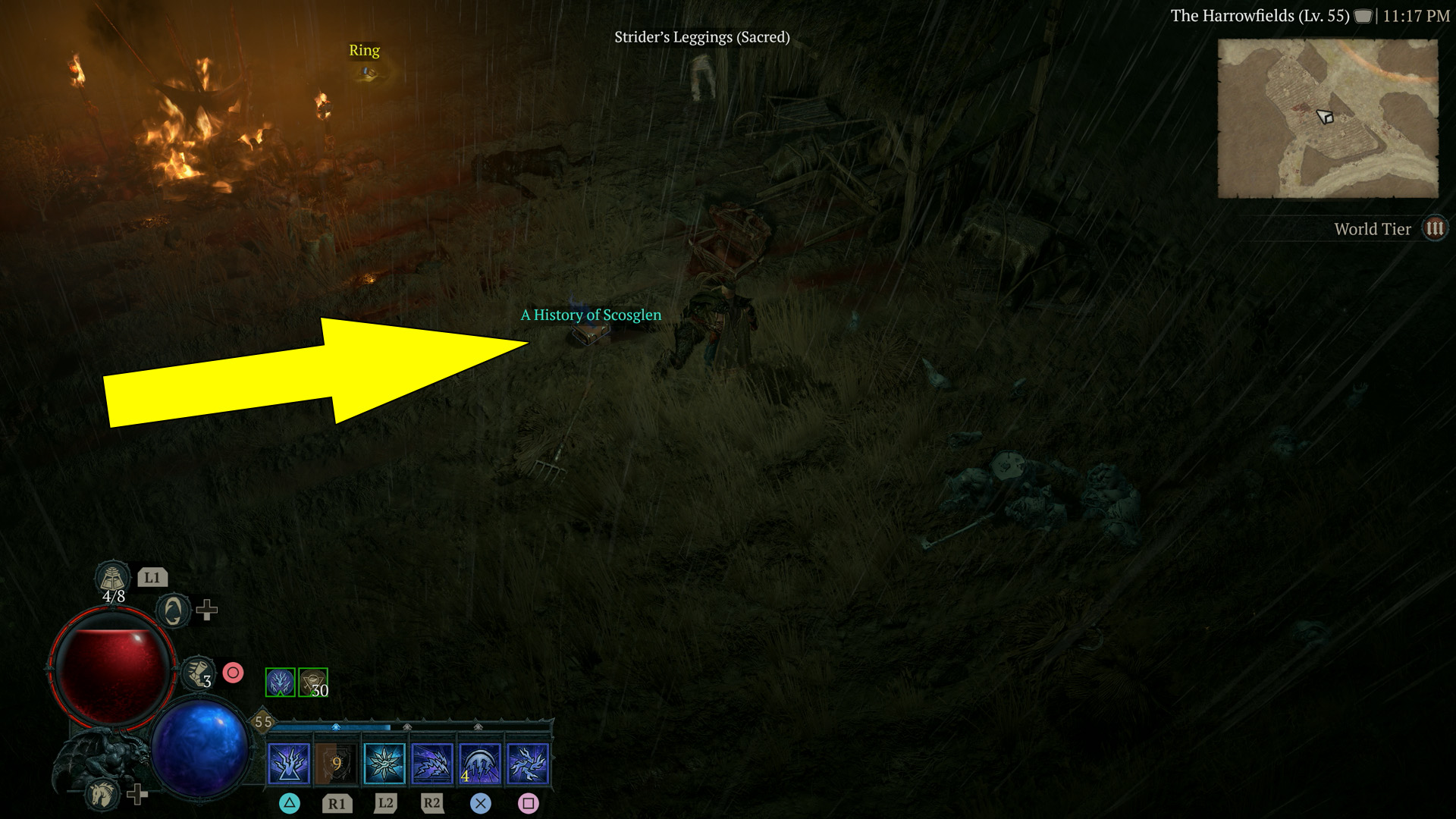 On the map below, you can see the location where the item randomly dropped for us.
The location where we got it may differ from where you might get it. Keep killing Khazra enemies in The Downs subregion until you get the quest item.
It's important to note that the quest item is uncommon and may require you to spend some time looking for it.
Where To Return the History of Scosglen in Diablo IV
After picking up the History of Scolsgen written works, fast-travel to the Firebreak Manor, the first waypoint of the Scosglen region, and unlocked after clearing out the area of the Goatmen during the Campaign Quest Dark Omens.
Find and speak with Steward Wilfred, an NPC marked with a blue diamond on the map.
You'll surprise him with your finding, and he'll express gratitude for the return of Mistress Breaga's works – a small but significant piece of her legacy.
As a token of appreciation, you'll receive XP, Gold, and a Salvage Cache. You'll also be awarded 20 Renown points in the Scosglen region.
Once you have completed Braega's Chronicles quest, Steward Wilfred will offer you a side quest titled A Plea for Aid. If you are looking to achieve a 100% completion rate of region, check out our Scosglen side-quests in Diablo 4 to track down all the quests.
Also, if you need additional help with any other collectibles or quests, we've put together our Diablo IV Wiki Hub Page with all the information you need.