Diablo 4 Blood and Sweat is a mandatory side-quest you can complete in Act 3, provided you want to achieve 100% completion in the Dry Steppes region.
Blood and Sweat is part of the 38 Dry Steppes side-quests, and its main objective is to find Little Tuya in a small area in the Ruins of the Qara-Yisu Stronghold.
However, Little Tuya is pretty hard to locate if you don't carefully explore every inch of the quest's search area.
No worries! We got you covered as always, and through the following walkthrough, we'll provide step-by-step instructions to help you complete D4 Blood and Sweat quest quickly.
How To Start Blood and Sweat Quest in Diablo 4
To start the quest, you first need to reach Dry Steppes, the Act 3 region.
Then you must make your way to the southeastern corner of the region and enter the Qara Yisu Stronghold.
Upon conquering the Stronghold, you can head to its southern part and look for a Bloodstained letter on the ground.
On the following map, we've pinpointed the exact location of the letter, just in case you have trouble finding it.
Also, the letter has a blue exclamation mark above it so that you can spot it more easily.
Note that you can also find an Altar of Lilith close to the letter if that is something that might interest you.
Now, you can interact with the letter to finally start the side-quest.
Where To Find Little Tuya in Diablo 4
The letter has the followin message writen on it:

"My Bright Ray, I received your last letter from Alzuuda and the gold you sent. I wish you would give up this mercenary life and come home. Having you here is a greater blessing than gold. I have kept Little Tuya safe."
Upon putting away the letter, you'll see that your objective is to search for Little Tuya.
If you open your map, you can see a relatively small search area nearby.
Even if the search area is small, you can easily spend a lot of time finding Little Tuya, considering you don't know what to look for exactly.
Thus, you can check the Diablo 4 map below for the exact location where you must go.
Once in the right spot, you should find a Disturbed Stone you can interact with to find a Crude Doll.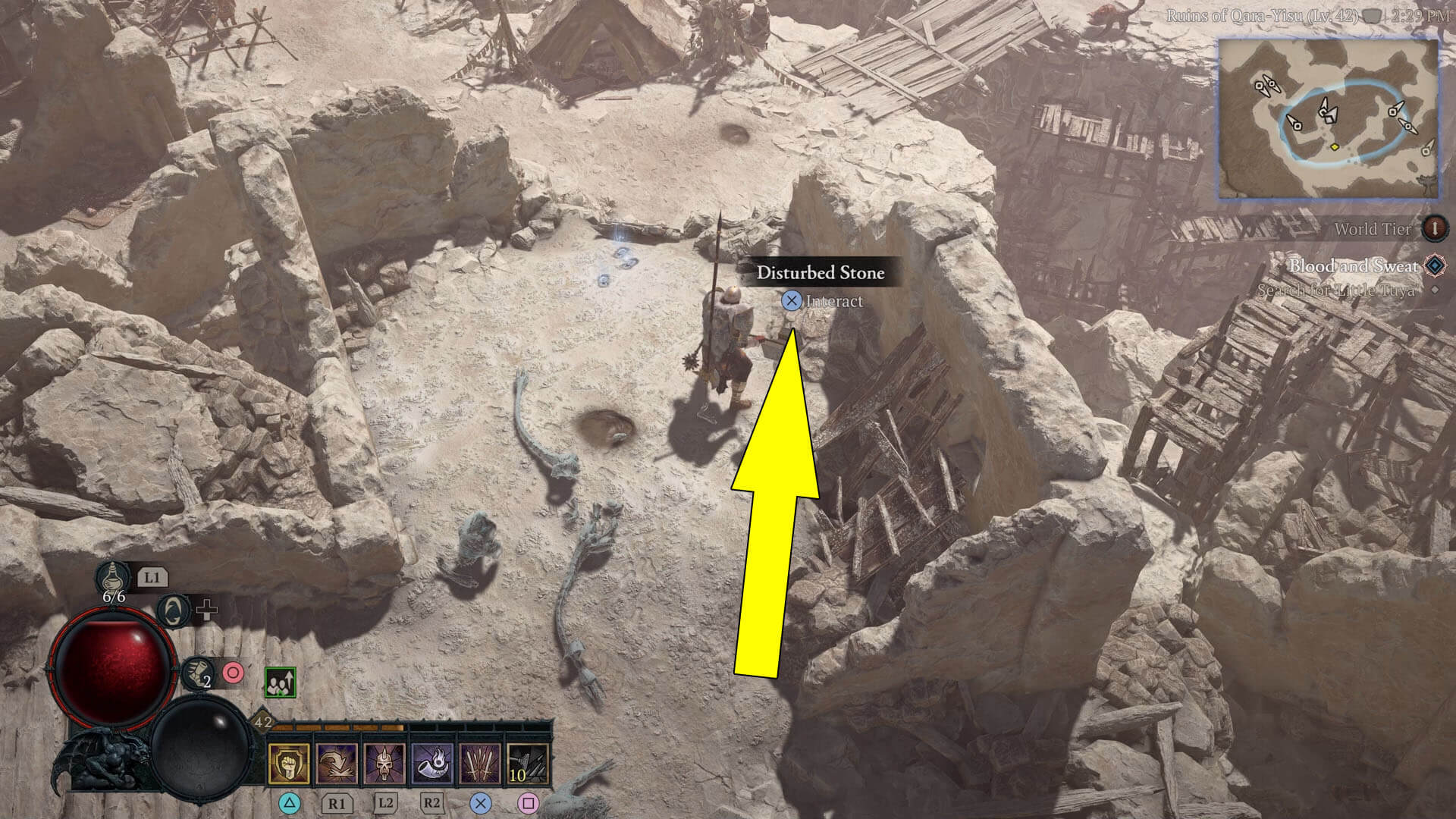 It's really hard to find the stone on your own because it's not highlighted, and you must get really close to it to see that you can interact with it.
Now your objective is to bring the doll to Tuya, who is located in Alzuuda village on the west side of the Fields of Hatred area.
As you can see, Fields of Hatred can be found in the western part of Dry Steppes.
Once you give the doll to Tuya, she will thank you, and Diablo 4 Blood and Sweat quest is completed. The rewards are a Salvage Cache, XP, Gold, and Renown points. Next, you can start the Phases of the Moon side-quest, also available in the Qara Yisu Stronghold.