Diablo 4 Consumed by Pride is a relatively short side-quest you can complete while exploring the Untamed Scarps area in the Dry Steppes region.
Consumed by Pride is the first quest in a questline, and to complete it, you'll need to aid Ealda, the Crane Tribe Chieftain, to find her missing barbarians.
However, to keep the quest short, you must have a keen eye, or you'll spend more time than you would want in the search area.
As such, you should check the following D4 Consumed by Pride walkthrough to make sure you complete the quest easily, like a walk in the park.
How To Start the Consumed by Pride Quest in Diablo 4
The first thing to mention is that the quest, which is part of the 38 Dry Steppes side-quests, becomes available as soon as you reach the Act 3 region.
When you're ready, you must find Ealda, the quest giver, in Crane Tribe Hutmoot on the north side of the Untamed Scarps area.
Don't hesitate to check the D4 map below for the exact location of the Crane Tribe Chieftain.
To reach the spot quickly, it would be best if you had a mount because there are no Waypoints nearby you can use to fast travel.
The problem is that the mount gets unlocked in Act 4, so if you want to complete the side-quest in Act 3, you'll have to travel by foot.
Once you reach the quest giver, talk to her to see how you can help her.
Where To Find the Missing Crane Tribe Barbarians in Diablo 4
It seems Ealda is missing some of her most battle-scarred warriors, and she thinks they are not dead; thus, you can find them for her.
After you finish your conversation with the Crane Tribe Chieftain, you can open your map to see the quest's search area south of your current location.
As you can see, the search area is big enough for you to spend some time looking for clues.
Therefore, we've marked the exact spot you must get to on the next map.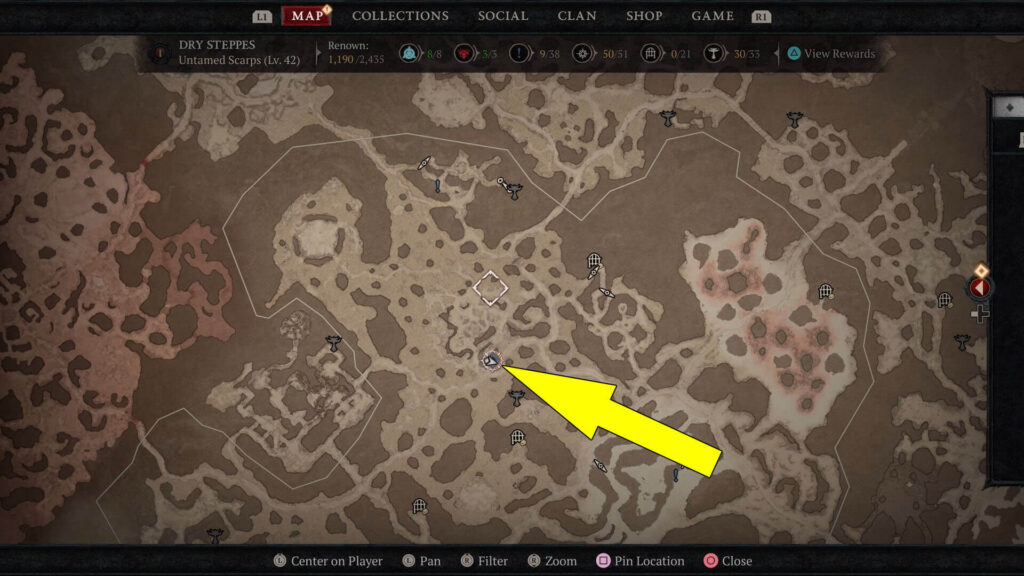 Be careful as you traverse the search area because it's filled with dangerous mobs, even an Elite.
Carefully take out your enemies, and when you reach the location pinpointed on our map, you should see a Mutilated Barbarian next to a tent.
Now interact with the corpse to prompt the following message:
Torn flesh and bite marks riddle the corpse. Jaw agape, they express both surprise and terror.
Upon closing the message you'll get attacked by two Blood-crazed Barbarians.
Take them down and return to Ealda to tell her that the missing barbarians turned to cannibalism.
Well done, Nephalem! You've completed Diablo 4 Consumed Pride and received the following: XP, Gold, Renown points and a Cache. Now you can start Raising Spears, the next quest in the questline, by talking to Ealda again.