Corroding Mettle is a pretty sad Diablo IV side-quest you can start in the town of Ked Bardu right as you begin Act 3.
Diablo 4 Corroding Mettle is part of the 38 side-quests available in Dry Steppes, and it requires some tracking and fighting from you, but nothing too difficult.
For the said quest, you have to help Siban, a worried father, and check up on his two sons, who have a shop in Jirandai.
As such, in the following walkthrough, we'll explain where to find the two NPCs and eventually complete the Corroding Mettle side-quest in the latest video game developed by Blizzard Entertainment.
How To Start the Corroding Mettle Quest in Diablo 4
To start the side-quest, all you have to do is reach the town of Ked Bardu in the Kotama Grasslands area in Act 3.
It's worth mentioning that in the same town, you can start The Spreading Darkness main-quest.
Then you must look for a male NPC in the middle of the town and talk to him; the exact location is pinpointed on the map below.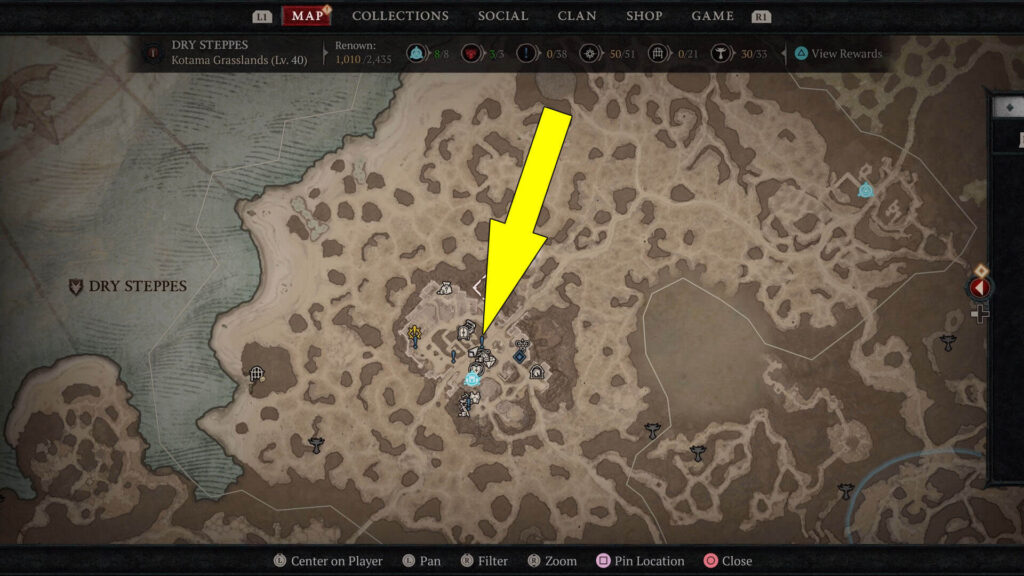 As mentioned, the quest giver will ask you to check on his sons in Jirandai.
Also, don't forget to activate the Diablo IV Ked Bardu Waypoint if it's your first time visiting the town.
Where To Find Ordun and Khada in Diablo 4
So, it's time to make your way to Jirandai village, which is located on the southern side of the Dry Steppes region, as shown on the next map.
Once you reach the village, activate the Waypoint because you'll have to return here soon, then go talk to Ordun (one of the two brothers), who is located next to the blacksmith.
He will tell you that his brother Khada is selling their goods to a camp north of the village.
Now that you know one brother is alright, you must go to the camp not far north and check on Siban's second son.
To make it easier for you, we've marked the location of the camp on the following map.
As you reach the spot, you'll find Khada's caravan, but no sign of him.
Thus, enter the search area you can now see on your map and look for the NPC.
However, proceed with caution because the area is full of mobs.
After dealing with the bloodthirsty enemies, you'll be able to find Khada's corpse in the middle of the search area.
You must now bring the sad news to Ordun back in Jirandai, who will be devastated, of course.
He will personally inform the father, so you don't have to worry about that.
That's how you complete D4 Corroding Mettle side-quest and obtain XP, Gold, and 20 Renown points in the process. Now you can focus on Thieves' Famine, another side-quest you can complete in Act 3 as well.