Diablo 4 Dread Martyr is a Fractured Peaks side-quest similar to Cries of Innocence, as it involves a tormented soul you must put to rest while exploring the Hollowed Ossuary dungeon.
The Dread Martyr quest in Diablo 4, however, features a different story, and the Elite mob you are about to face is Lord Avitus, a former knight who fell in battle.
Since Diablo 4 The Dread Martyr counts as one of the 35 side-quests in Fractured Peaks, our walkthrough below explains how to complete it and where to look for Lord Avitus in the Hollowed Ossuary.
How To Start the Dread Martyr Quest in Diablo 4
Dread Martyr is an early side quest in Diablo 4, and you can start it after finishing the Prologue and reaching Kyovashad.
After you enter Kyovashad and start Act 1, head outside the city through the eastern gate, moving towards Olyam Tundra and the quest marker on our map below.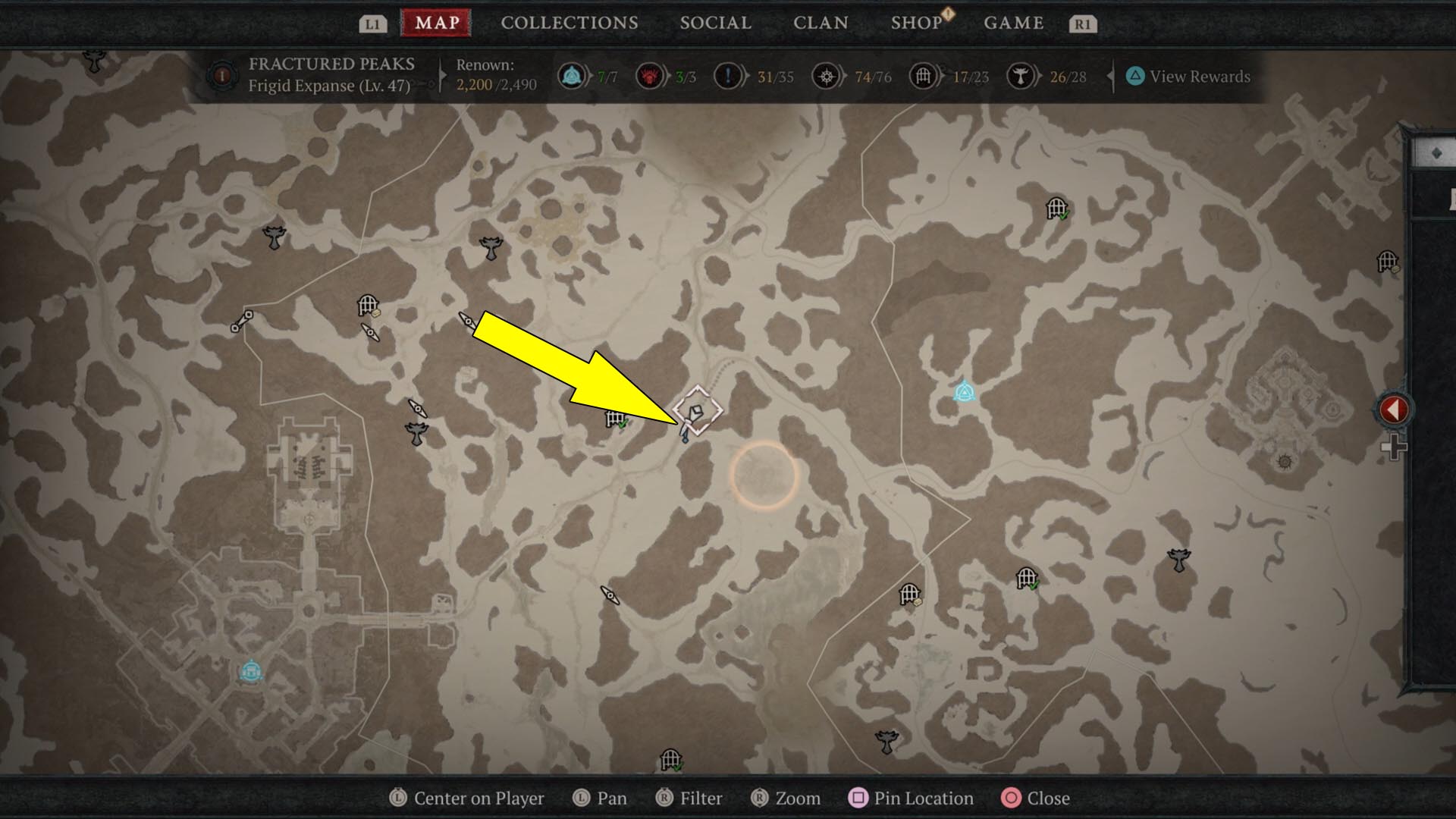 Once you get close to the location on our map, start looking around for a badly wounded knight. You should be able to find him on the road near a stone wall.
His name is Sir Cromwell, and when you talk to him, he'll tell you that one of his men, Lord Avitus, recently fell in battle.
His corpse was taken to the nearby ossuary, but he arose and killed everyone except Cromwell. Your objective is to find the reanimated Lord Avitus and slay him.
Where To Find Lord Avitus in Diablo 4 Hollowed Ossuary Dungeon
To find Lord Avitus, you must explore the Hollowed Ossuary dungeon in the Fractured Peaks region. The dungeon is located southeast of your current location, where you have found Cromwell, as you can see below.
Upon entering the Hollowed Ossuary in the Lonely Drifts sub-region, start exploring the halls. Lord Avitus doesn't have a fixed location since he moves around, and the dungeon design is randomly generated.
To find him, try revealing all corridors on the map and make sure you pay close attention to your minimap because when you get close to him, you'll see a blue circle marking his approximate location.
You should also see an icon depicting a skull (pictured below) on your minimap.
Lord Avitus is an elite humanoid with random resistances depending on your character's level and the difficulty setting.
After you deal with him, The Dread Martyr quest ends immediately because Cromwell, the quest giver, dies after talking to you.
For finishing this quest, besides XP, Gold, and 20 Renown Points, you'll also receive a Cache, and a Bloody Parchment, revealing that even though Avitus burned and tortured for his faith when he died, it was without the grace of Light.