Fields of Ruin is a Diablo 4 hybrid side-quest in which you can help Farmer Phelan protect Blycroft from the Khazra.
Even if Diablo 4 Fields of Ruin is not mandatory for the story, you still have to finish it if you're aiming for 100% completion in the Scosglen region.
The problem is that you need to find three specific spots where you must place some Wardstones and also kill an Elite enemy among a bunch of mobs.
Thus, throughout the walkthrough below, we'll provide step-by-step instructions to help you complete D4 Fields of Ruin, which is part of the 47 Scosglen side-quests.
How To Start Fields of Ruin Quest in Diablo 4
First, you need to worry about unlocking the Fields Ruin quest, which can be done by advancing with the story until you reach and complete the Dark Omen main-quest in Act 2.
Then you must go to Blycroft in the northwestern corner of The Downs area in the Scosglen region.
Here you'll find a farmer, Phelan, who is very upset that the goatmen attacked again, so he wants to keep the foes away by placing some Wardstones around the farm.
Where To Place the Wardstones in Diablo 4
Upon talking to the quest giver, you must pick up the Druid Wardstones (marked with a blue waypoint) in front of the house to the right.
Now if you open your map, you can see three search areas nearby, just like in the screenshot below.
Each search area has a spot in its middle where you can place a Wardstone, as shown in the next image.
Be careful while placing the Wardstones because the area has a lot of mobs that will want to kill you.
Once you place the three Wardstones, you must head back to Phelan and talk to him again.
The pharmer will now suggest you take down Blackhorn, the leader of the Khazra, to teach the beasts what happens if you attack The Downs.
You can find the chieftain by exploring the new search area that has just appeared after finishing your conversation with Phelan.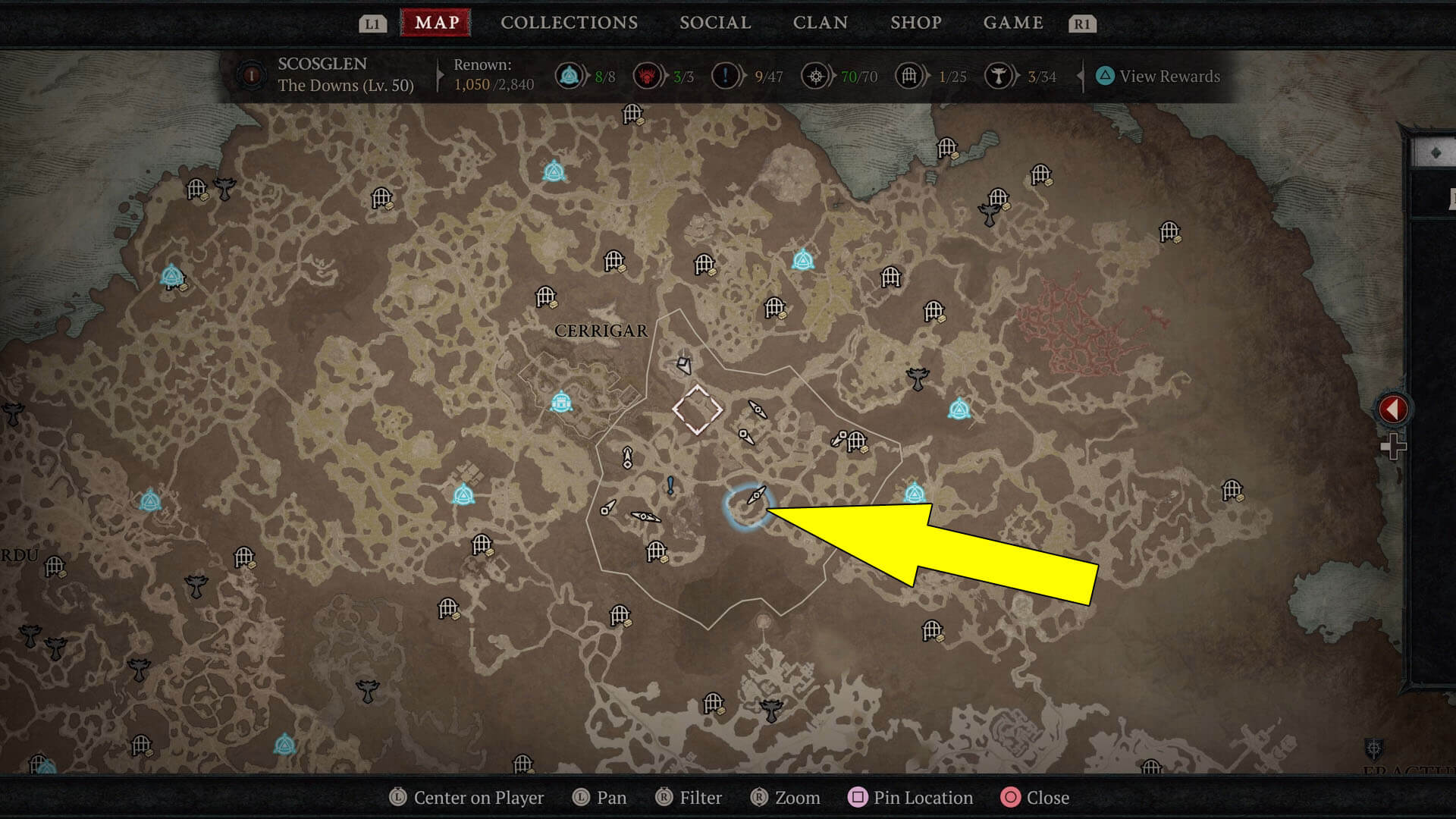 When you reach the area, you need to climb down in The Unhallowed Pit and slay Blood Clan Khazra to draw out Blackhorn.
After killing enough Khazra, which are marked with red dots on your minimap, Blackhorn, the Blood Clan Chieftain, will spawn in the middle of the search area.
Do what you do best and kill the Elite enemy, then pick up the Head of Blackhorn from the ground.
Finally, return to Phelan one more time and show him the head of the beast to prove to him you've done your job.
Excellently done, Nephalem! You've finished Diablo 4 Fields Ruin quest and received the following rewards: Renown points, Gold, XP, and a Cache. To continue, you can now start the Feral Moon side-quest you've just unlocked also in The Downs area.