Drink to the Past is one of the Hawezar hidden quests in Diablo 4 that require you to search for the Kingsport Ale quest item and bring it to Lyndon in Backwater.
There is no secret that we've completed similar side quests, such as The Wrong Hands in the Scosglen region or the Currencies From Afar in the Dry Steppes region, as all of them require you to search chests in a specific part of the region.
As such, follow this Diablo IV guide to learn how to start and complete the Drink to the Past side quest in a few easy-to-follow steps.
How To Start the Drink to the Past Quest in Diablo 4
The D4 Drink to the Past quest becomes available after you advance through the main story campaign and finish Act 5.
Then, you must progress Lyndon's questline until you've completed the Dead to Rights side quest.
After fulfilling the above-mentioned requirements, your next objective is to find the Kingsport Ale quest item to begin the Drink to the Past quest.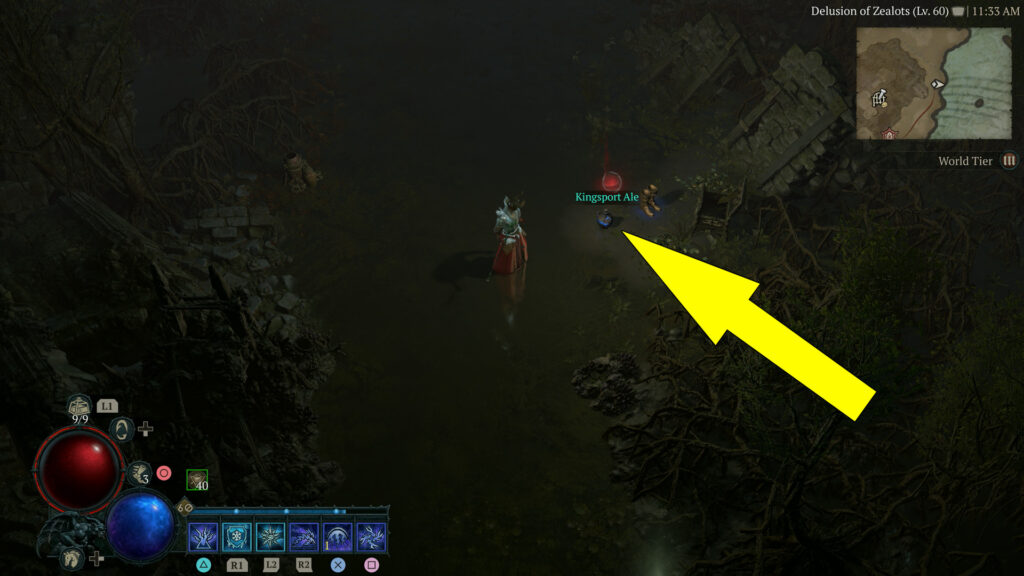 The Kingsport Ale can be obtained randomly by searching the chests within the Rotspill Delta subregion of Hawezar.
As you can see on the map below, we found the Kingsport Ale from a chest east of the Belfry Zakara dungeon.
Even though it's not guaranteed you'll find it in the same place, it's still a good starting point to look for it.
Where To Find Lyndon in Diablo IV
Once you've managed to put your hands on a Kingsport Ale, fast-travel to the Backwater Waypoint and meet with Lyndon.
When you invite Lyndon to share a drink, he jokingly asks what we are celebrating and mentions how Orton would appreciate the ale, even though he is not a fan.
Lyndon then reflects on his brother, Edlin, who also enjoyed the same drink.
He compares his relationships with Edlin and Orton, suggesting that he may have overlooked or chosen not to acknowledge some things.
Finally, Lyndon changes his mind and decides to give the ale another chance, proposing a toast and ending the Drink to the Past in Diablo 4.
You'll receive XP, Gold, a Salvage Cache, and 20 Renown Points for the Hawezar region as a reward for completing the side quest.
If you're looking to keep track of all the side quests in the region, be sure to refer to our Hawezar side quests locations guide.
Additionally, our Wiki Hub Page offers an abundance of valuable guides on collectibles and quests.