Kith and Kin is a side-quest you can complete in Diablo 4 Act 3 by helping Chabi, an old woman who wants you to collect mementos dropped by the dead.
Diablo 4 Kith and Kin is mandatory among the 38 Dry Steppes side-quests to achieve 100% completion in the desert region.
The quest is pretty easy to complete once you understand how you can obtain the 15 Personal Effects that Chabi needs.
No worries, though, because throughout the following walkthrough, we'll explain exactly where you can find the quest items and complete D4 Kith and Kin.
How To Start Kith and Kin Quest in Diablo 4
Before you can start the quest, you must worry about the requirements you must meet.
You must first travel to Dry Steppes, the Act 3 region, then find The Onyx Watchtower Stronghold.
The Stronghold is found in the middle of the region, and you can conquer it immediately after reaching it; you don't need to complete any quest; just reach Dry Steppes.
The enemies in the Stronghold are quite powerful, so you need to prepare for an intense battle. We're sure you'll eventually succeed.
Once you've made the Stronghold a friendly base, go to its middle and look for an old woman next to a big jug by the river.
If you have problems finding the NPC, you can open your map and look for the blue exclamation mark, as you see below.
The old woman is named Chabi, and she wants you to ease her worries by collecting Personal Effects from her kith and her kin, which sadly are now cursed skeletons.
Where To Find Personal Effects in Diablo 4
After you finish talking to the old woman, you can open your map to spot a search area east of The Onyx Watchtower Stronghold.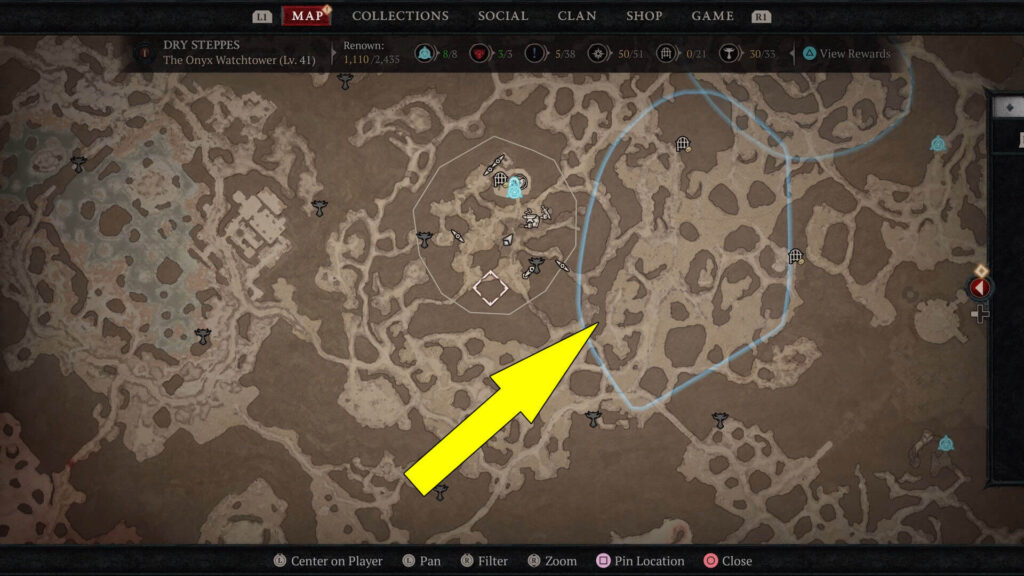 In the said area, you need to find 15 Personal Effects which drop from Skeleton enemies.
As you move through the search area, you can see red dots.
Each dot represents an enemy that can drop Personal Effects.
The problem is that the quest item is not a guaranteed drop, and you'll need to defeat a lot of Skeletons to get all 15 Personal Effects.
Also, the area is filled with other types of enemies you have to kill or be killed, receiving no Personal Effects in return.
So, we suggest you kill every mob you find, or you'll get overrunned and probably die.
After getting 15 Personal Effects, you can go back to Chabi, who will thank you and ensure each object is identified properly.
Nice job, friend! You've managed to complete Diablo 4 Kith and Kin and received a Salvage Cache, Renown points, Gold, and XP as a reward. Now, you can focus on other Dry Steppes side-quests like Exhuming Faith, available in the Dindai Flats area.