Diablo 4 Left in Ashes is a short side quest in the Scosglen region, which involves finding Eadaoin's Spirit within a search area northeast of the Tur Dulra Stronghold.
Left in Ashes is mandatory if you want to complete all Diablo 4 side-quests, and it is the last one you'll receive from Scholar Yuein.
Furthermore, Diablo IV Left in Ashes has several requirements; therefore, our walkthrough below explains how to unlock the side quest and where to find Eadaoin's Spirit.
How To Start the Left in Ashes Quest in Diablo 4
In the video game developed by Blizzard Entertainment, Left in Ashes is unlocked by reaching the Scosglen region during Act 2.
Next, you'll want to clear the Tur Dulra Stronghold on the western side of Scosglen and finally complete the first quest for Scholar Yuein. Specifically, the quest named The Diviner.
After finishing The Diviner, return to Scholar Yuein at the location marked on our map below because he has another task for you.
When you talk to Scholar Yuein, he'll tell you that because of you, the surviving Druids returned to Tur Dulra; however, this time, he wants to tell you more about his apprentice Eadaoin.
According to Yuein, Eadaoin went after Astaroth, but she was killed, and her spirit remained shackled to the fight. So Eadaoin keeps fighting Astaroth over and over again, so Yuein wants you to find Eadaoin and put her spirit to rest.
Where To Find Eadaoin's Spirit in Diablo 4
Diablo 4 Eadaoin's Spirit is an elite mob found northeast of Tur Dulra. After you start the Left in Ashes side quest, open your map and spot a large search area marked by a blue circle.
Head to that location, known as The Dead Barks Wilderness, and search the northern side.
As you can see on your map, Eadaoin's Spirit is located close to the northern edge of the search area.
When you reach the location we have marked above, you'll find a burning brazier and, in front of it, a corpse that belongs to Eadaoin.
To fight Eadaoin's Spirit, interact with the Charred Corpse in front of the brazier (also pictured below).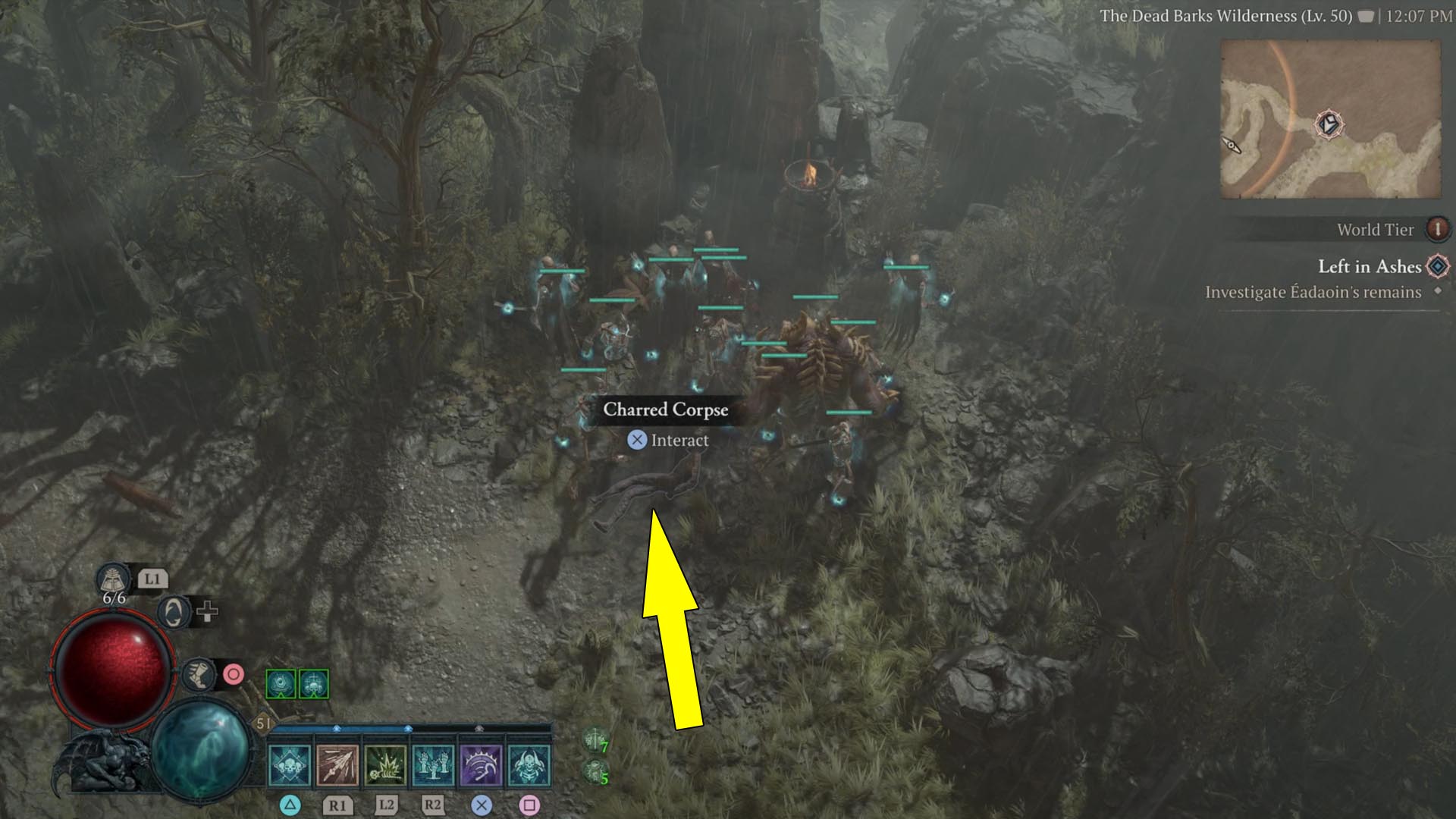 Eadaoin is an Elite Cursed Druidic Spirit, and you'll have to deal with the mob to progress the quest. After putting Eadaoin's spirit to rest, return to Scholar Yuein in Tur Dulra.
Talk to him, and he'll tell you that to celebrate Eadaoin's apprenticeship, he ordered a unique staff for her. Since Eadaoin doesn't need it anymore, he wants you to have it as part of the reward you'll get for completing the Left in Ashes side-quest.
Additionally, you'll also receive Gold, XP, and 20 Renown Points, so now, how about checking our Scosglen side quests locations guide to start another side quest in Tur Dulra?