Diablo 4 A Pound of Flesh is a fun side-quest you can complete in Act 3, and to pique your curiosity, it has a plot twist at the end.
A Pound of Flesh is part of the 38 Dry Steppes side-quests, and you must complete all of them if you're aiming for 100% completion in the third region.
However, the quest can be tricky if you don't know where to look for a certain item, and it might take you a while to figure it out.
As such, if you want to complete D4 A Pound of Flesh quickly, don't hesitate to follow our walkthrough below.
How To Start A Pound of Flesh Quest in Diablo 4
For the quest to become available, you must first go to the Dry Steppes region (Act 3) and conquer The Onyx Watchtower Stronghold.
The Stronghold is located in the middle of the region, and after you clear it, you can go to its western part to look for a man in a hanging cage.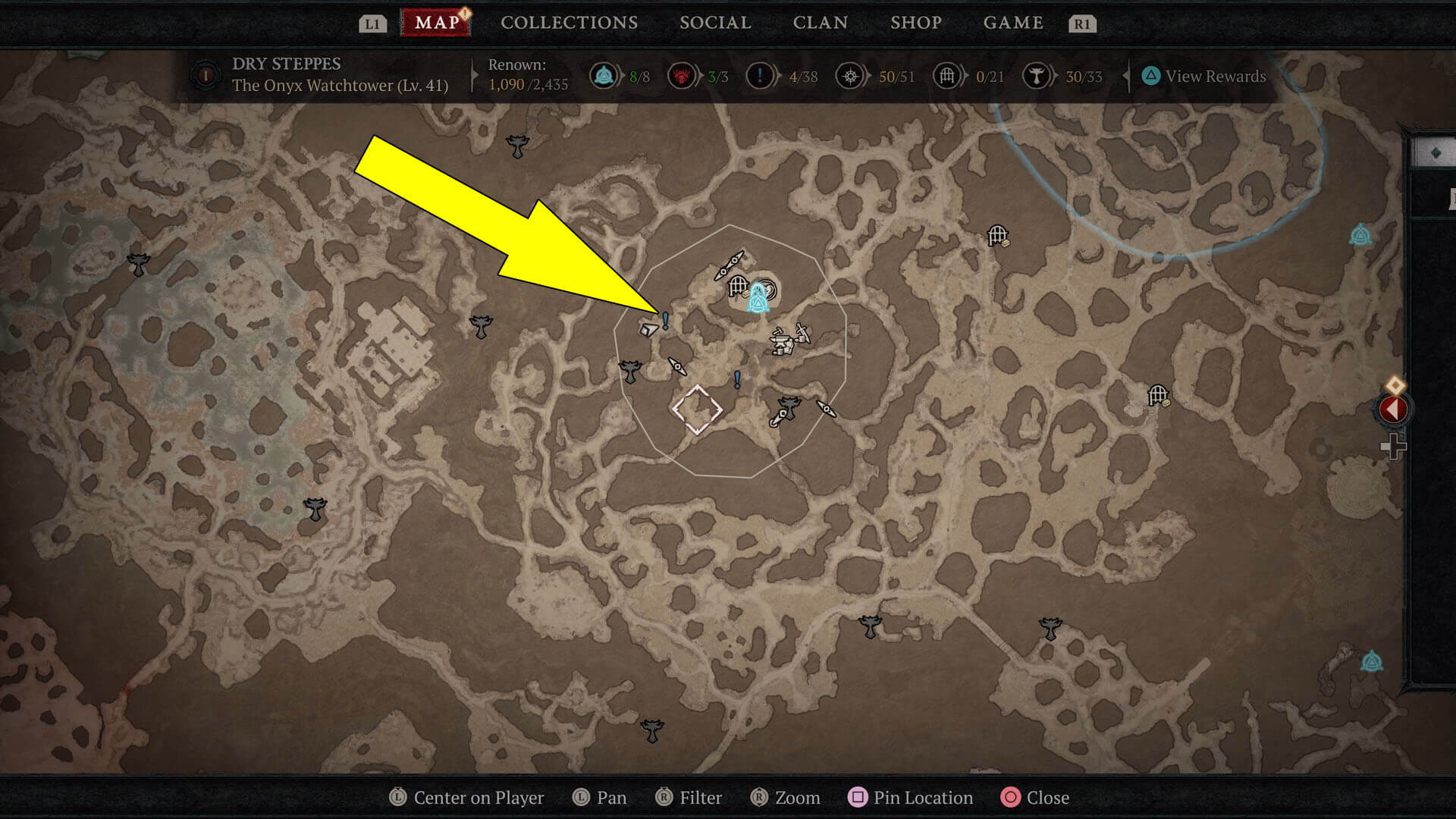 Upon talking to Nizaar, the prisoner, you'll want to free him because you're the good guy, like always.
Now let's see what you must do to help the poor man.
Where To Find the Gibbet Key In Diablo 4
The NPC tells you that the cage's key is in the possession of some thugs that probably camped nearby.
Thus, open your map after starting the side quest, and you'll see a search area south of the Stronghold, as shown below.
Make your way to the middle of the search area to find the thugs in their camp.
The D4 Pound of Flesh Gibbet Key will drop when you kill the Firebrand enemy, but you can get rid of all of them just for fun.
Once you have the key, you can return to Nizaar and free him.
The NPC will require one of your health potions, and he will immediately regain his strength.
Nizaar seems to think that Borza, the bastard who put him in the cage, might do this again to somebody else.
So you must go after him in the caverns below and put an end to his life.
Your new buddy wants to help you, but first, he must get his hands on a weapon, which can be found by going to one of the quest's waypoints in the Stronghold.
After you arm Nizaar, a new waypoint will appear in the Stronghold, and it will lead you to the nearby caverns where Borza is hiding.
Where To Find Borza the Grim
The cavern is not that small, but it's linear, and you should find Borza when you reach the end of it.
Now here comes a surprise, as it seems that Nizaar is not here to help you but to deliver you to Borza as a gift.
Thus, your final objective is to slay Nizaar the Traitor, Borza the Grim, and their gang.
We're sure you'll come victorious out of the battle and complete Diablo 4 A Pound of Flesh, receiving Borza's Bonecrusher Rare Mace, Gold, XP, and Renown points. But you can now start Kith and Kin, which is another side-quest available in The Onyx Watchtower Stronghold.