Ravenous Necrolyte's Cache is one of the hidden quests in the Kehjistan region of Diablo 4, in which you must obtain the quest item with the same name and harvest death anima from cultists and demons.
The D4 Ravenous Necrolyte's Cache resembles the side quest we finished in the Scosglen region called the Warded Sailor's Vessel. In both quests, we must collect an item and harvest death anima to open it.
One of the challenging parts of these types of side quests is figuring out the enemies who drop the quest item and in which area.
Therefore, follow our Diablo 4 guide to learn how to begin the Ravenous Necrolyte's Cache and how to complete it quickly.
How To Start the Ravenous Necrolyte's Cache Quest in Diablo 4
To start the Ravenous Necrolyte's Cache side quest, you need to obtain the quest item with the same name.
Cultists and Demons randomly drop the Ravenous Necrolyte's Cache quest item in the Outer Gardens area of the Scouring Sands subregion of Kehjistan.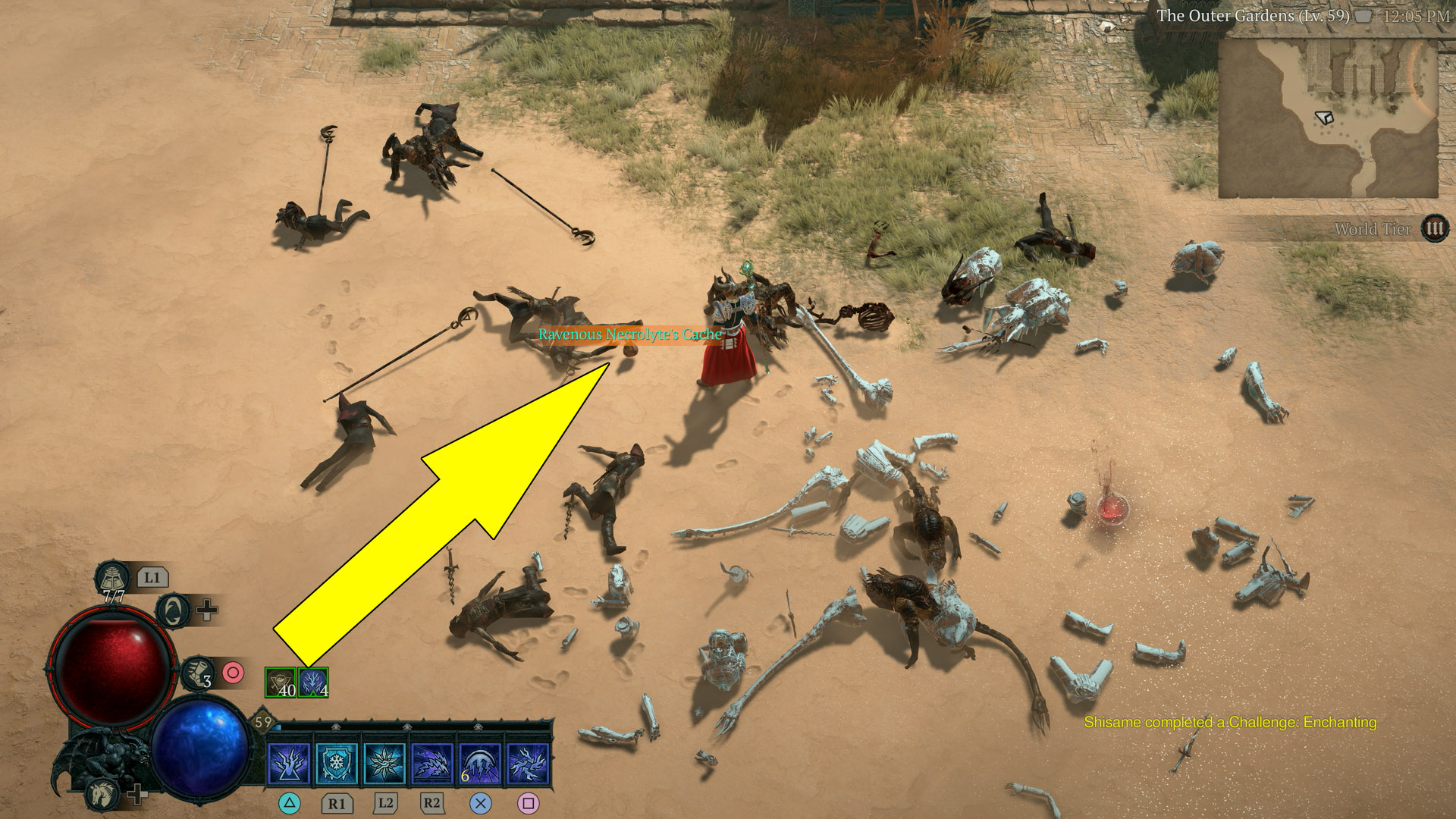 But to access The Outer Gardens area, you must first complete Act 3 to clear the sandstorm.
Also, this area has no enemies until you've completed the whole main story campaign, including the Epilogue.
Take a look at the map provided below to locate The Outer Gardens area and the spot where we found the quest item.
How to Harvest Death Anima From Cultists and Demons in Diablo IV
Once you have retrieved the quest item, your next task is to harvest death anima from Demons and Cultists.
Slay the Cultists and the Demons within the marked area in The Outer Gardens area of Kehjistan and pick up their death anima until you've filled the cache.
Also, the nearby World Event marked with an orange circle is a quick way to farm death anima, as it keeps spawning waves of Cultists and Demons.
To keep track of your side quest progress, check the right side of your screen below the minimap.
Once the cache is filled, the Ravenous Necrolyte's Cache side quest will be completed automatically, and you will receive rewards such as the Sated Necrolyte's Cache, XP, and Gold. Additionally, you will earn 20 Renown Points for the Kehjistan region.
If you aim for a 100% completion rate of region, we have you covered with every Kehjistan side quest location in Diablo 4. Our Wiki Hub Page is also a valuable resource for completing the other regions.