Remnants of Faith is a Diablo 4 side-quest available in the Hawezar region in which you must help Tomyris, a woman who needs to get to Maugan's Folly.
Hence, Diablo 4 Remnants of Faith counts as one of the 49 Hawezar side-quests, and you need to finish all of them if you want to achieve 100% completion in the swampy region.
The Remnants Faith quest is a bit tricky, especially considering that a part of it takes place in a dungeon, but for your effort, you will get the next rewards: Gold, XP, Renown points, and a Rare Chest Armor.
As such, it would be best to check our following walkthrough, where we'll provide instructions on how to complete D4 Remnants of Faith.
How To Start Remnants of Faith Quest in Diablo 4
In order to play the quest, you must first reach Act 5 and the Hawezar region.
Then you have to make your way to the town of Zarbinzet in the southern part of the Umir Plateau area and look for Tomyris, the quest giver.
The NPC is located near the Stash and Wardrobe, west of the town's Waypoint.
Once you get to the place, you'll hear Tomyris saying that she needs help getting to Maugan's Folly, and you offer to aid her, of course.
So you must meet Tomyris near the bridge connecting the Umir Plateau and the Fethis Wetlands areas, as shown on the D4 map below.
When you get to Tomyris, she will tell you about a shortcut, a broken bridge, that the NPC's friend Zrinka told her about.
Where To Find the Broken Bridge in Diablo 4
You can now open your map to see a search area to the southeast, where you must head to look for the broken bridge.
Just in case you have problems finding the bridge, we've pinpointed its exact location on the next map.
After jumping over the broken bridge, you must find the Maugan's Folly area on the southeast side of Fethis Wetlands.
Once again, you can open your map and look for a search area to see where you have to go exactly.
As you reach Maugan's Folly, Tomyris will tell you that you are here so she can get her master's, Johanna, armor from her corpse.
Where To Find Johanna's Armor
The exact spot where you must get to is marked on the following map.
However, when you reach Johanna's corpse, you'll notice that the armor was stripped from her, and now you have to venture into Maugan's Works dungeon to look for it.
The entrance to the dungeon is east of Johanna's dead body.
Just go down the stairs next to the body and head forward; it's impossible to miss it.
After entering the dungeon, you must proceed with caution as it's filled with dangerous mobs.
We're sorry we can't help you with the exact location of the armor, as the dungeon's layout is random for everybody, but if you explore every inch of Maugan's Works and look for a blue marker on your minimap, you'll surely find it.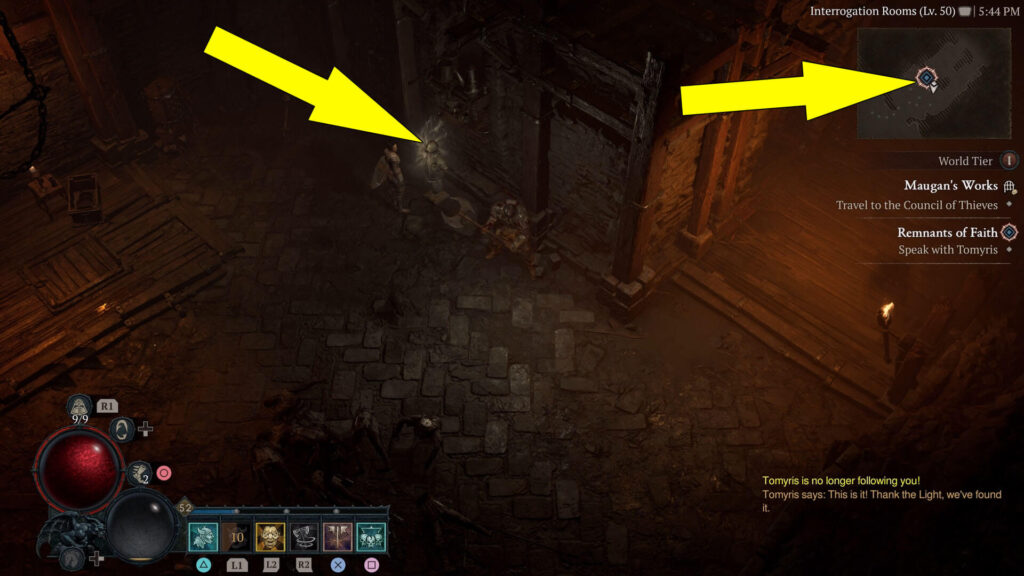 Keep in mind that the blue marker appears on your minimap only when you get close enough to Johanna's Armor.
To complete Diablo 4 Remnants Faith side-quest, all you have to do is talk to Tomyris upon locating the armor, and she will tell you that she is happy to carry out her master's name. Also, if you want to tackle another Hawezar side-quest, start Coiled Grasp, also available in Zarbinzet town.