Diablo 4 Unearthed Regrets is a side-quest you can start in The Writhing Mire area of the Hawezar region.
Thus, Unearthed Regrets counts as one of the 49 Hawezar side-quests, and to complete it, you must help Kres with the last task he has for you.
Kres is the NPC tangled in vines, who you've already met in the Tangled Memories and Growing Reminders side-quests, and this time he wants you to dig up a grave and burn what you find.
As such, you should definitely check the walkthrough below if you encounter any problems with D4 Unearthed Regrets side-quest.
How To Start Unearthed Regrets Quest in Diablo 4
Unearthed Regrets becomes available after completing the previous two side-quest you get from Kres, Tangled Memories and Growing Reminders, both already mentioned.
Also, you'll need to reach the Hawezar region in Act 5 of Diablo 4.
Once you're good to go, you must make your way to Kres, who literally has nothing better to do than wait for you in the northwestern corner of The Writhing Mire area.
You have the exact location of the NPC marked on the next map.
The fastest way to reach Kres is to use The Tree of Whispers Waypoint and then get on your mount to cover the rest of the distance.
When you get to the quest giver, he will tell you that he has one final request for you, and that is to find the shallow grave by the tunnel of gnarled trees, dig it up, then burn everything inside.
Now let's see where the shallow grave is located precisely.
Where To Find the Shallow Grave in Diablo 4
After finishing your discussion with Kres, you can open the map to notice the quest's search area on the east side of The Writhing Mire.
If you want to get to the grave as fast as possible, make sure to check our following map, where we've pinpointed its location.
To continue, head there and interact with the shallow grave in the water to exhume it.
Then slay the mobs that will attack you and pick up the Exsanguinated Remains from the ground.
Next, you must burn the remains at the pyres south of the Backwater town.
Therefore, head to Backwater, preferably using the town's Waypoint, and follow the blue marker on your minimap to reach the unlighted pyre.
Now interact with the pyre to burn the remains and then return to Kres.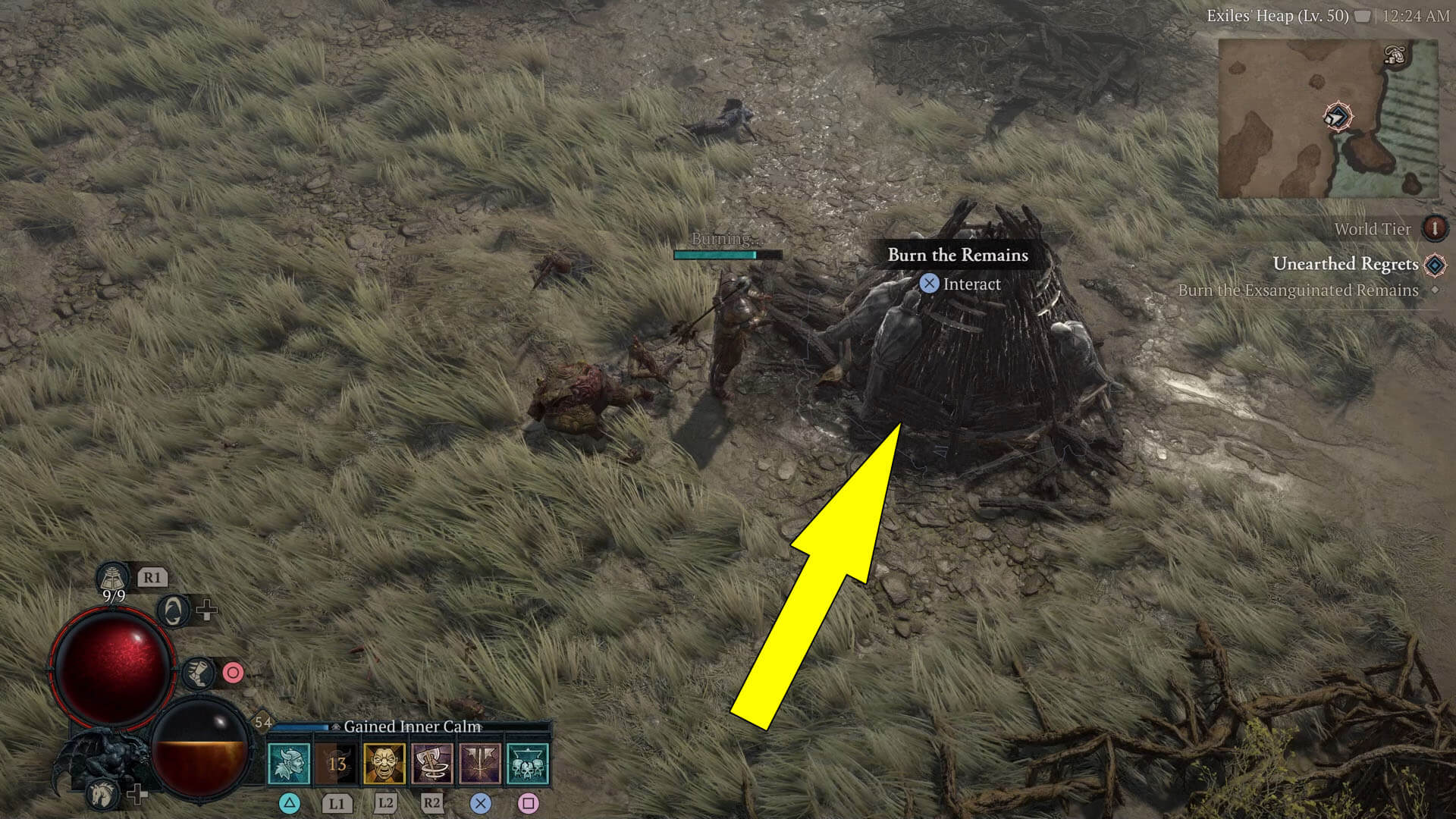 The NPC will be very thankful and will tell you how much regret he has for what he did in the past.
Congratulations, our Nephalem friend! You've completed Diablo 4 Unearthed Regrets and received Gold, XP, Renown points, a Cahche, and a Rare Amulet. Now you can focus on other Hawezar side-quests, like Traveler's Superstition.