At the end of Marvel's Guardians Of The Galaxy Chapter 2, you'll have to decide if you want to Help Nikki or Side With Ko-Rel, and you may want to know what is the best path to follow.
Unlike the previous story choice we covered (Hide The Creature or Hide The Tech), this time, there is only one good choice, meaning that you have only one option that you should consider.
So, let's see what happens if you Side With Ko-Rel and what happens if you Help Nikki in Guardians Of The Galaxy.
Guardians Of The Galaxy Side With Ko-Rel Choice – What Happens Next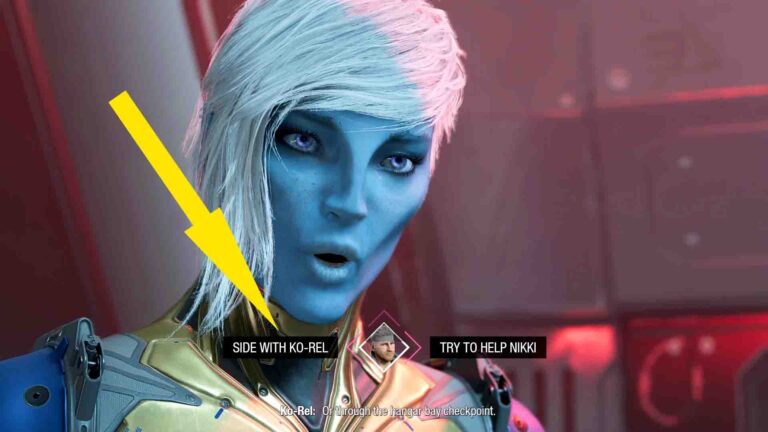 The option to take sides or choose between Ko-Rel and Nikki starts at the end of Chapter 2 when Nikki's mother finally catches Peter and his new friend.
During the following dialogues, you have several options:
Those on the left side of the screen allow you to side with Ko-rel
Those on the right side of the screen help Nikki
The idea here is always to help Nikki, thus never picking any dialogue option that is not on the right side of the screen (you can see the correct choices below).
If you decide to side with Ko-Rel, Nikki won't trust you anymore, and as a result, you'll lose an essential item: Nikki's Access Card.
This Access Card is critical later in the game (Chapter 7), and if Nikki doesn't give it to you, Ko-Rel confiscates it.
Other than that, nothing else will happen, so this is the wrong choice.
Help Nikki Choice – What Happens Next
On the other hand, if you decide to help Nikki at the end of the Guardians Of The Galaxy Chapter 2, she'll give you the Access Card, which in Chapter 7 is used to open all areas on Hala's Hope.
Guardians Of The Galaxy Nikki's Personal Device is also one of the Galactic Compendium Items you may need to unlock all corresponding achievements and trophies.
So along with the Chapter 2 collectibles covered here, you'll get even more when you return to this area in Chapter 7.
But you won't be able to reach them without Nikki's Personal Device.
As such, during the elevator ride, stick to the choices on the right side of the screen, especially the following:
Re-Activate Elevator
Try To Help Nikki
Take The Blame
Any other choice than those listed above is not recommended, and you'll miss several collectibles hidden by Eidos-Montréal's developers.