Are you wondering if you should Sell Groot or Vote To Sell Rocket in Marvel's Guardians Of The Galaxy Chapter 3?
Then, knowing how your decision affects the story and what happens next is quite essential, and throughout the guide below, I'll tell you everything you need to know about the two choices that are given to you:
Vote To Sell Groot – I think Groot's the more convincing monster
Vote To Sell Rocket – Rocket's definitely scarier on the inside
Before going over these choices independently, it is worth understanding the effects, and from this point of view, you should know that you won't miss anything.
Basically, the significant change here is the level design, meaning that in Chapter 4, the paths and some objectives will change.
Other than this, nothing changes, and you won't miss any trophies or collectibles.
So here is what happens in both cases.
Guardians Of The Galaxy Vote To Sell Rocket Choice – What Happens Next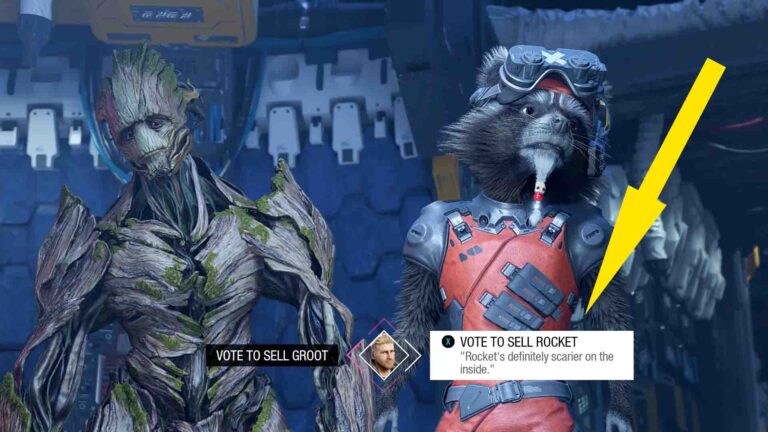 If you decide to Sell Rocket to Lady Hellbender, the moment you meet her, she'll be amused by the little creature you brought.
She won't be interested in what she calls a "little Woodland animal."
This means that no matter what you say or do, you won't be able to convince Lady Hellbender to buy Rocket.
You are welcome to stay in her fortress, though, and since you are trying to sell Rocket to get the money for your fine, it means that you'll have to find another way.
This decision will take you to Lady Hellbender's Vault, and you'll be able to get the Credits by stealing from her. She won't be pleased, and you'll get to deal with her "pet."
Some of the collectibles you'll have to find in Chapter 4 of the video game developed by Eidos-Montréal also spawn in other locations, but none of them is missable.
Vote To Sell Groot Choice – What Happens Next
If you Vote To Sell Groot, Lady Hellbender will be pretty pleased to see the unique creature.
On the other hand, Rocket won't be, and you'll need to follow his plan to save Groot.
Since you got Lady Hellbender's attention, it's time to get the most out of her, and you may want to let Drax do the talking.
Or negotiate with Lady Hellbender.
After you get the money, you'll need to save Groot and reach Lady Hellbender's Throne Room.
From here, you'll get to the pens where she is keeping Groot. This time around, the collectibles spawn in different places.
Obviously, Lady Hellbender will realize you're trying to trick her, and once again, you'll have to deal with her pet.
So, if you are looking for a diplomatic way to deal with Lady Hellbender in Chapter 4, then pick Vote To Sell Groot.
If you're looking for a direct approach, pick Vote To Sell Rocket, then steal the money for your fine.
Because one way or another, you have to pay for the Llama or the Illegal Tech in Chapter 2 (depending on your previous choice).