Sonic Frontiers M-009 is one of the Challenges available on Kronos Island, and you need to complete all of them if you want to unlock the Kronos Island Explorer Trophy/Achievement.
But if you have completed the Challenges in order until now, you could have problems with this one because it is pretty different from the rest.
So, you should definitely follow our guide to make sure you don't waste time completing Challenge M-009.
Sonic Frontiers Challenge M-009 Location
As mentioned, you can find this Challenge on Kronos Island; check the next map for the location.
Thus, you need to look for the Challenge sign on the east coast of the bigger island in this area.
More precisely, south of the huge tower (really hard to miss) in the northeastern corner of Kronos Island. Or go directly north of Challenge M-006 (discussed here).
So basically, you have to look between the two landmarks for a small pillar and some floating walls leading to a platform, next to a triangular stone structure.
If you follow the instructions, you'll reach the M-009 sign right near the mentioned floating walls, really close to the east coast.
How To Complete M-009 Challenge On Kronos Island
The first thing you want to do is use your Cyloop skill to surround the small pillar or pedestal (whatever you want to call it).
So, hold the Y button on your Xbox controller and make a complete circle around the pedestal.
Doing so should make the pillar much taller, and you now have to climb it to reach the floating platform at the top.
To climb the pillar, jump with the X button (also on Xbox) on one of its green sides and go up.
You can also hold RT to boost your speed once you are on one of the pillar's green sides. And I suggest you do so because you must move fast as the tower will lower itself after a short time.
Once on top of the tower, you have to jump to the floating green wall (again with the X button) and climb it to reach the platform.
You must now use your Cyloop skill again to put out the fire in the middle of the platform.
But be careful not to fall off, so make a small circle, like in the following screenshot.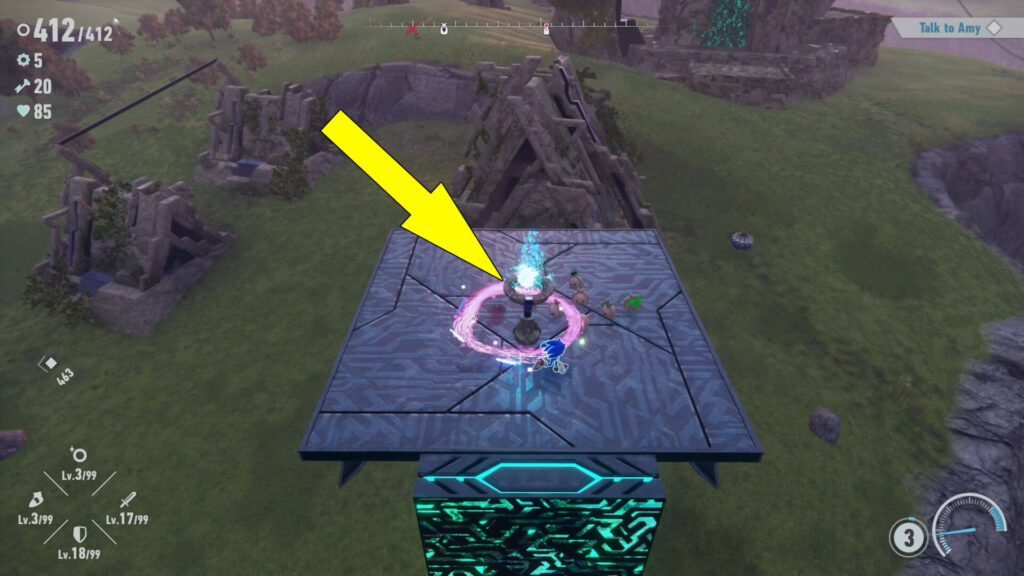 And just like that, you've completed the Sonic Frontiers Kronos Island M-009 Challenge.