Starfield Deep Cover is the first faction mission for The Crimson Fleet, where you must find a way to infiltrate the group by impressing them enough that they'll let you join them.
There are also two ways to start the Deep Cover mission in Starfield, depending on your playstyle and the missions you've completed previously.
The Deep Cover mission is about meeting the UC SysDef for the first time and finding a way to get the attention of Crimson Fleet operatives to join their ranks — undercover.
So, in this Starfield guide, we will cover everything you need to know about the Deep Cover mission to make your way into The Crimson Fleet faction.
How to Start the Starfield Deep Cover Faction Mission
The fastest method to start the Deep Cover mission is to commit a crime and be arrested on a UC-controlled planet such as Jemison or Mars.
If you steal from a shop, pickpocket an NPC, carry contraband items, or attack someone while keeping your weapon holstered (to avoid being shot by the guards), it will result in an immediate transfer to the UC Vigilance Ship for interrogation instead of being held at the local jail.
But if you have joined the UC Vanguard and successfully completed the starting mission, Supra Et Ultra, as well as the second mission, Grunt Work, Commander Tuala will provide you with an assignment to report to the UC Vigilance.
Although it may seem like another UC Vanguard mission, it is actually an opportunity to participate in the ongoing UC SysDev vs. Crimson Fleet conflict without committing a crime, as mentioned earlier.
However, suppose you commit a crime after receiving the assignment from Commander Tuala. In that case, you will lose this opportunity, as being arrested will no longer result in being transferred to the UC Vigilance Ship.
In the event of being arrested and brought to an interrogation room, you will meet Commander Kibwe Ikande from the UC SysDef, also known as the United Colonies System Defense.
He will review your criminal record and make comments on your background and offenses before presenting you with a choice – either cooperate with UC SysDef by going undercover with the Crimson Fleet or face a prolonged stay in a jail cell.
At this point, you may have realized that you have an irreversible decision to make. You can either work undercover and bring down the Crimson Fleet, or you can fully embrace a pirate's life and engage in criminal activities.
If you want to choose the unlawful path and engage in criminal activities around the galaxy, you have the option to reject Commander Ikande's offer and request to be put in jail.
But this action will make you an enemy of UC SysDef for the rest of the game, and a member of the Crimson Fleet will approach you on Mars to join their ranks after you prove your worth.
How To Complete the Deep Cover Mission in Starfield
Whether you have been invited through Commander Tuala or arrested after committing a crime, your next objective is to have a conversation with Commander Ikande in the Operations Center of Vigilance Ship.
If you accept Ikande's offer in the interrogation room, you will be escorted slowly through a series of corridors to the Operations Center.
But suppose Commander Tuala assigned you through the UC Vanguard questline to speak with Commander Ikande. In that case, you can open your Missions menu, select the "Proceed to the UC Vigilance" objective, and hold the "Set Course" button.
After you reach the Level 100 UC Vigilance in the Sol system, target lock the ship and get within 500 meters to dock the ship.
Once you board the ship, speak with the nearby SysDef Guard, who will escort you to the UC Vigilance Operations Center elevator.
You will find Commander Ikande in the middle of the room, eagerly anticipating your arrival.
Feel free to ask him questions about the SysDef's tactics in their battle against the Crimson Fleet and how your involvement plays a role in their efforts if you want to learn more.
After Commander Ikande outlines the parameters of the mission, he will ask you to speak to his second-in-command, Lieutenant Jillian Toft.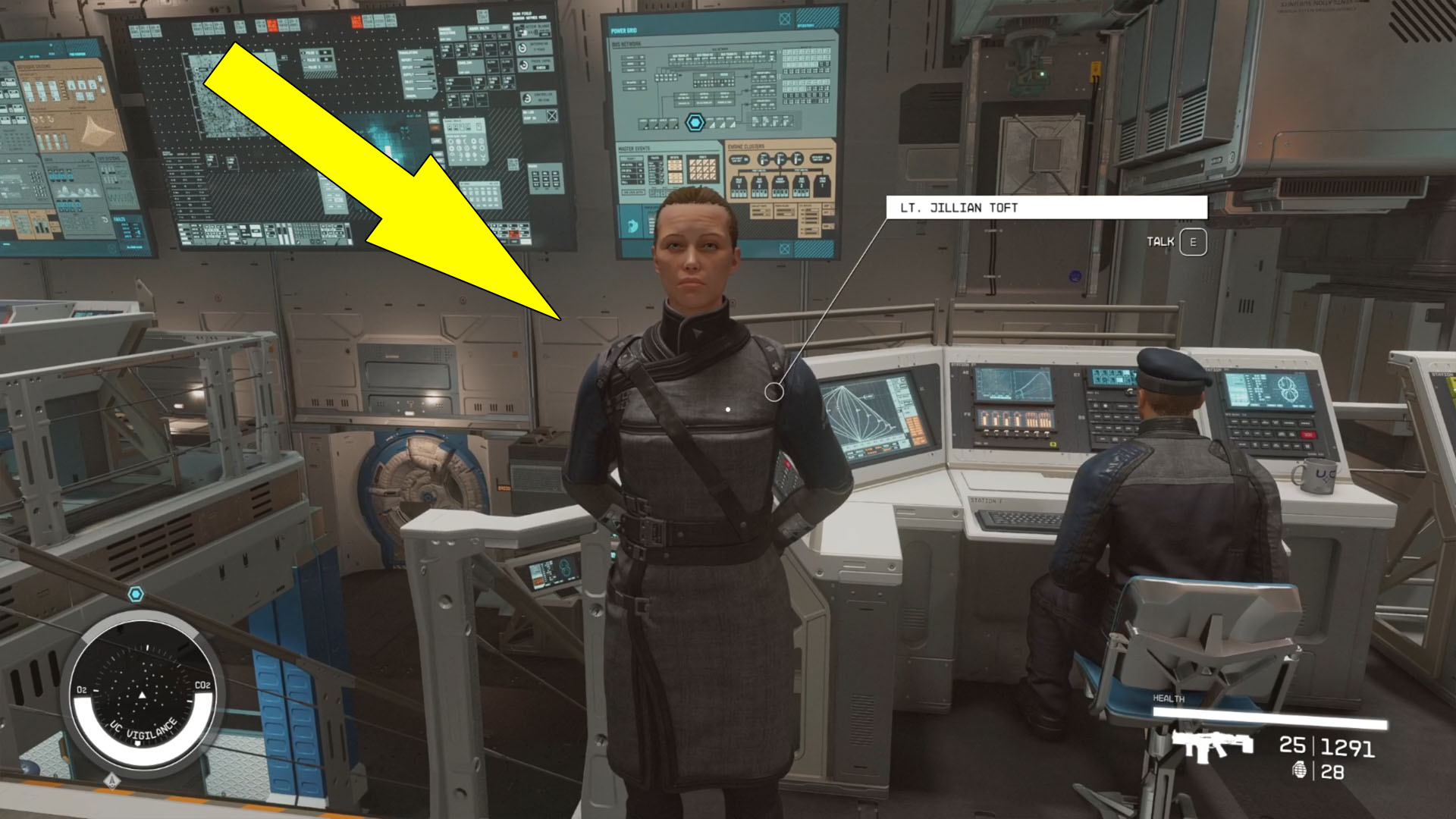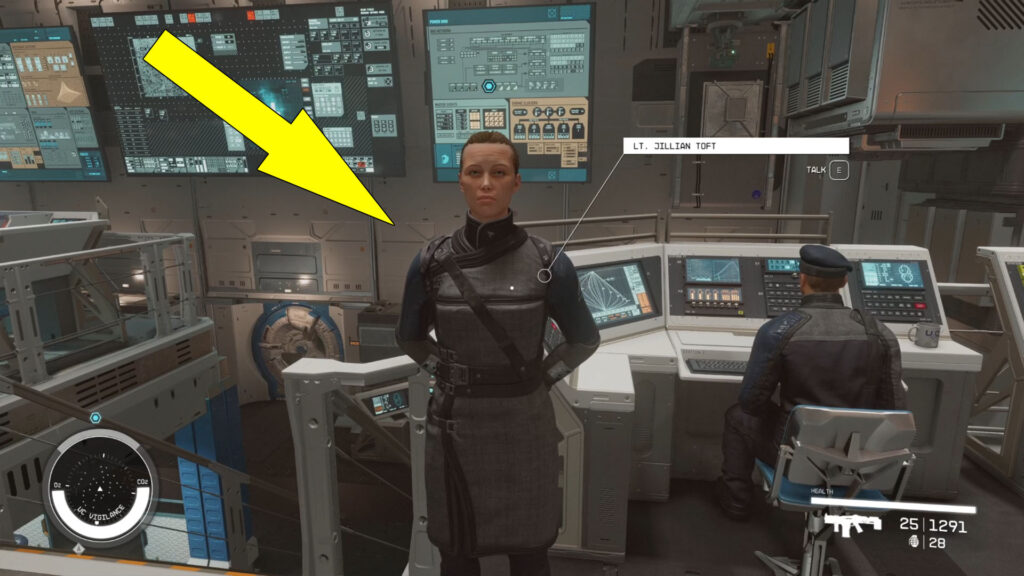 Speak to Lieutenant Toft, and she will give you formal instructions to pass along any evidence about Crimson Fleet-related illegal activities once you are among them, initiating the Burden of Proof faction mission.
You will be well compensated for each item you turn in (Commander Ikande's words), which is great because UC SysDef won't pay you much for risking your life in this conflict.
She will also provide you with a crate of Aurora to sell as a "buy-in" to the Crimson Fleet.
So, your next task is to proceed to Cydonia and make contact with Saoirse Bowden at the Trade Authority, who might point you to the Crimson Fleet.
Return to your ship and undock it, then land in the spaceport of Cydonia on planet Mars.
After you enter the Cydonia – Central Hub, head down the ramp and enter the first doorway on the right to find Saoirse Bowden.
When you inform Saoirse Bowden that you have a shipment you want to sell, she will suggest that she knows some potential buyers.
However, she will not provide their contact details without payment of 1,000 Credits. Even if you threaten her, you can't make her give away her contact.
After you pay the finders fee, she will point to a buddy of hers who goes by the name Adler Kemp.
To find Adler Kemp, head back up the ramp toward the entrance of Cydonia and take the first left. You'll spot him sitting on a chair in a small balcony before the Broken Spear bar.
Let Adler Kemp know you're interested in selling some Aurora, and he'll take the sample. He'll also mention that he has connections with the Crimson Fleet.
However, before you can proceed with the deal, you'll need to do Adler a favor. Apparently, a miner owes him money, and he needs your help resolving the issue.
So, your next task is to collect the money Karl Fielding owes but, more importantly, intimidate him. Adler won't accept your money to pay his debt off, and he doesn't want you to kill the man.
Also, selecting the "I'll just kill him and take the money off his corpse." dialogue option might upset some of your companions, such as Sarah Morgan.
How To Collect Karl Fielding's Debt in Deep Cover Mission
After agreeing to get the job done, go down the ramp again and enter the Cydonia – Residential area through the orange door on the left.
Head down the stairs and follow the quest marker to find Karl Fielding sitting in a corner near the Deimos Miner's Quarters.
When you ask for the money he owes Adler Kemp, Karl will act like he doesn't know him.
Keep talking to him until he admits he needs more time and has no credit to spare.
When he claims that he cannot pay, you will be presented with three options to choose from:
Promise to stop borrowing from Adler, and I'll pay the debt for you. [3000 Credits]
[Persuade] I'm tired of playing games.
[Attack] I've had enough of this.
So, what is the best choice to make here and progress the Deep Cover mission in Starfield?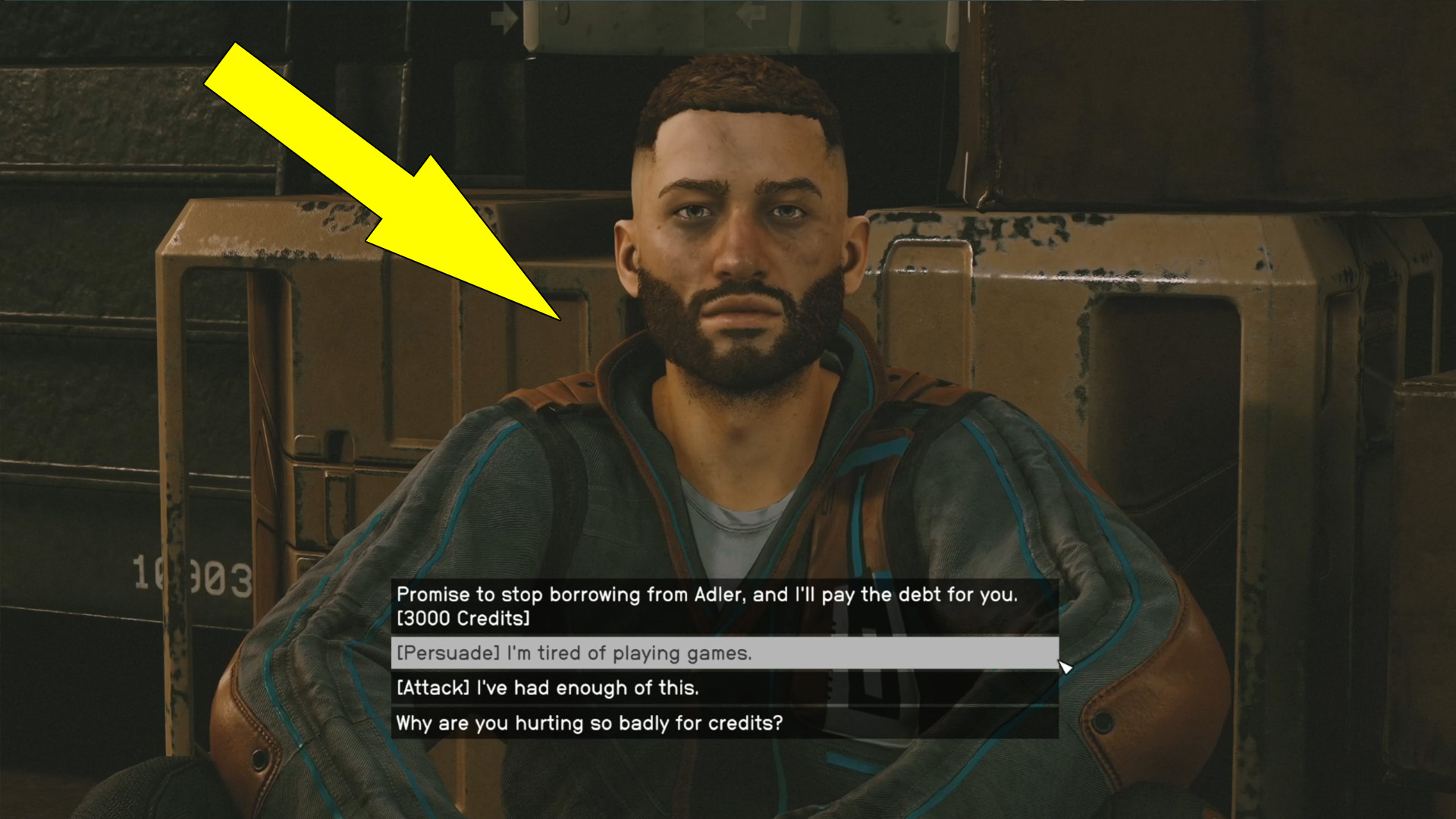 If you feel generous today and want to get over it quickly with the Deep Cover mission, you can make him promise to stop borrowing from Adler and pay off his debt for 3,000 Credits. This decision will also please most of your companions.
But if you want to save up on Credits, you can try your shot for the persuasion route.
You'll have to earn 4 Persuasion Points in three turns, so try to select the green lines since they have the highest chance of success.
The last option is out of the question since Karl Fielding and everyone in Cydonia will turn hostile on you if you decide to attack him.
Whether you decide to pay the debt for him or you've persuaded him to give you the money he owes, return to Adler Kemp and give him the 3,000 Credits.
He will then offer you to join the Crimson Fleet, but you'll have to talk with Naeva Mora first, who is the second-in-command. You can find her orbiting around Europa, one of Jupiter's moons that is relatively close by.
After you finish the conversation with Adler Kemp, you'll conclude the Starfield Deep Cover and unlock the Rook Meets King as part of the Crimson Fleet questline.
If you want to join the ranks of the other three factions, check out our Wiki Hub Page to learn how to complete their starting missions.