A Briny Fate is a Diablo 4 search quest you can complete early in the second act of the video game published by Blizzard Entertainment for PlayStation 4, PlayStation 5, PC, Xbox One, and Xbox Series X/S.
To play Diablo 4 A Briny Fate, however, you must explore Scosglen and reach the northwestern settlement named Marowen, so it's recommended to check our Scosglen side-quests locations guide to tackle other assignments while moving towards Marowen.
After reaching Marowen, activate the Waypoint and open your map to spot two available side-quests, one of them being A Briny Fate.
Our D4 A Briny Fate walkthrough below explains where to find Benen and how to complete all available objectives.
How To Start A Briny Fate Quest in Diablo 4
To start A Briny Fate in Diablo IV, you don't have to complete other side-quests, but you must progress the main quests in Act 2 until you finish the Dark Omen main quest.
After Dark Omen, feel free to discover the northwestern side of Scosglen, and when you reach Marowen, you'll find Fergus at the location marked on our map below.
Fergus is inside a house that looks like an inn. You should see him sitting by the fireplace. Ask him about Benen, and he'll tell you he went missing a few nights ago.
According to Fergus, Benen's boat hit the rocks near Stormbreak Cove, and he can't look for his mate simply because he can't see him dead.
Your objective is to find Benen, who has a seafarer's spear tattoo on his neck. Here is where to look for Benen in Diablo 4.
Where To Find Benen at Stormbreak Cove in Diablo 4
After starting the quest, make sure you track it in your journal, then open your map to spot the search area northeast of your current location, close to the border between Northshore and Wailing Hills.
Make your way to the first search area, then while remaining inside the blue border, head southeast along the coastline.
While in this area, don't look for a dead NPC; instead, look for a wounded sailor like the one pictured below.
When talking to the wounded sailor, you'll find out that his ship crashed at Stormbreak Cove, and while he managed to save his friend, Gil, he has no idea what happened to the rest. But he'll point you to the next search area you should investigate.
At this point, it is worth knowing that if you spend time exploring the beach looting corpses, there is a chance to find the Warded Sailor's Vessel, unlocking one of the hidden Scosglen side-quests.
Diablo 4 Eternal Watch Benen Location
After you talk to the wounded sailor, open your map again to notice a second search area found northwest of your current location.
As you get close, you'll notice several jumping points you can use to reach the northernmost part of the small island complex.
Once you clear the area, you'll find Benen by his wrecked ship picture below.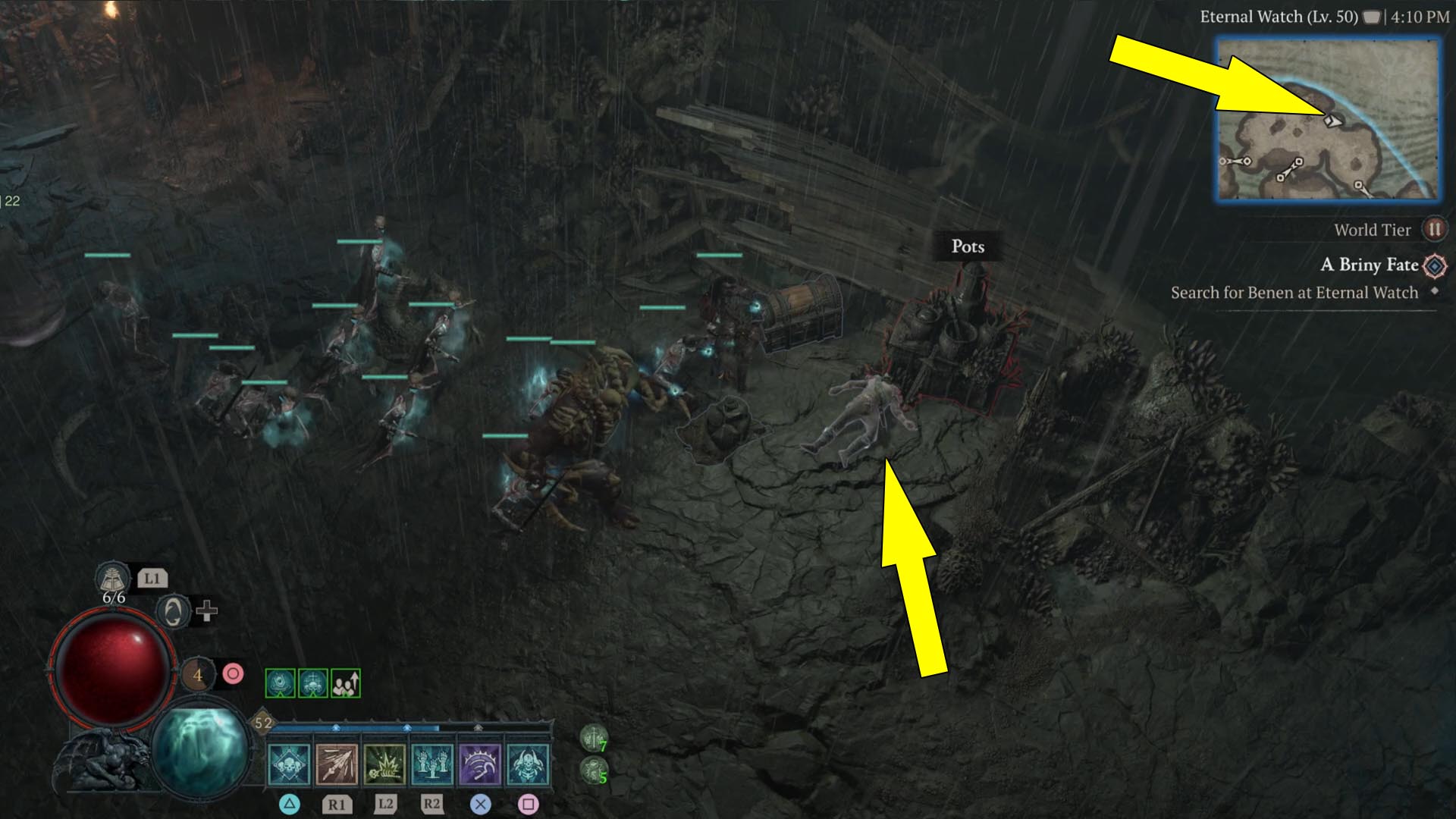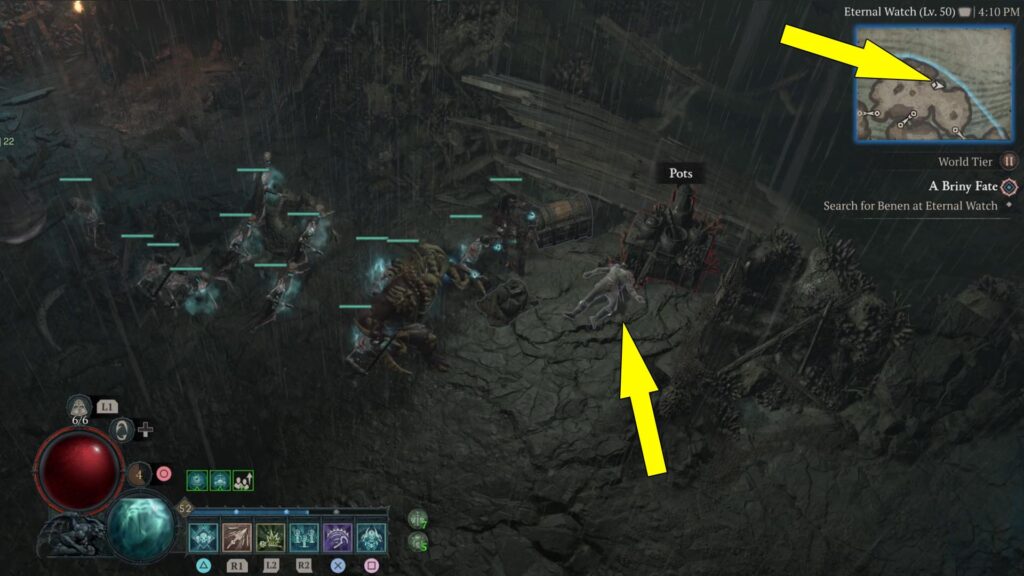 Start by investigating the corpse near the boat, then check the chest to retrieve the Rolled Letter. Diablo 4 Rolled Letter is a quest item you need to complete A Briny Fate side quest.
Once you get the letter, fast-travel back to Marowen and see Fergus. During your conversation, you have two choices on what to tell Fergus:
I have a letter from Fergus Benen
Fergus Benen died
What you choose will not affect your rewards or the story; however, because Fergus is already devastated, you should opt for giving him the letter as it will motivate Fergus, who has a drinking problem.
And that's it! You just completed A Briny Fate quest in Diablo 4, so now feel free to start the next one nearby, named Stemming the Tide, or visit our D4 Wiki hub for more tricks, tips, and guides.