Traveler's Prayer is a very short Diablo 4 side quest you can complete in Yelesna, the small village southeast of Kyovashad and east of Margrave.
Diablo 4 Traveler's Prayer side-quest is one of the quests involving the Emote system implemented by Blizzard Entertainment in their latest video game.
Since it counts as one of the 35 Fractured Peaks side-quests, you must finish in the first region of Diablo IV; throughout the following Traveler's Prayer walkthrough, we'll explain how to give thanks at the Shrine.
How To Start the Traveler's Prayer Quest in Diablo 4
Diablo IV Traveler's Prayer quest becomes available when you reach Yelesna while exploring Fractured Peaks or plating the main quests in Act 1.
As you can notice on our map below, Yelesna is found in the area known as Gale Valley, east of Margave and southeast of Kyovashad.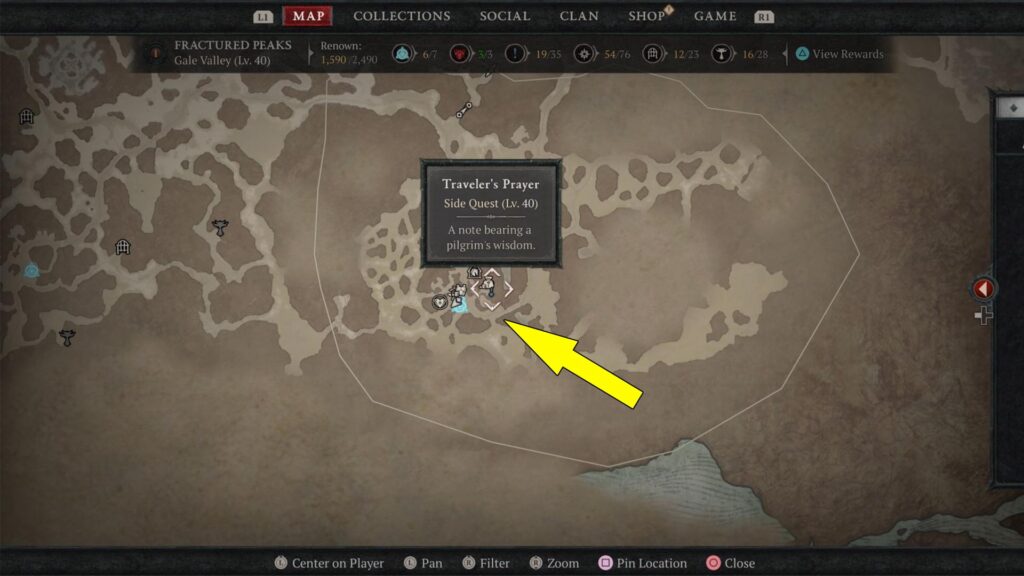 Upon activating the Waypoint in Yelesna, enter the first house or the inn nearby. Once inside, look for a letter on a wooden bench.
This quest item allows you to start the D4 Traveler's Prayer quest, and it reads:
"From Yelesna, I set out on my pilgrimage. I offered thanks at a roadside shrine and received a blessing for my journey."
How To Give Thanks at the Shrine in Diablo 4 Traveler's Prayer
Once you read the discarded Pilgrim's Letter, it's time to find the Shrine mentioned by the traveler. Luckily its location is marked on your map by a blue search zone just north of Yelesna.
So while tracking the current quest, exit the village and follow the northern path toward the blue search area.
The Shrine you are looking for is found at a crossroads, and you can see it below.
To give thanks at the Shrine in Diablo 4, first, you have to equip the corresponding emote:
Press Up on your PlayStation/Xbox Dpad (/)
Now select an empty slot from your Action Wheel. If needed, press / or / to access additional Action Wheels
Upon selecting an empty slot, press / to customize it
From the list of Emotes, select Thanks and press / to assign it to the empty slot
Now, while standing near the Shrine above, press Up again and pick the Thanks Emote to complete the Traveler's Prayer side quest in Diablo IV.
Keep in mind, though, that while this quest is quite accessible, in Yelesna, you'll find one of the two Fractured Peaks hidden quests that won't appear on your map.
Refer to our associated guide if you want to learn more about them, or check our complete Diablo 4 Wiki Hub for other quest guides, walkthroughs, tips, and tricks.