What's Bad For The Business is a friendship quest you'll receive from Scrooge McDuck in Disney Dreamlight Valley, and you'll be rewarded with 410 XP points for completing it.
Scrooge needs your help exposing a shifty octopus-woman who is taking his clients away. I wonder who the shifty octopus-woman is; could it be Ursula?
The quest is quite short, especially if you know where to look for a specific type of flower.
So, I suggest checking the following walkthrough not to waste a second resolving the conflict between Scrooge and Ursula in the video game developed by Gameloft.
How To Start What's Bad For Business In Disney Dreamlight Valley
What's Bad For Business may be short, but the list of requirements to start the quest is not. Here is what you have to do:
Unlock Ursula
Reach Friendship Level 6 with Scrooge McDuck
Progress further with Merlin and Ursula
Unlock the Dazzle Beach Biome
To have an easier time unlocking Dazzle Beach and Ursula, you should check our guide here.
And if you need help reaching the required Friendship Level with McDuck, make sure you consult our Friendship Level Up Guide.
Talk to Scrooge and start the quest once you've taken care of all the requirements. Don't forget to use your map if you have problems finding the entrepreneur.
How To Gather A White & Red Hydrangea
McDuck has put out a plan to see if Ursula would try to extort you if she had the chance.
So make your way to Ursula and ask her to get you a Catfish.
The Sea Witch will ask you for a White & Red Hydrangea flower in return for the fish.
The flower is not hard to find, provided you are in Dazzle Beach, because this is the only place it grows.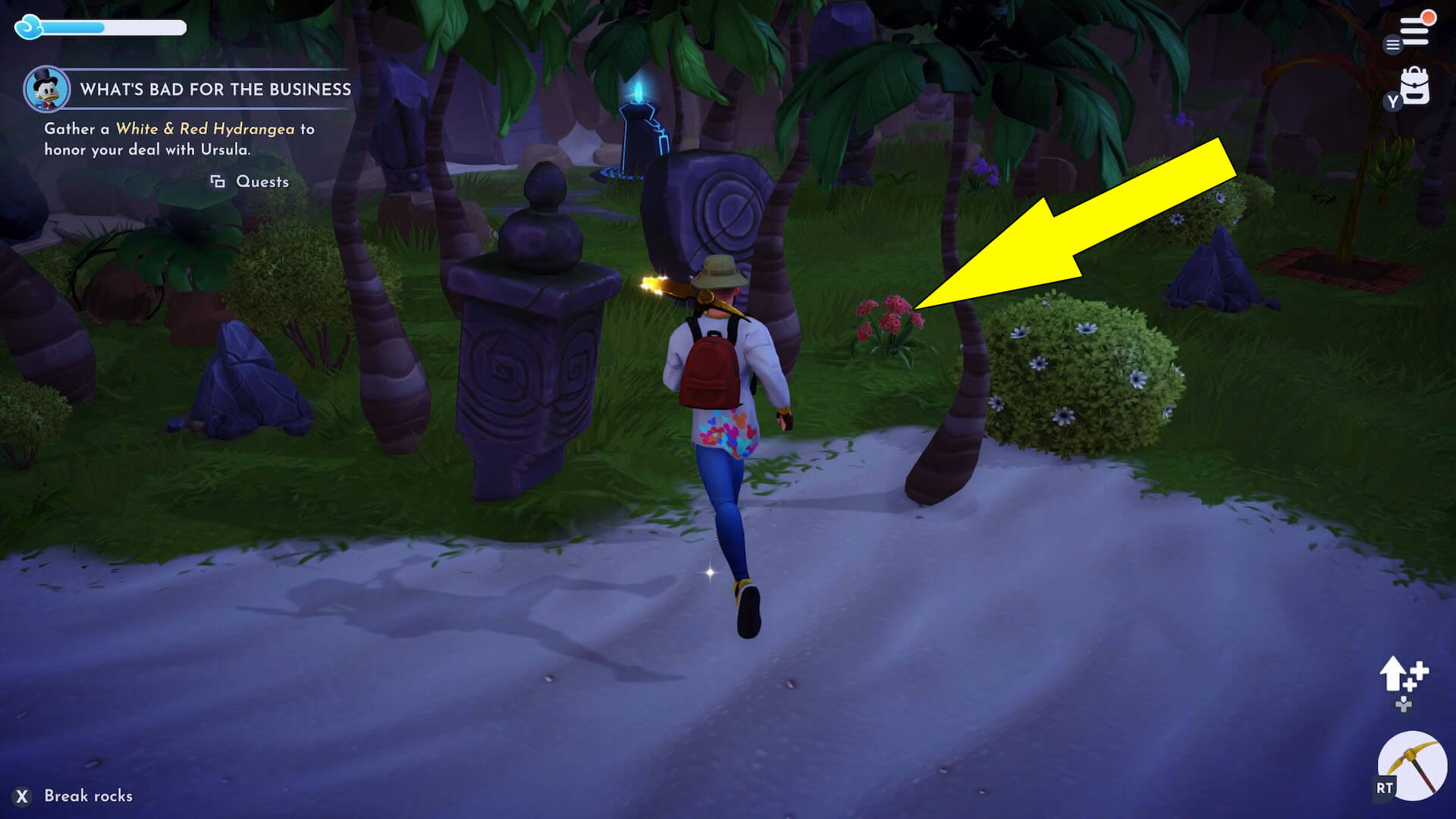 Be sure you pick up a White and Red Hydrangea, not a pink or purple one. As you can see in the image above, the flower appears to be mostly red from a distance.
Don't panic if you can't find the right flower because you can pick up all of them and then wait for them to respawn, hoping you have better luck this time.
How To Expose The Crook
Go to Ursula once you have the White & Red Hydrangea in your backpack (inventory) and trade it for a Catfish.
You have to take the Catfish to Scrooge, who will get outraged and will want to expose the crook, so go with him back to Ursula.
All you have to do now is sit back and watch the two Villagers argue.
When the NPCs finish their discussion, speak with Scrooge to end the Disney Dreamlight Valley What's Bad For Business and unlock the next quest in line named The Treasure Hunt.