Lost In The Dark Grove is a Disney Dreamlight Valley story quest that allows you to unlock not one but two characters in the video game developed by Gameloft: Donald Duck and Kristoff.
So if you wonder how to unlock Donald in Disney Dreamlight Valley, the answer is simple: by completing the Lost In The Dark Grove quest for Kristoff.
While Donald is one of the most beloved Disney characters, Kristoff Bjorgman is a major character in Walt Disney Animation Studios' Frozen franchise.
To unlock Donald, however, you'll have to do a bit of exploring, and you'll also need to craft some unique items; therefore, throughout the following guide, we'll discuss every step required to complete the Disney Dreamlight Valley Lost In The Dark Gove quest.
How To Start Lost In The Dark Grove In Disney Dreamlight Valley
To unlock the Lost In The Dark Grove quest, first, as you can guess, you'll need to complete the previous main quest named With Great Power, thus gaining access to the Dazzle Beach.
Then you'll have to unlock the Disney Dreamlight Valley Forest of Valor Biome, east of the Plaza area.
There are no special requirements, but you'll need 3000 Dreamlight, assuming this is the third Biome you unlock in the game.
So, head up the ramp connecting the Plaza and Forest of Valor Biomes, and interact with the Night Thorns to summon Merlin.
At this point, Merlin agrees to help you remove the thorns for 3000 Dreamlight, which, as you know, are obtained by completing general or daily tasks.
With the Forest of Valor Biome unlocked, continue up the ramp, then when you enter the forest, turn right to spot Kristoff waiting for you in front of a pillar.
While talking to Kristoff, ask him what he is doing in the woods, and he'll tell you that alongside Donald, he was looking for something to help fight the Night Thorns and stop the Forgetting.
But Kristoff lost Donald, so ask him how did it happen. Kristoff will then explain about the Dark Entity that appeared, and nearby you'll see a Dark Portal opening. Since Donald was quite brave to step inside (make sure you tell that to Kristoff), it's your job to follow the Duck.
So agree to step inside the portal next to Kristoff, then get close and interact with it by pressing A on Xbox.
Donald Duck's Dark Grove Clues Locations
Once inside the Dark Grove, you'll notice that the new area is relatively small and easy to navigate; however, there are two essential items you'll need to find here.
One is Donald's Duck Clue, and the second one is an item you'll need later.
Therefore, to save time, make sure you get Donald's Feather on the ground (pictured below), then the purple Vile Herb on the branch (also pictured below).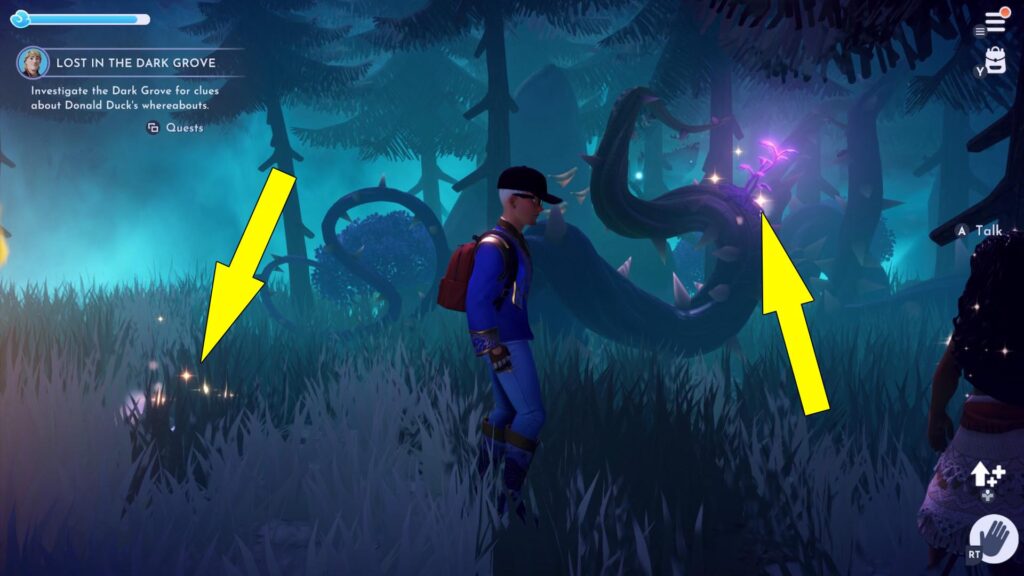 Great! Now use the same portal to get back to Kristoff and show him Donald's Feather.
Now, you'll want to exhaust all dialogue options, and Kristoff will send you to see Merlin. Open your map and look for Merlin's icon, then talk to the funny Wizard, and again, exhaust all dialogue lines paying attention to what Merlin says.
Where To Find Ingredients For The Tracking Spell
To help you find Donald Duck, Merlin wants you to craft a tracking spell that will help you in the Dark Grove.
The ingredients you need are:
Donald's Feather
Plant from the Dark Grove
4 Dream Shards
2 Emeralds
Since Donald's Feather is already in your backpack, if you did not find the Vile Herb above, you'll have to return to the Dark Grove; however, we'll assume you followed our walkthrough and obtained it.
Disney Dreamlight Valley Vile Herb is the purple plant found on the Dark Grove branch, as explained earlier.
This means that you'll only need four Dream Shards and two Emeralds, so it's time to head back to the Forest of Valor and remove some Night Thorns.
The Night Thorns drop Dream Shards, as you can see below, which means that if you don't have four already, you'll have to keep clearing Night Thorns. Just approach them and press A on Xbox.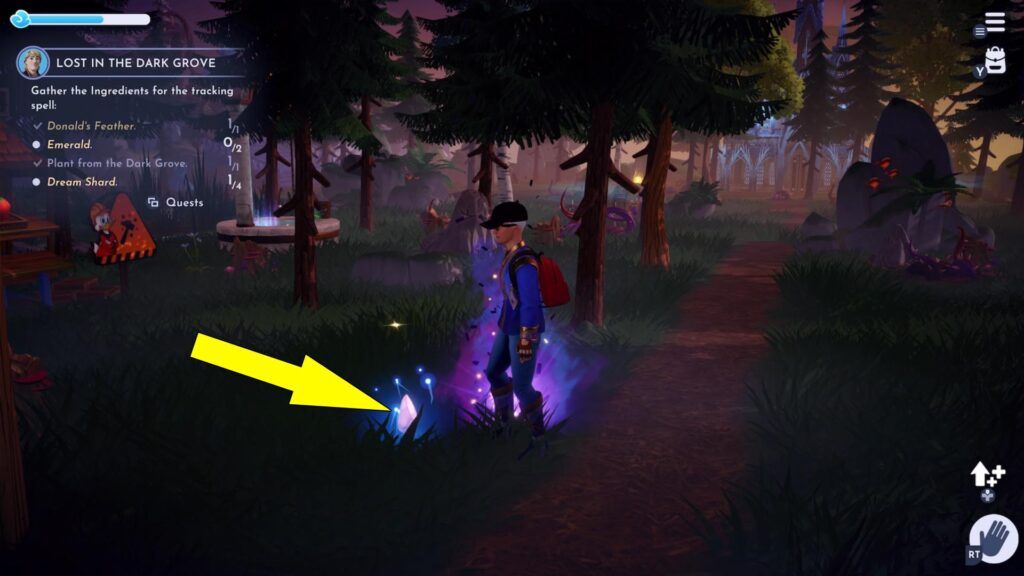 Upon collecting 4 Dream Shards, it's time to go after the two Emeralds, and these Disney Dreamlight Valley Gems can also be found in the Forest of Valor.
Unfortunately, early in the game, you have only three possible Rock Spots or Mining Spots at the following locations:
Left of the mountain wall while facing the Dark Portal
Right side of the stairs northeast leading to Frosted Heights
Left side of the stairs leading to Frosted Heights
Since these are the only 3 Rock Spots, move between them, then wait until they respawn. Keep mining until you get 2 Emeralds which are quite common.
Upon finding all ingredients, you'll have to locate Merlin again. So open your map and travel to his location.
Hand over all items you have found, and the powerful Wizard will give you an Enchanted Feather to help you find Donald.
To use the Enchanted Feather, however, you'll need to go back to the Forest of Valor and then through the Dark Portal.
How To Find Donald
Immediately upon entering the Dark Grove, you'll see the Enchanted Feather flying around you, so pay close to it.
To find Donald Duck, you'll need to follow the golden Enchanted Feather that helps you navigate the mist.
This is, in fact, a small chasing game, and you don't have to catch the Enchanted Feather, just follow it.
It's worth knowing, though, that if you get lost, you'll start from the beginning. To avoid this, stay as close as possible to the Enchanted Feather, and be advised that during the chase, there are several sharp turns you'll have to make.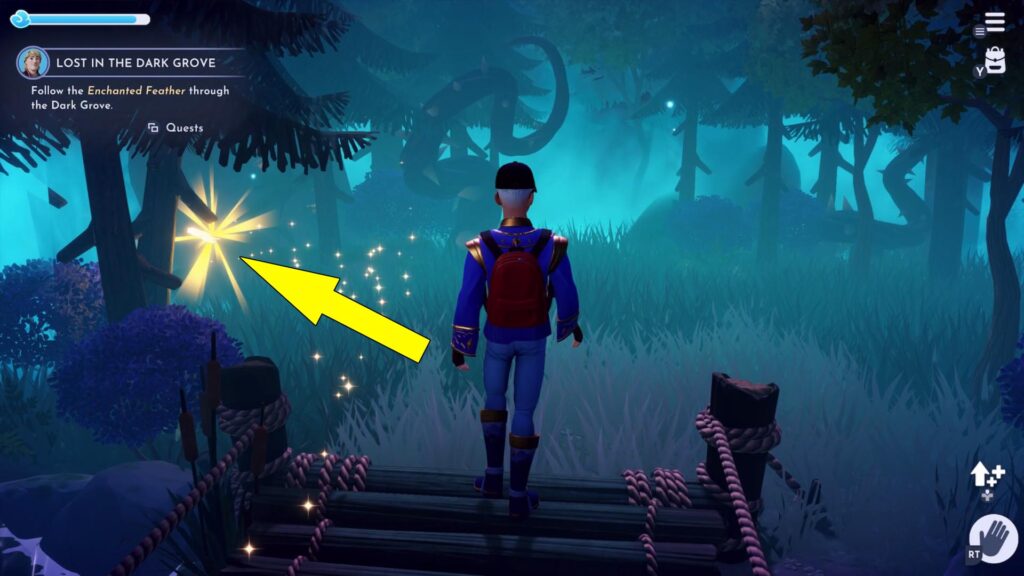 Eventually, the Enchanted Feather will take you to our beloved Donald, who is waiting for you in a clearing.
Approach the angry Duck and find out what happened to him. Listen to his story, and he'll give you the Orb of Courage.
Now, exit through the portal nearby and place the Orb of Courage in the Forest Pillar, where you found Kristoff.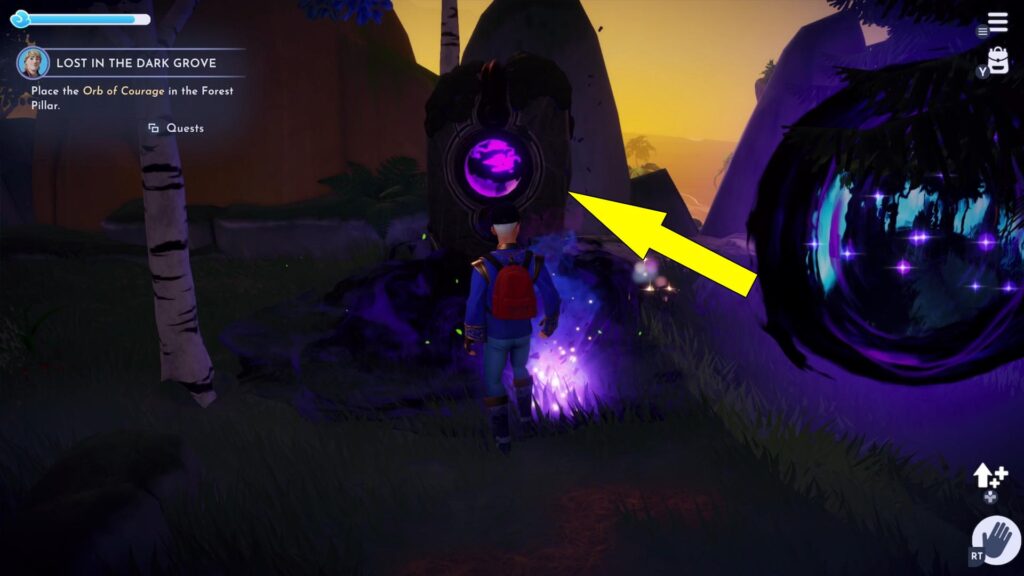 After placing the Orb of Courage, talk to Donald Duck one more time and pick any dialogue options you want, as they do not affect the outcome, the rewards, or the story.
Now, Disney Dreamlight Valley Lost In The Dark Grove quest is complete, and Donald Duck is waiting for you to build his house.