Disney Dreamlight Valley A House Fit For A Duck: How To Craft The Boat Repair Kit
Now that you brought Donald into your beautiful Disney Dreamlight Valley Village, it's time to find a place for him, and to do this; you'll need to build his boat as part of the House Fit For A Duck quest.
Disney Dreamlight Valley House Fit For A Duck is a hilarious quest that involves both Donald Duck and his uncle Scrooge.
The good news is that you won't need any Star Coins to build Donald's House; however, you'll need some crafting materials.
Furthermore, for completing this quest, you'll receive 500 XP to increase your Friendship Level with Donald.
So, let's see how to complete the Disney Dreamlight Valley House Fit For A Duck friendship quest in the video game developed by Gameloft.
How To Start A House Fit For A Duck In Disney Dreamlight Valley
To start House Fit For A Duck in Disney Dreamlight Valley, first, you'll need to find Donald Duck in the Forest of Valor, a requirement you'll complete during the Lost In The Dark Groove main quest.
Then you'll need to unlock the Dazzle Beach Biome by finishing the Friendship Is Everything story quest and spending 1000 Dreamlight.
Most likely, the moment you finish Lost In The Dark Groove, Donald's quest is available, and this is the first friendship quest you'll get from him.
So, open your map and look for Donald's icon and look for him.
Approach Donald and talk to him to find out that he is pretty upset about the state of your Village. And for the fact that his lovely Boat House is a wreck.
So, talk to him and agree to help him restore his Boat House to find out that he needs tools. Tools that he doesn't have, but his uncle Scrooge might be able to help.
Great, so it is time to reunite the uncle and his nephew, therefore, open your map and look for Scrooge McDuck's icon. Start by checking his shop, and if he's not there, look for him in the areas you have unlocked.
When talking to Scrooge, he'll ask you why he should care about Donald's house. Answer Because he's family, and even though he's not convinced, he'll agree to help you.
But he'll also ask for a Boat Repair Kit, which is an item you'll need to craft by gathering the following materials:
16 Softwood
8 Hardwood
2 Iron Ingot
4 Rope
Disney Dreamlight Valley Boat Repair Kit Materials Locations
Great job! Now that you have the list with all materials required to craft a Boat Repair Kit let's see where to find them.
Softwood, as you probably know from other quests, is a very common crafting material found in most areas. When playing this quest, look for it in Plaza, Peaceful Meadow, and Forest of Valor.
As you can see below, you are looking for small piles of sticks; however, pay close attention to the Softwood color, which is pale brown. Gather 16 units, and if you run out, start looking for other materials until it respawns.
Unlike Softwood, Disney Dreamlight Valley Hardwood is harder to find, especially when this quest becomes available because you can access only a small area of the Forest of Valor.
Hardwood is found in Forgotten Lands, Frosted Heights, Sunlit Plateau, and obviously Forest of Valor.
It looks like Softwood, but the pile of sticks, as you can see below, has an intense brown color.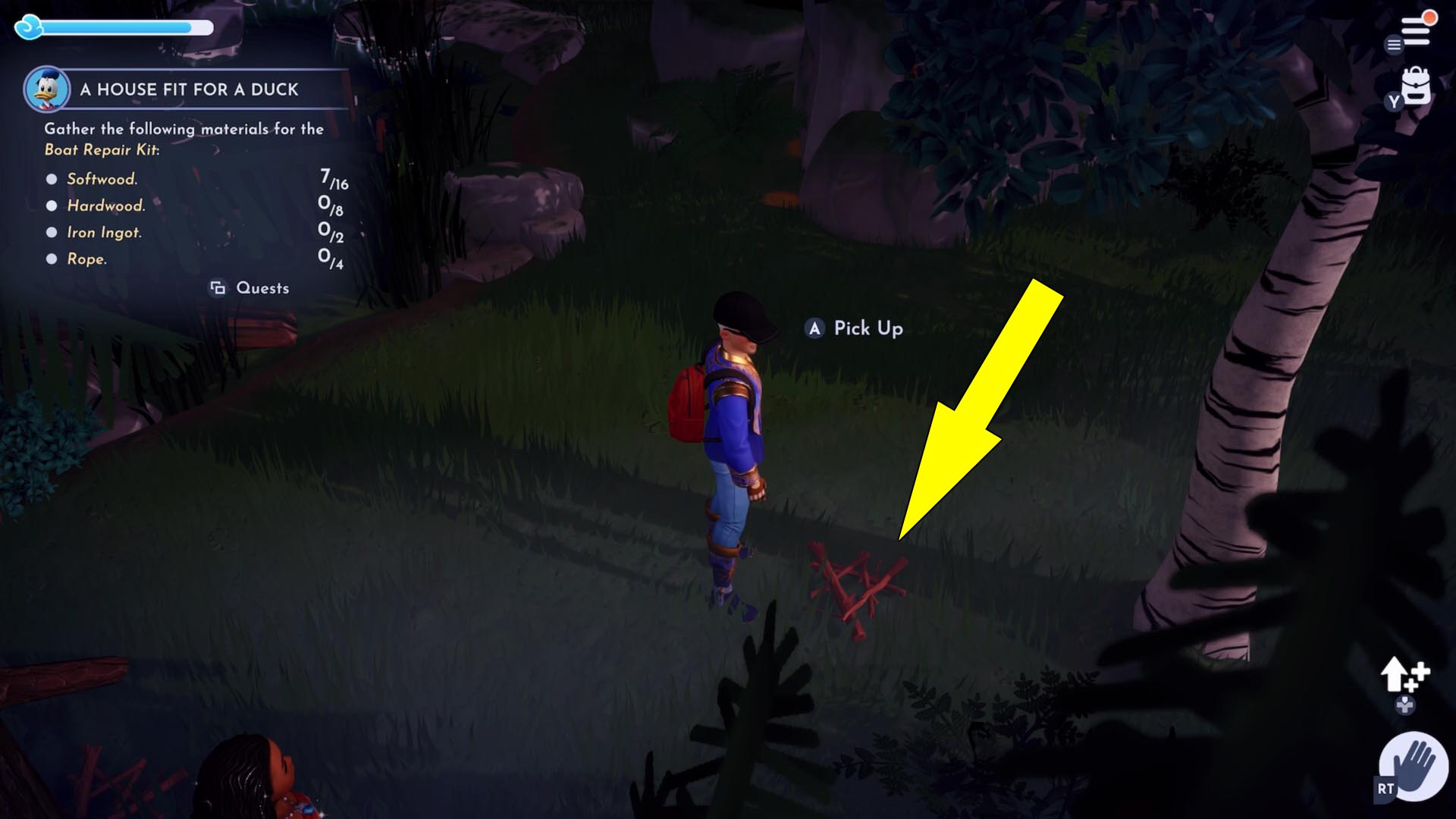 Scout the small area east of the Plaza and get 8 Hardwood. If by any chance you run out before getting 8 Hardwood, while it respawns, focus on getting Iron Ore for the Iron Ingots.
Again, early in the game, you'll look for Iron Ore in the Forest of Valor, and you'll have access to three Rock Spots to mine it:
One Rock Spot is on the left side of the Pillar, where you found Kristoff
Another one is on the right side of the stairs leading to Frosted Heights Biome
The third one is on the left side of the same stairs, by the river
These are the tree Rock Spots you'll constantly mine until you get 10 Iron Ore. After depleting them, until they respawn, look for more Hardwood, or start fishing Seaweed.
To get 4 Rope, you'll need 32 Fibers which means that you'll need to fish 7 Seaweed. As you may remember, Seaweed is found while fishing in lakes, ponds, and the sea, but you'll want to avoid the water ripples.
To save time while fishing Seaweed and mining Iron Ore, find the Rock Spot listed above, on the left side of the stairs connecting Forest of Valor and Frosted Heights.
Place yourself on the small bridge, and start fishing in the river, keeping an eye on the Rock Spot in front of you. When it respawns, mine all three deposits in Forest of Valor, then on your way back to the bridge pictured below, collect all Hardwood on the ground.
Now that you know where to find all Crafting Materials, once you have them, head back to the Crafting Table in Scrooge McDuck's shop and access it by pressing A on Xbox.
In the Refined Material tab, craft the Iron Ingots using Iron Ore and Coal from the Rock Deposits.
Next, craft Fiber using Seaweed and Rope using Fiber. Finally, you'll want to check the Functional Items tab to craft Donald's Boat Repair Kit pictured below.
Great job, but now it's time to find Donald Duck, and you'll want to use the map to locate him.
When talking to Donald, hand over the Boat Repair Kit you crafted, then follow him to his boat on Dazzle Beach.
Eventually, Scrooge joins the two of you upon you interact with his sign by Donald's Boat. As promised, he will build Donald's house for free, but to complete the current quest, you'll need to help Donald clean it.
How To Help Donald Clean His House
After you build Donald's House, it is time to get inside to help him clean it. To do this, you'll need to find the following:
2 Donalds Awards
2 Jugs
1 Donald's Book
1 Mysterious Junk
This objective is very accessible because, as you can see below, 4 of the items are on the ground by the entrance. Pick them up by pressing A on Xbox.
Next, find Donald's Book by his bed (second picture below) and finally, the Mysterious Junk on the right side of the library (third screenshot).
After you get all of his items, make sure you talk to Donald again, and he'll tell you that the Mysterious Junk is a Time Capsule containing his plans for the Village. Open your inventory and then use the Time Capsule to retrieve a small part of a Memory containing Donald's plans.
Now, talk to him once more to complete the Disney Dreamlight Valley A House Fit For A Duck quest and unlock the next one in line, named A Fishy Dispute.