A Fishy Dispute is Donald's second friendship quest in Disney Dreamlight Valley and probably the shortest you'll need to complete for one of the most beloved Disney characters featured in the game developed by Gameloft.
As the name implies, Disney Dreamlight Valley A Fishy Dispute is a quest focused on fishing; however, it also involves one of Donald's Time Capsules and a bit of detective work.
A Fishy Dispute in Disney Dreamlight Valley is relatively easy to complete and funny at the same time.
To restore Donald's memories and complete his questline in Early Access, finishing A Fishy Dispute is mandatory, and in the following walkthrough, we'll tell you everything you need to know about it.
How To Start A Fishy Dispute In Disney Dreamlight Valley
Let's start with the requirements you must meet to access this quest in Disney Dreamlight Valley.
The first one, as you can guess, involves the previous quest named A House Fit For A Duck because Donald needs a place to stay in your Village.
Upon completing A House Fit For A Duck, you'll have to increase Donald's Friendship Level to 4, which is also an easy task provided you check our hints and tips here.
Finally, you'll need to unlock the Sunlit Plateau Biome west of the Plaza area. It costs 7.000 Dreamlight if it's the 4th Biome you open. To get the required amount of Dreamlight, you must complete as many tasks as possible from the Dreamlight section of your menu.
Upon all the requirements listed above have been met, pay a visit to Donald Duck below.
When talking to Donald, he'll tell you that he had an argument with Goofy, and he'll want to know if you're going to help him.
Agree, and you'll find out that the whole dispute started because of a catfish, Goofy claiming that he caught one in a lake.
On the other hand, Donald insisted that it's impossible because catfish don't live in lakes but in the ocean.
As a reference, catfish don't live in the ocean, so Goofy is right, but feel free to tell Donald that Goofy doesn't know as much as him. Then agree with Donald that catfish are ocean fish.
Your words, however, are not enough for Donald, and he needs evidence, which means that your first objective is to catch some fish.
But since catfish are pretty large, Donald wants you to wear some proper equipment, so he'll hand over the Green Fishing Waders.
Equip the Green Fishing Waders by pressing Y on your Xbox controller and selecting them from the Wardrobe tab.
Excellent job; now it's time to catch some fish.
How To Catch Fish In The Ocean In A Fishy Dispute
From the start, it's worth knowing that in A Fishy Dispute Disney Dreamlight Valley quest, you don't need to catch a specific type of fish, and definitely not a catfish, because you won't be able since they don't need live in the ocean.
Furthermore, you must know that the fish must come from the ocean, meaning that you'll only fish in the Dazzle Beach Biome.
Assuming you did not visit our Disney Dreamlight Valley Fishing guide, you should also know that you'll want to look for the ripples on the water's surface (pictured below).
Their color is unimportant, but you'll always catch a fish while aiming for a water ripple. Finally, make sure you complete the QTEs by pressing A once when the fish bites the lure, then pressing A every time the circle on the water turns green.
To progress the quest, move along the coast, fishing in the water ripples until you get ten fish. Any fish, in this case.
Next, find Donald and talk to him about the fish you caught. He'll be surprised that none of them are catfish, so suggest to him that maybe Goofy was right.
Obviously, he can't accept this, especially since he saw one. And he's willing to show you where.
Now, you'll want to follow him to a specific fishing spot next to Goofy's Stall in Dazzle Beach.
How To Catch Donald's Catfish
As you can see in the screenshot below, the fishing spot where Donald wants you to fish is orange.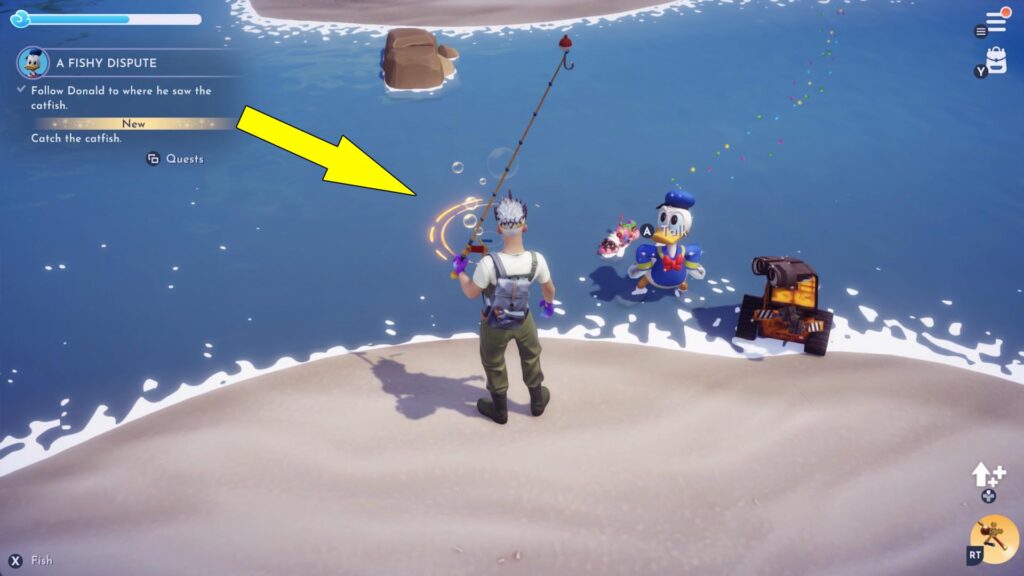 This means that you'll need to complete a QTE that is a bit more challenging and press A several times in a row.
Also, make sure that you move around the fishing spot to change the direction of your fishing line because you can't move it otherwise, as we outlined here.
By successfully fishing in Donald's spot, you won't catch a catfish, obviously, but you'll retrieve a Time Capsule.
So give it to him to unlock it, then he'll return it to you. Now, open your inventory (Y on Xbox), select the Time Capsule, then select Use.
By opening the Time Capsule, you'll unlock a new part of Donald's Memory showing another Time Capsule.
A Fishy Dispute Sunlit Plateau Capsule Location
After retrieving Donald's Memory, as you can guess, you'll need to talk to him again, and he'll ask you to travel to Sunlit Plateau.
The idea here is to find Donald's Time Capsule depicted in the image above.
Therefore, travel to Sunlit Plateau and visit the fast-travel well. Next, head southeast on your map, and several steps away from the well, you'll notice some large bones coming out of the ground.
Next to them (pictured below) is a digging spot.
Equip your shovel (RT on Xbox) and start digging at the location in my screenshot, then give Donald the new Time Capsule.
He won't open it just yet since he needs Merlin's help. Now, ask him what about the catfish and Goofy. He'll tell you that he's not interested anymore, so tell him to apologize to Goofy.
He won't do it, even if he agrees, but they'll sort things out sooner or later. For now, get your rewards for finishing the Disney Dreamlight Valley A Fishy Dispute, and get ready to continue your adventure with Donald in the next quest named The Forgotten Project.