In Scar's friendship quest, Breaking Bones, you'll have to upgrade your Disney Dreamlight Valley Shovel so that you can remove the small bones in the Sunlit Plateau Biome.
So make the world a cleaner place and receive 510 XP as a reward, besides the satisfaction of helping a friend; yes, Scar is your friend!
However, you'll need to gather some materials to complete the friendship quest, and you've probably never used one of them until now, so you might not know where to find it.
Therefore, if you are struggling with any task in the Breaking Bones quest, you should consider reading the walkthrough below.
How To Start Breaking Bones In Disney Dreamlight Valley
Before you can start Scar's third quest, you have to reach Friendship Level 3 with the NPC, which is an easy task, and it will get even easier if you consult our Friendship Level Up guide here.
Of course, you also have to complete the previous quest in Scar's storyline, named Friends Aren't Food (discussed here).
Then all you have to do to start Breaking Bones is to speak with Scar, who you can easily find with the help of the in-game map.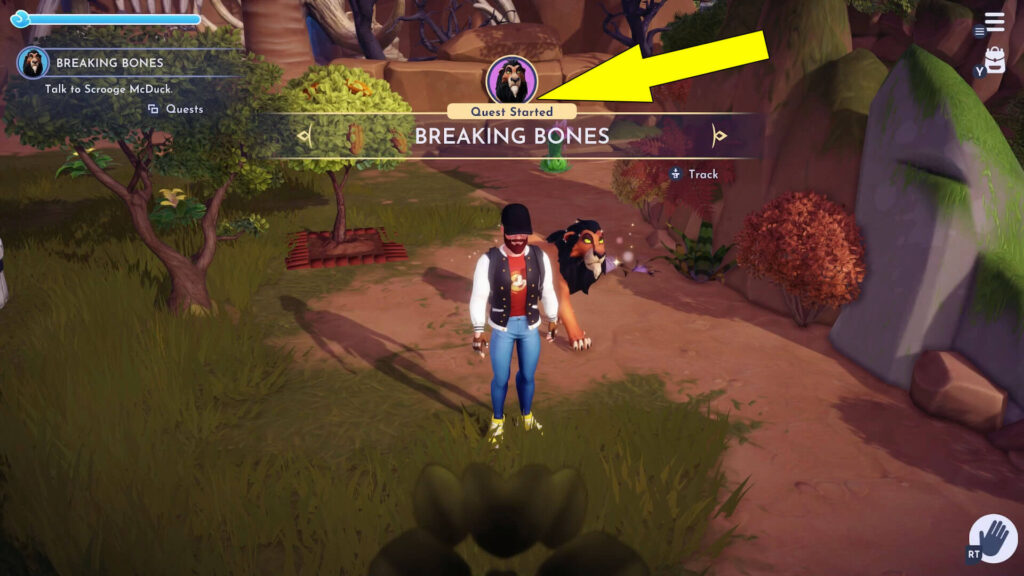 How To Get Iron Ingots
The quest revolves around an upgrade you must make to your Shovel, and first, you must make a visit to Scrooge McDuck, who will give you a Mold that should make the Royal Tool stronger.
Upon obtaining the Mold, speak with Scar again to find out what are the rest of the materials needed. Here is the list:
5 Lion's Claws
5 Dry Wood
5 Iron Ingots
Let's start with the easiest to obtain: the Iron Ingots. You have to craft this Refined Material at a Crafting Station.
One Iron Ingot requires 5 Iron Ore and 1 Coal Ore.
You can get Iron Ore and Coal Ore by mining the black rock deposits in the following areas:
Forest of Valor
Glade of Trust
Sunlit Plateau
Frosted Heights
Forgotten Lands
For more tips about Iron Ingots, you can check our guide here.
How To Get Dry Wood
Second, you can gather the 5 Dry Wood, which are the grey little branches you see on the ground in the next Biomes:
Forgotten Lands
Frosted Heights
Sunlit Plateau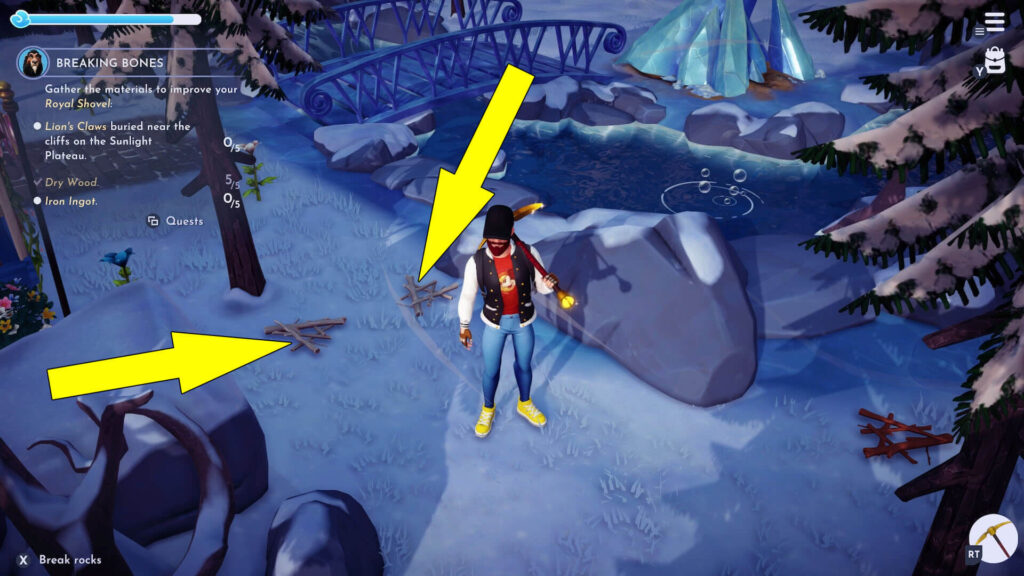 You should clear the areas listed above, and if you still don't have enough, don't worry because new grey twigs spawn over time.
Where To Find Lion's Claws
Finally, you have to get 5 Lion's Claws, which are buried near the cliffs on the Sunlight Plateau.
So head to the area and look for spots where the ground is glowing near the cliffs, as shown in the following screenshot.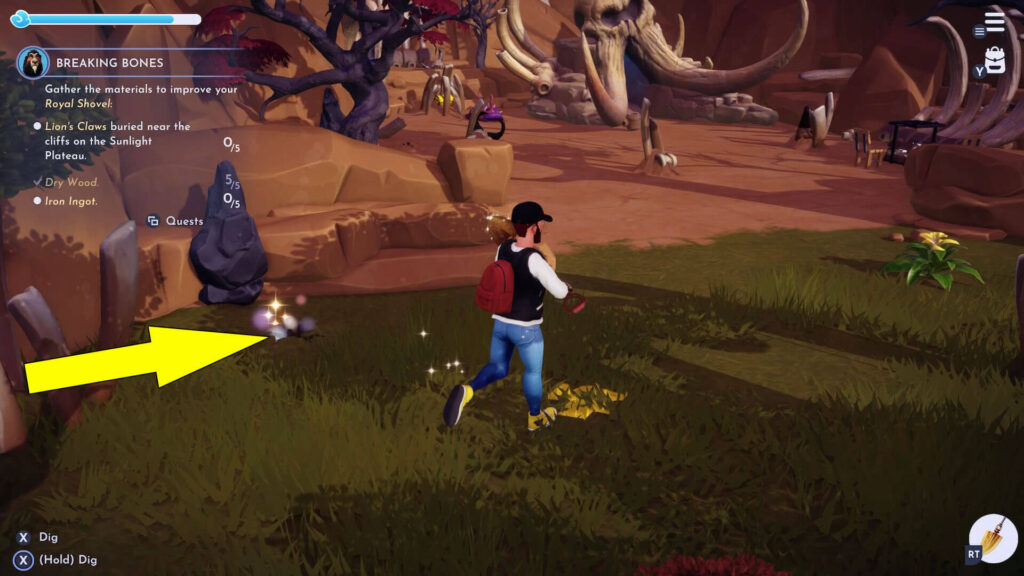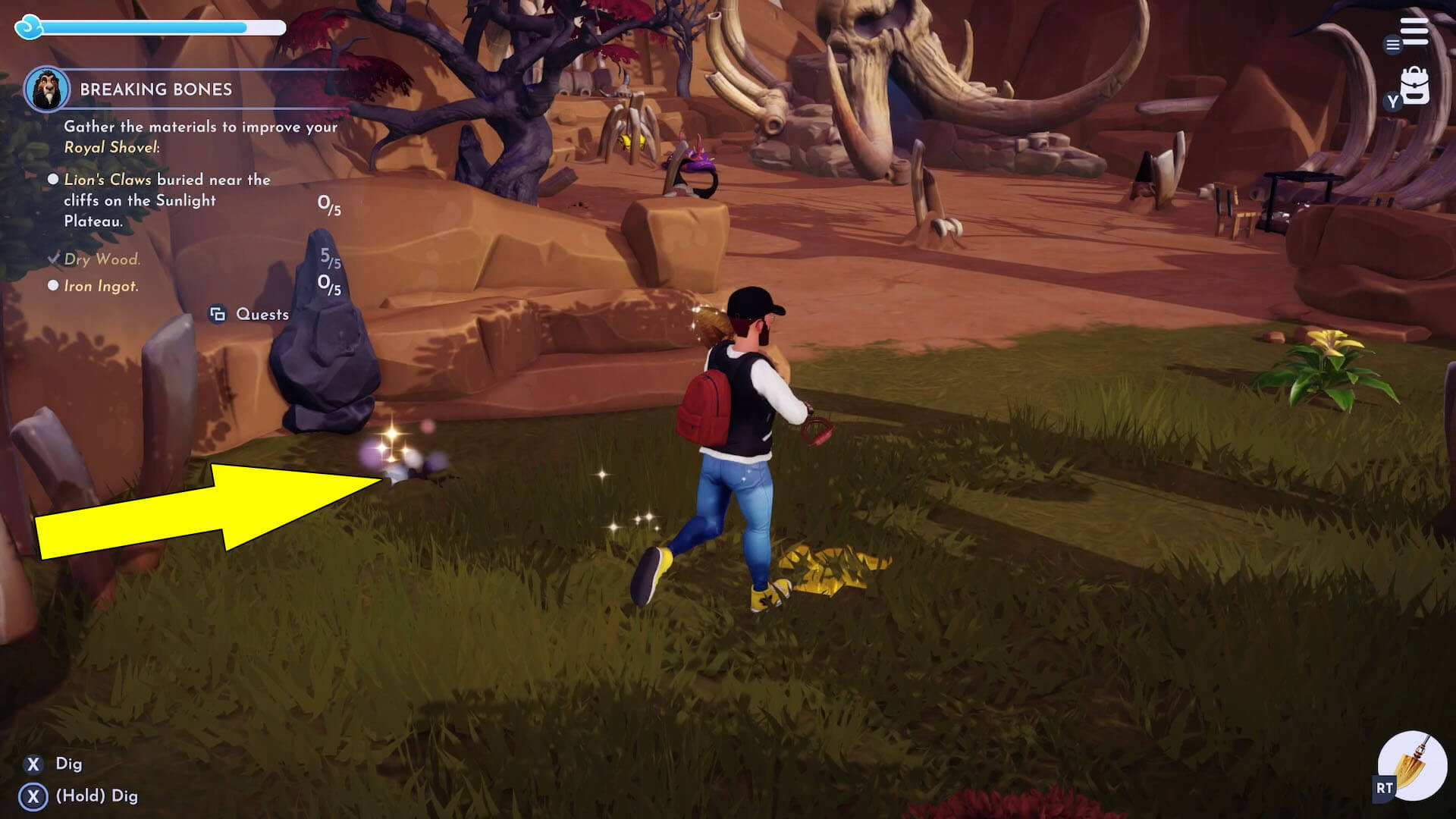 Once you find one of these spots, equip your Shovel by pressing RT on your Xbox controller and start digging with the X button.
Five holes later, and you have your Lion's Claws, so head to a Crafting Station to make the Lion's Claw Shovel Head from the Potion & Enchantment tab.
Then open your backpack by pressing Y (also on Xbox), select the Disney Dreamlight Valley Lion's Claw Shovel Head, and press the use button.
How To Remove The Small Wildebeest Bones Littering The Sunlit Plateau
All that is left to do to complete the Breaking Bones quest is to go to the Sunlit Plateau area and remove 5 small bones, just like in the next image.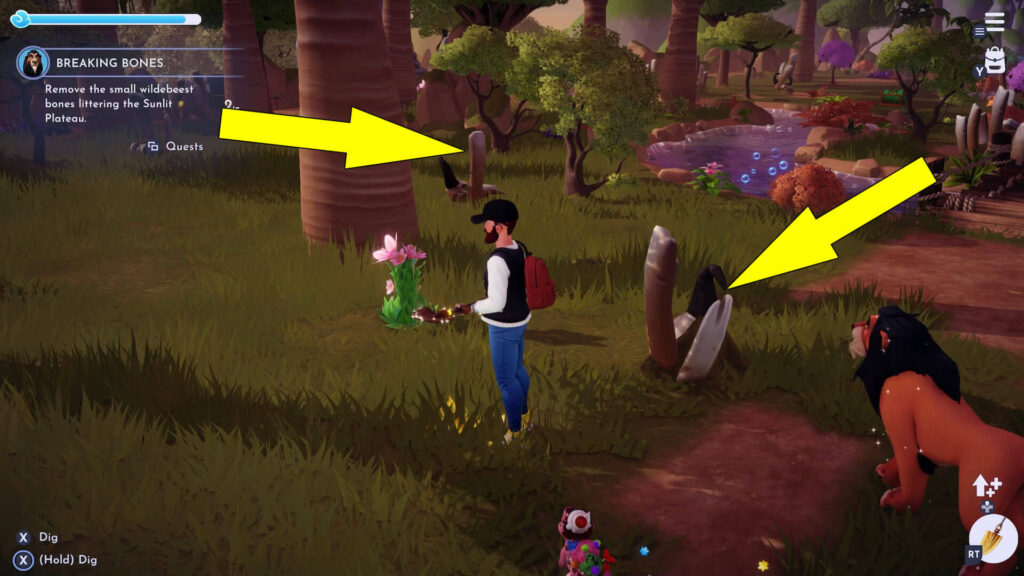 To remove the small bones, have your Shovel out and use it as you would if you wanted to dig a hole in the place of the remains.
After clearing 5 small bones, return to Scar to finish the Disney Dreamlight Valley Breaking Bones friendship quest. You can now jump into The Circle Of Life, the next quest from Scar's storyline covered in our guide here.