The time has come for you to become the greatest Wizard in Disney Dreamlight Valley, but to achieve this esteemed rank, you'll need to figure out how to get the Falling Water and the Icy Heart for Merlin's last Early Access quest named The Final Trial.
Disney Dreamlight Valley Final Trial is the last quest in Merlin's storyline available in the Early Access version of the video game developed by Gameloft, and it's safe to say that it's also the trickiest and the most rewarding.
That's because this quest requires two unique items named Falling Water and Icy Heart, and it rewards you with a beautiful Wizard Hat.
So, if you wonder where to find the Disney Dreamlight Valley Icy Heart and Falling Water, throughout the following Final Trial walkthrough, we'll tell you everything you need to know.
How To Start The Final Trial In Disney Dreamlight Valley
The Final Trial quest in Disney Dreamlight Valley becomes available after you complete the previous quest for Merlin, named A Dark Experiment.
To play it, though, you'll need to unlock Wall-E first, which means that you need to travel to his realm and finish The Shy Robot quest.
Upon bringing Wall-E to your Village, you'll also have to increase your Friendship Level with Merlin and reach Level 10.
It is the maximum level you can reach in Early Access, so check our guide if you need additional help on what you have to do.
Once you meet all the requirements above, find Merlin using his icon on your map and travel to his location. Approach the Wizard, and see what he wants.
Eventually, Merlin reveals that he wants to continue experimenting with your Watering Can. As you may remember from the previous quest, the second upgrade allows you to remove small pink mushrooms.
Well, with the third upgrade, you'll be able to remove the large poisonous mushrooms, such as those that block the path within the Glade of Trust Biome.
However, Merlin first needs some Purified Night Shard Powder for this upgrade. When he asks you if you know someone good at crushing, tell him you know a robot.
Now Merlin's last quest starts, and the first step is to get 5 Purified Night Shards.
Purified Night Shards Locations
In the previous quest you completed for Merlin, you learned that the Purified Night Shards are craftable items obtained from Night Shards and Dream Shards.
The amount you need now, however, is a bit larger, meaning that to craft 5 Purified Night Shards, you'll have to get 25 Night Shards and 5 Dream Shards.
As such, focus on digging the small mounds that appear in all Biomes until you get 25 Night Shards. They look like the one below, and obviously, you'll need a companion specialized in Digging to get them faster.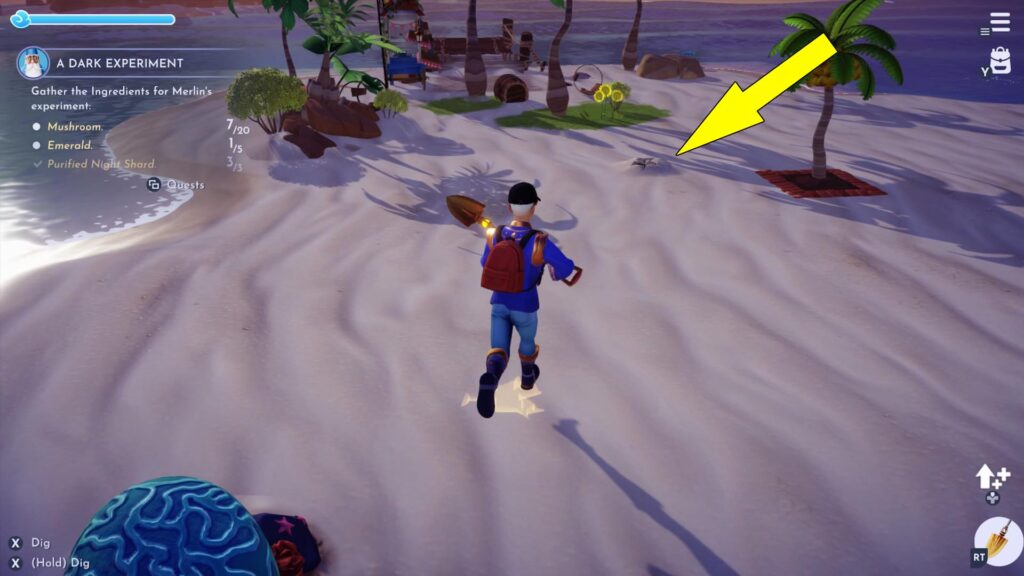 Once you have the Night Shards, assuming you don't have any Dream Shards, you'll have to start removing Night Thorns.
The Dream Shards drop in all Biomes from the Thorns, and they are pink.
After getting the required number of Dream Shards and Night Shards, head to a Crafting Table (outside Goofy's House or inside Scrooge's Shop).
In the Potion & Enchantment tab, find the Purified Night Shard and craft 5 of them.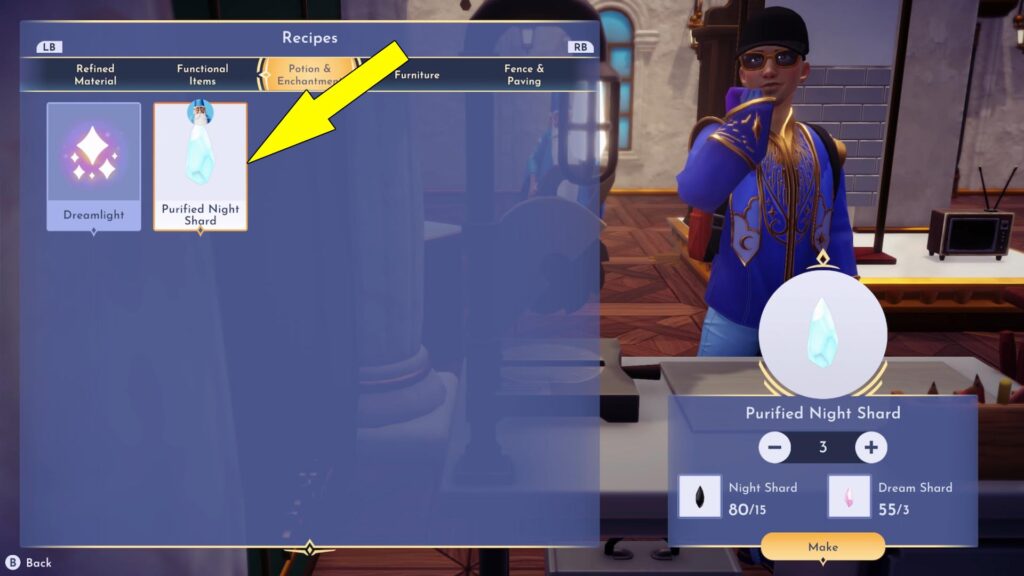 Great job! Now, open your map and locate Wall-E.
Get close to the shy robot and give him the Purified Night Shards. He'll crush them for you and turn them into a powder. Show the powder to Merlin, and he'll put up a small challenge for you.
Specifically, he'll ask for the following items:
1 Falling Water
1 Ice Heart
25 Mushrooms
How To Get Mushrooms
Believe it or not, the Mushrooms are the hardest to get in The Final Trial quest because they respawn slowly.
Since they appear only in the Glade of Trust Biome, it means that you'll start looking for them just as you did in the previous quest remembering to:
Always harvest Mushrooms with a Foraging companion by your side
Make room for them to grow by constantly clearing the area of other obstacles (Stones, Flowers, Hardwood, Softwood, etc…
Always check the Glade of Trust Biome when it rains or after the rain
Fully explore the accessible part of the Biome as the Mushrooms spawn randomly
The only notable difference between this quest and the previous one is that now you can also obtain edible Mushrooms from the pink ones that grow in Peaceful Meadow and Glade of Trust; however, only the small patches can be removed using your Watering Can.
Such as the one in my screenshot below.
Eventually, with patience, you'll get the 25 Mushrooms Merlin needs, so it's time to focus on the other Ingredients the Wizard asked for.
How To Get Falling Water
Although the game tries to trick you so you can spend a lot of time looking for the Disney Dreamlight Valley Falling Water, you should know that this is not a resource.
It is plain water obtained from a waterfall, hence the name Falling Water.
To find the Falling Water in Disney Dreamlight Valley, head to the Glade of Trust, and if you open your map, you'll see a waterfall on the southern border.
Make sure you travel to its location, then by the stone bridge, you'll see a small glowing spot (pictured below).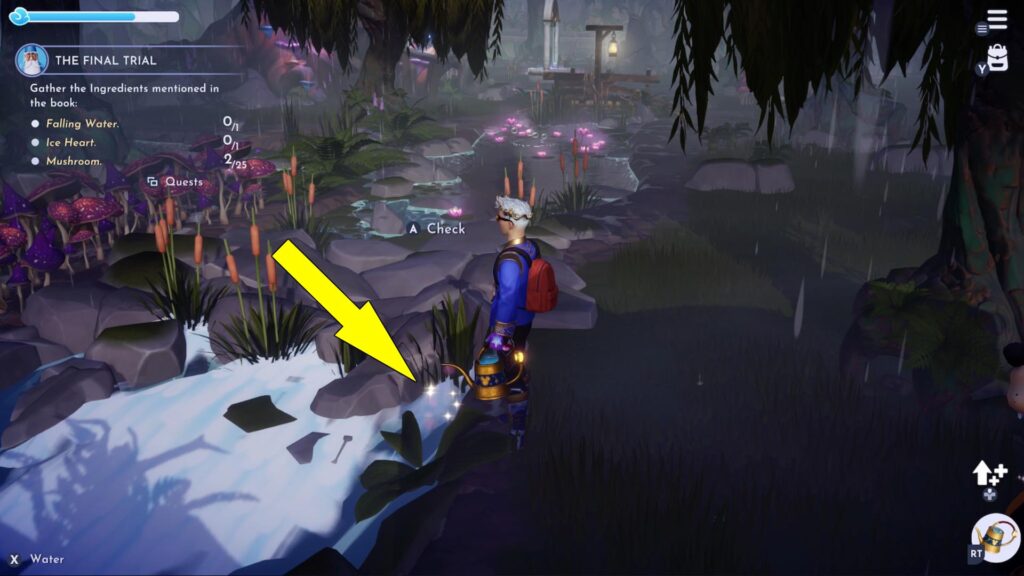 Equip your Watering Can, and while standing near the bridge, press A on Xbox to check the spot. Eventually, you'll fill your can with the Falling Water Merlin needs.
Where To Find The Ice Heart
Disney Dreamlight Valley Ice Heart is also a unique item you can't obtain by regular means, nor can you find it in the game's world.
To get the Ice Heart in Disney Dreamlight Valley, you'll need to dig a hole using your shovel and plant the crystal you received from Merlin.
In less than a minute, you'll see an Ice Plant growing (pictured below), and you can harvest it to get the Ice Heart.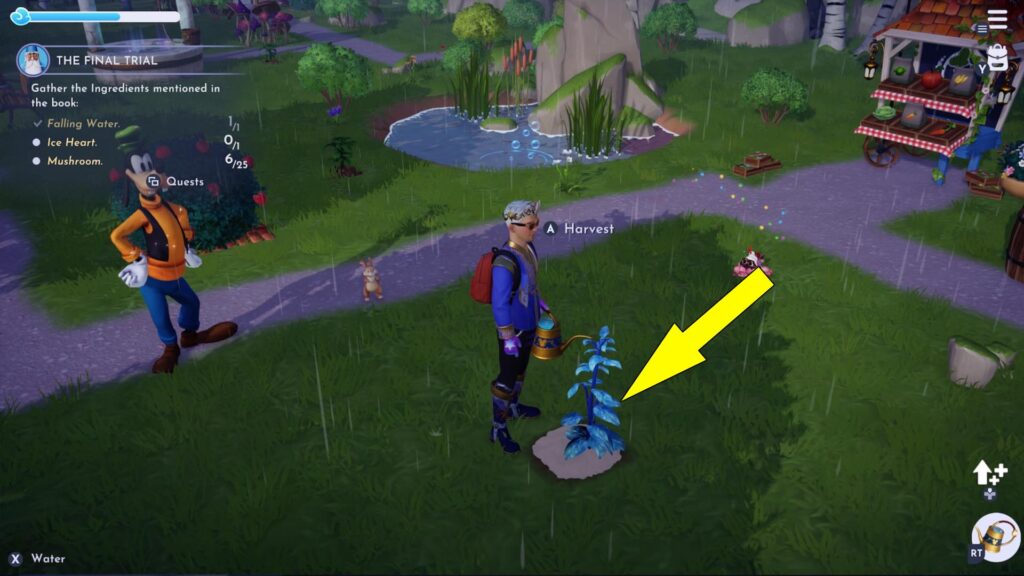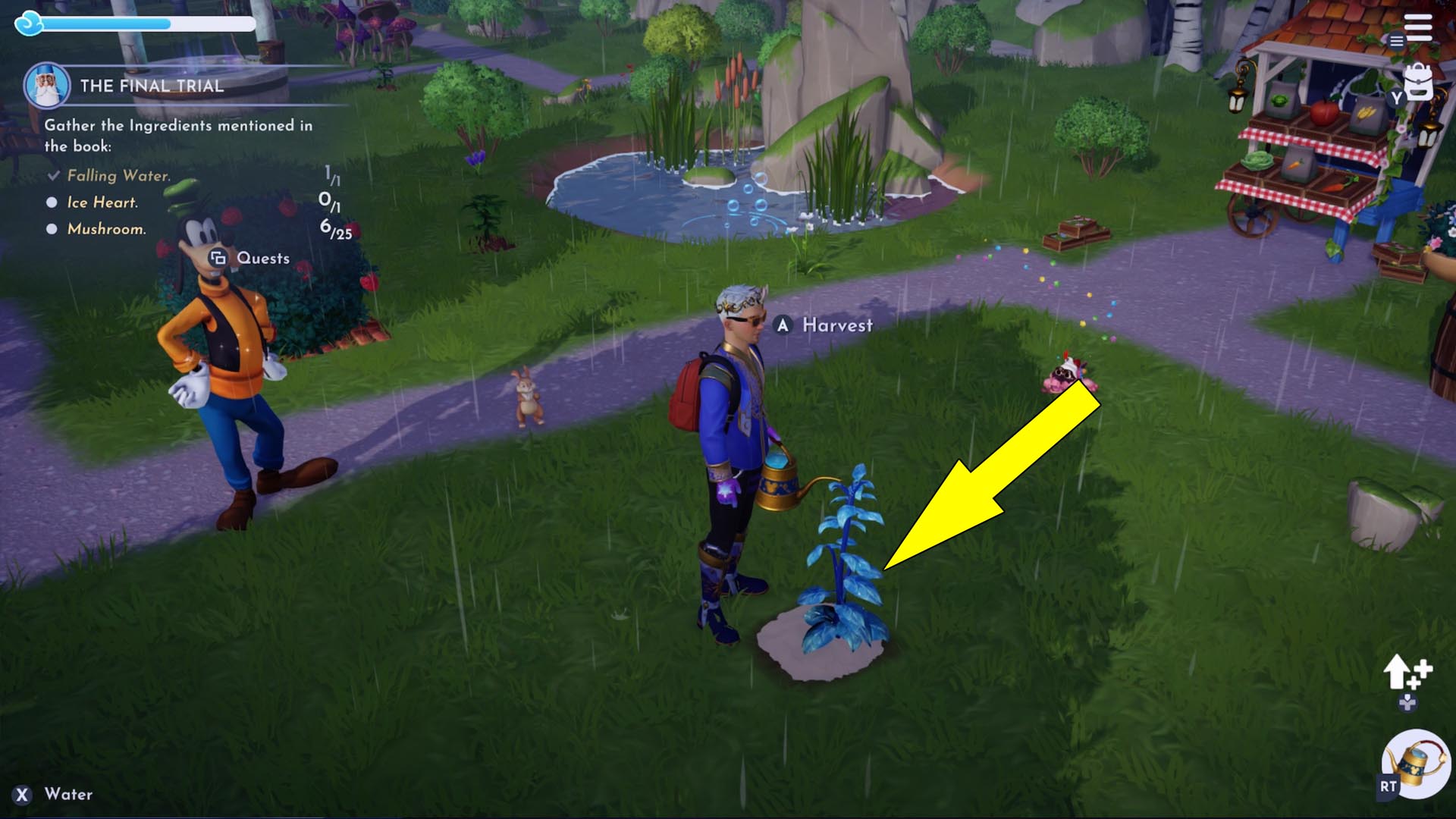 It is worth mentioning that you can plant the crystal in any Biome you want.
Now that you know how to get all Final Trial Ingredients, once you have them, visit a Crafting Table and use them to craft the Royal Watering Can Upgrading Ointment in the Potion & Enchantment tab.
Next, visit Merlin and hand over the Royal Watering Can Upgrading Ointment so the Wizard can use it on your Watering Can.
Finally, you'll be sent to remove a Big-Path Blocking Mushroom, and you should start with those that block the path towards the western Glade of Trust area.
Once you remove them, return to Merlin to receive your Wizards Hat for completing the Disney Dreamlight Valley The Final Trial quest.