Upon unlocking the Glade of Trust Biome in Disney Dreamlight Valley, you get the chance to play Merlin's fifth quest, named A Dark Experiment which allows you to remove poisonous mushrooms that spawn in the Valley.
Disney Dreamlight Valley Dark Experiment quest in Gameloft's latest game; however, it requires a large number of materials you'll have to gather for Merlin, so it may take some time until you'll be able to finish it.
On the other hand, the reward you'll receive will make exploration a lot easier because by finishing this quest, you'll also unlock the next one in line, named The Final Trial, which is the last quest available for Merlin in Early Access.
So, let's see how to get all Crafting Materials you need for A Dark Experiment in Disney Dreamlight Valley.
How To Start A Dark Experiment In Disney Dreamlight Valley
A Dark Experiment is a quest that comes with three requirements. Since it's part of Merlin's questline, it goes without saying that the first requirement is to complete the previous quest named Crystal Mystery (explained in detail here).
Upon completing Crystal Mystery, you'll want to unlock the Glade of Trust Biome. It costs 5000 Dreamlight, but the amount might be different for you depending on how many Biomes you've opened so far.
It is also worth knowing that unlocking the Glade of Trust also triggers The Curse main quest, which is not required for the current quest.
Last but not least, you'll have to Level Up your Friendship Level with Merlin and reach Level 8. If you're struggling with Friendship Levels, check out our handy guide here.
After you complete all the requirements above, look for Merlin's icon on your map and visit him.
When you approach the Wizard, he'll tell you he was thinking of you, so make sure you ask him why.
He'll ask you if you remember when he enchanted your Watering Can so you can remove a pink mushroom.
Since you played A New Enchantment, you most likely remember that you were able to remove only one poisonous mushroom.
Well, this time, Merlin wants to make the Watering Can enchantment permanent, but he needs the following Ingredients for his new experiment:
20 Mushrooms
5 Emeralds
3 Purified Night Shards
Let's cover these Ingredients one by one, and I'll tell you where to find them.
Mushrooms Locations
The moment you start A Dark Experiment, you'll want to focus on getting 20 Mushrooms because they are pretty rare at first.
The Disney Dreamlight Valley Mushrooms grow only in the Glade of Trust, but when you play this quest, you'll have access only to a small area of this Biome.
As such, you'll be limited to a small area with only a few Mushrooms, which again grow very slowly.
What you are looking for are the harvesting spots where you can see several white Mushrooms growing together (pictured below).
Since they are quite hard to find, there are several important aspects you should be aware of because they'll improve your harvesting or Mushroom farming rate:
First, make sure you remove all obstacles in the Glade of Trust (Night Thorns, Flowers, Stones, Softwood, Hardwood, etc…) to have as many free slots as possible for other resources (including Mushrooms) to appear
Never harvest Mushrooms without a companion specialized in Foraging because he'll drop an additional Ingredient (depending on his level)
When it starts raining, spend as much time as possible in Glade of Trust because the respawn rate is a bit higher
Glade of Trust Mushrooms spawn randomly, so check every inch of the area available first
Last but not least, after getting 20 Mushrooms, you'll want to continue stocking up on them because for the next quest you'll get from Merlin, you'll need even more.
Where To Find Emeralds
Unlike Mushrooms, Emeralds are a bit easier to find because, besides Glade of Trust, you can also look for them in Forest of Valor.
It's worth knowing, though, that for this quest, you need 5 of them, and they can be both regular or Shiny Emeralds.
For these gems, you'll want to mine Rock Spots, as you probably know by now, but again, you'll want to always have a Companion specialized in Mining with you so that you can get more Emeralds from a deposit.
Below you can see a Rock Spot deposit containing an Emerald.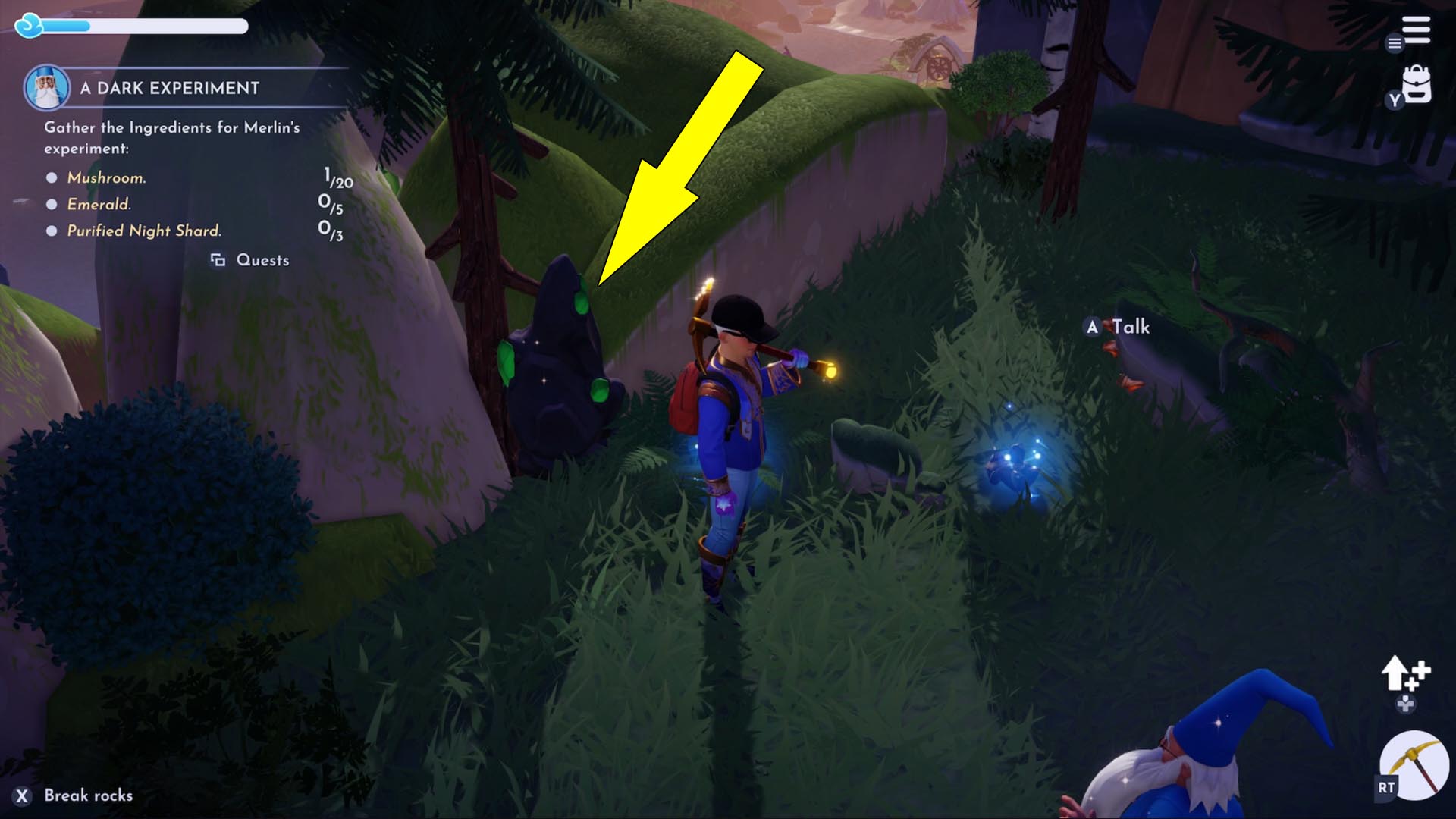 A good strategy for getting Emeralds faster is to go around an area (Glade of Trust, Forest of Valor) and learn the locations of all mining deposits.
Since they have fixed spawning locations, all you have to do is to move from one deposit to another while constantly mining.
Last but not least, you'll want to mine all Rock Spots regardless if they have colored edges like those in my screenshot because sometimes the gems are hidden under the first layers.
While waiting for the Emerald Deposits to respawn, you'll want to keep looking for Mushrooms.
How To Get Purified Night Shards
Merlin's last ingredient for his Dark Experiment is the Purified Night Shards.
Disney Dreamlight Valley Purified Night Shards are craftable items that require two materials: Dream Shards and Night Shards.
For a single Purified Night Shard, you'll need 1 Dream Shard and 5 Night Shards, and since Merlin needs 3 Purified Shards, you'll have to gather 3 Dream Shards and 15 Night Shards.
The Dream Shards are pink and quite common because they drop by removing Night Thorns. When you start this quest, you'll most likely have the number of Dream Shards.
The Night Shards, on the other hand, can be a bit trickier to find unless you do a lot of digging.
Since they are present in all Biomes, look for digging spots (pictured below), equip your shovel, and start digging.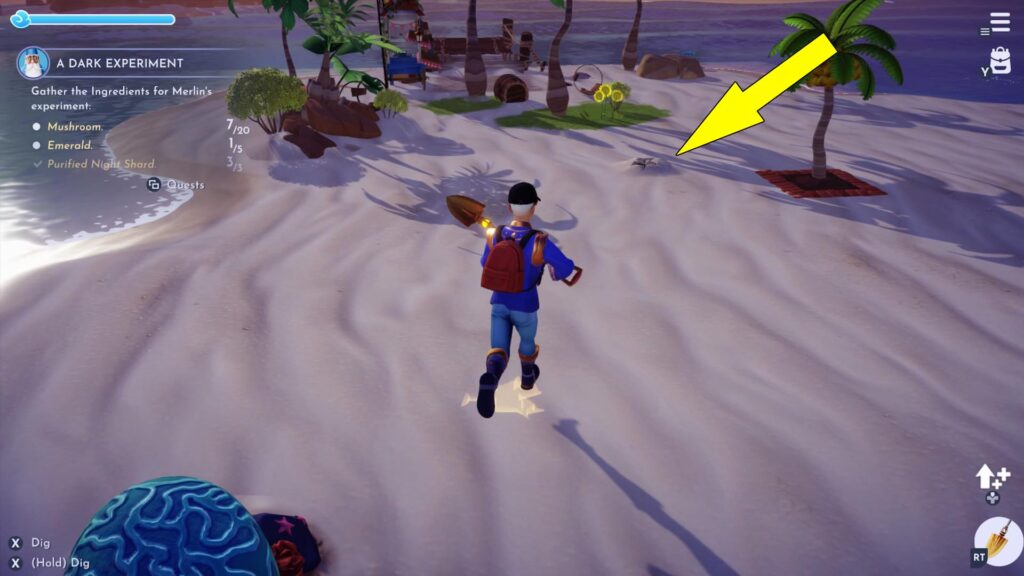 Obviously, if you want to get them faster, you'll want to have a companion specialized in Digging by your side.
After getting 3 Dream Shards and 15 Night Shards, head to a Crafting Table like the one inside Scrooge's Shop.
Approach the Crafting Station and go to Potion & Enchantment tab. Now, craft 3 Purified Night Shards, as you can see in my screenshot.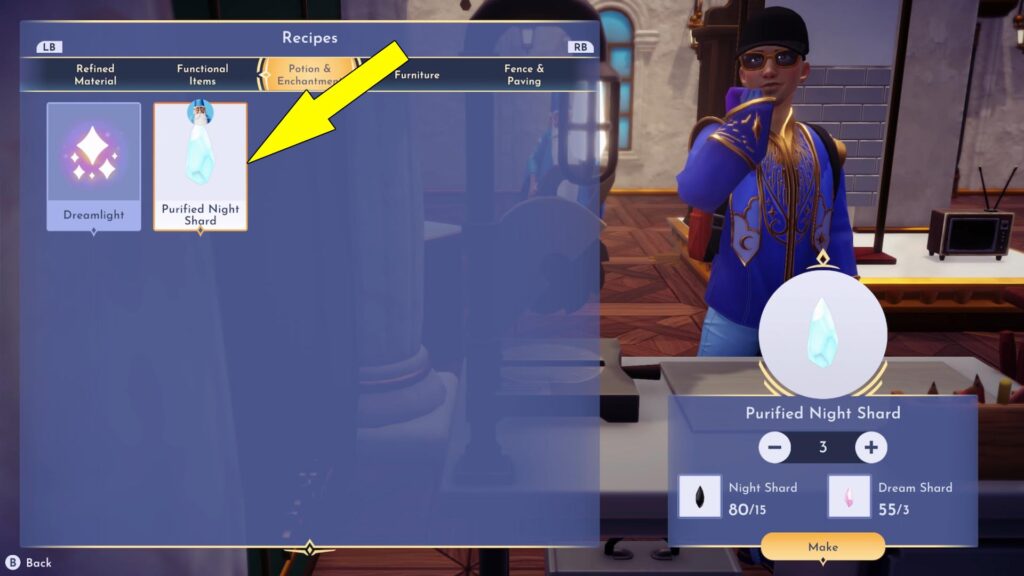 Now, assuming you have all ingredients, head back to Merlin's location, and hand them over.
The Wizard will enhance your Watering Can, and now you can use it to remove small patches of big mushrooms.
So, equip the Watering Can (RT on Xbox), then find three patches of pink mushrooms like the one below.
Keep in mind that they must be small, not big, and turn white when close to them. You can find them in Peaceful Meadow and Glade of Trust Biomes.
Water 3 of them, then return to Merlin to collect your rewards, complete the Disney Dreamlight Valley A Dark Experiment quest and unlock the next one in line named The Final Trial.